| | | |
| --- | --- | --- |
| 9.45am | Morning Prayer | Friston Church |
| 9.30am | Holy Communion | Knodishall Church |
| 10.30am | Morning Prayer | Aldeburgh Church |
| 11.00am | Christmas Service | Aldringham Church |

 
Message from The Rector

I am becoming just a little bit fed up with talk, in the press and elsewhere, of the possibility of Christmas being 'cancelled' this year. We know (don't we?) that it is impossible to cancel Christmas. Christmas is when we celebrate the birth of Emmanuel, God with us, Jesus Christ. Covid-19 can stop a lot of things but it cannot stop us remembering and celebrating, even if the celebrations might have to take on a new shape this year. Of course, there is a huge amount that we will miss. It will be a Christmas that will be, I suspect, unlike any other that we have known, and I hope and pray that we will never know again. But however, wherever and with whoever we celebrate it, it will still be Christmas. And if we listen carefully, we will still be able to hear the angels sing.
All of our churches have services over Christmas, but a reminder that if you would like to attend the pre-Christmas services in Aldringham and Friston or the Christmas Day services in Aldringham or Aldeburgh you will need to make contact with the relevant churchwardens to book yourself in. We would hate to have to turn anyone away at the door because the church is full, and numbers are very limited this year.
A summary of the Christmas services that we have planned is as follows.
| | | |
| --- | --- | --- |
| Aldeburgh |   |   |
| Sunday 20th | 10.30am | Morning Prayer for the 4th Sunday in Advent |
| Weds 23rd | 10.00am | Holy Communion according to the BCP |
| Friday 25th | 10.30am | Holy Communion for Christmas Day |
| Sunday 27th | 10.30am | Holy Communion for the 1st Sunday of Christmas |
| Weds 30th |   | No Service |
| | | |
| --- | --- | --- |
| Aldringham |   |   |
| Sunday 20th | 11.00am | Christmas Service |
| Monday 21st | 6.00pm | Christmas Service |
| Friday 25th | 11.00am | Holy Communion for Christmas Day |
| Sunday 27th |   | No Service |
| | | |
| --- | --- | --- |
| Friston |   |   |
| Sunday 20th | 9.45am | Morning Prayer for the 4th Sunday in Advent |
| Tuesday 22nd | 6.00pm | A Friston Christmas |
| Friday 25th | 9.45am | Holy Communion for Christmas Day |
| Sunday 27th |   | No Service |
| Knodishall |   |   |
| Sunday 20th | 9.30am | Holy Communion for the 4th Sunday in Advent |
| Friday 25th | 9.30am | Holy Communion for Christmas Day |
| Sunday 27th |   | No Service |
'Pilgrims Together' will meet online on Wednesday 23rd at 6.30pm for a seasonal celebration of carols and storytelling. If you have a Christmas themed story, poem, script that you would like to contribute to the event please email Sue and Eric, and be prepared to have a glass of something and a bite of something at the ready for the occasion.
The Pilgrims also report that on Christmas Day they will be opening a Zoom call from 6pm for anyone who would like to join us for a Christmas Day celebratory catch up. Details, as ever, from Sue and Eric or Gail and Stephen – All are welcome.  
For anyone who is unable, for whatever reason, to come to one of our services over Christmas there will be an online carol service (sound only) on our benefice YouTube channel from Monday. Thanks to all of those from around the benefice who read lessons for it – I've added some recorded music from several different sources, and I hope you enjoy the result.
And on behalf of the churchwardens and my clergy colleagues may I wish you a safe, healthy and happy Christmas!
With love, as ever
Mark
Collect
God our redeemer, who prepared the Blessed Virgin Mary
to be the mother of your Son: grant that, as she looked for
his coming as our saviour, so we may be ready to greet him
when he comes again as our judge; who is alive and reigns with you,
in the unity of the Holy Spirit, one God, now and for ever.
First Reading
2 Samuel 7.1-11,16
Now when the king was settled in his house, and the Lord had given him rest from all his enemies around him, the king said to the prophet Nathan, 'See now, I am living in a house of cedar, but the ark of God stays in a tent.' Nathan said to the king, 'Go, do all that you have in mind; for the Lord is with you.'
But that same night the word of the Lord came to Nathan: Go and tell my servant David: Thus says the Lord: Are you the one to build me a house to live in? I have not lived in a house since the day I brought up the people of Israel from Egypt to this day, but I have been moving about in a tent and a tabernacle. Wherever I have moved about among all the people of Israel, did I ever speak a word with any of the tribal leaders of Israel, whom I commanded to shepherd my people Israel, saying, 'Why have you not built me a house of cedar?' Now therefore thus you shall say to my servant David: Thus says the Lord of hosts: I took you from the pasture, from following the sheep to be prince over my people Israel; and I have been with you wherever you went, and have cut off all your enemies from before you; and I will make for you a great name, like the name of the great ones of the earth. And I will appoint a place for my people Israel and will plant them, so that they may live in their own place, and be disturbed no more; and evildoers shall afflict them no more, as formerly, 11from the time that I appointed judges over my people Israel; and I will give you rest from all your enemies. Moreover, the Lord declares to you that the Lord will make you a house. Your house and your kingdom shall be made sure for ever before me; your throne shall be established for ever.
Second Reading
Romans 16.25-end
Now to God who is able to strengthen you according to my gospel and the proclamation of Jesus Christ, according to the revelation of the mystery that was kept secret for long ages but is now disclosed, and through the prophetic writings is made known to all the Gentiles, according to the command of the eternal God, to bring about the obedience of faith to the only wise God, through Jesus Christ, to whom be the glory for ever! Amen.
Gospel Reading
Luke 1.26-38
In the sixth month the angel Gabriel was sent by God to a town in Galilee called Nazareth, to a virgin engaged to a man whose name was Joseph, of the house of David. The virgin's name was Mary. And he came to her and said, 'Greetings, favoured one! The Lord is with you.' But she was much perplexed by his words and pondered what sort of greeting this might be. The angel said to her, 'Do not be afraid, Mary, for you have found favour with God. And now, you will conceive in your womb and bear a son, and you will name him Jesus. He will be great, and will be called the Son of the Most High, and the Lord God will give to him the throne of his ancestor David. He will reign over the house of Jacob for ever, and of his kingdom there will be no end.' Mary said to the angel, 'How can this be, since I am a virgin?' The angel said to her, 'The Holy Spirit will come upon you, and the power of the Most High will overshadow you; therefore the child to be born will be holy; he will be called Son of God. And now, your relative Elizabeth in her old age has also conceived a son; and this is the sixth month for her who was said to be barren. For nothing will be impossible with God.' Then Mary said, 'Here am I, the servant of the Lord; let it be with me according to your word.' Then the angel departed from her.
 

CHRISTMAS GREETINGS FROM THE REVD SHEILA HART

 

This year has been a strange year for us all and yet we have seen amazing things happen. Even Christmas will not be the same for most of us.
However, Jesus is always the same and so may Stephen and I wish you a very blessed Christmas and a hopeful New Year.
Reflection for 20th December – Fourth Sunday of Advent
by The Revd Nichola Winter
My nephew has told me that he and his wife are expecting a baby, due next April. Inevitably they are thinking about names. Some prospective parents have very decided views about the name. Others find the right name doesn't actually make itself apparent until the birth is over and they are holding the child for the first time. A name will often say something about the person they hope the child will grow up to be – it may give some hint about character or personality. But the name by which we are known becomes very personal; it becomes a part of our identity.
On this fourth Sunday of Advent we think about names as our thoughts turn to the Virgin Mary, the young girl who says 'yes' to God and becomes mother of our Saviour. She is to call him 'Jesus', meaning 'saviour. 'He will fulfil the promise we read about in the book of Samuel – instead of human beings building a house to take the ark of the covenant – to provide protection for the word of God – it is God himself who is going to provide a kind of house for all humankind – an everlasting means of protection for all people.
Fast forward to the astonishing announcement by Gabriel to Mary: "you will name him Jesus. He will be great…"
Here is the amazing promise – a Saviour, whose Kingdom will outlast the petty human squabbles that continue to this day. A child who will be called 'the Son of the Most High.'
If you keep an eagle eye on the liturgical calendar, you'll notice that each of the days from 16th December to Christmas are given a name that begins with the exclamation 'O' followed by a different Latin word. These are the days of the great 'O Antiphons' and each of the words is followed by a brief verse and different name by which Jesus is known. The names come from the old testament prophecies about the nature and name of the eagerly awaited Messiah. The antiphons have been described as a 'unique work of art…a special ornament of the pre-Christmas liturgy filled with the Spirit of the Word of God.' The sequence progresses historically, from before the beginning of creation to that humble birth in a stable. O Sapientia – wisdom – coming forth from the mouth of God (think of the opening of John's gospel where he describes the very beginning of all creation – God speaks and the word he utters brings forth life) – here we have the wisdom that God speaks. O Adonai – leader of the house of Israel. O Root of Jesse, before whom all kings will be silent and to whom all nations will pray. O Key of David – who opens and shuts, to whom we pray for prisoners and all who dwell in darkness and the shadow of death. On the shortest day of the year, 21st December, when the hours of light are at their briefest, we sing O Morning Star – splendour of light eternal and sun of righteousness – another plea for the relief of those who walk without light. O King of the nations, O Emmanuel, king, lawgiver and hope – the antiphons continue with an appeal to the Saviour – come and save us, O Lord our God.
The final O antiphon addresses the Virgin and brings us back to today: O Virgin of virgins, how shall this be? For neither before thee was any like thee, nor shall there be after.
Daughters of Jerusalem, why marvel ye at me? The thing which ye behold is a divine mystery.
The antiphons provide a rich source for meditation. For those who enjoy word puzzles, they also make up an acrostic – after the last antiphon has been sung, the singer can look back over the titles that have been invoked and see that the illuminated first letters of each name spell out the words VERO CRAS, 'Truly, tomorrow I will be there' – the promise that Christ will fulfil on Christmas Day.
And their nature as 'antiphons' is a reminder of something that's relevant to each one of us. The word antiphon comes from the two Greek words 'anti', meaning 'in return' and 'phon', meaning 'voice'. Voices, returning words to each other. As the antiphons are sung we have two parties, each responding to the other. As we journey through Advent, with its focus on end times and the return of the one who comes to judge, we find ourselves crying out to God, to the one who comes to bring healing and salvation. We lift our voices in supplication; God responds. But it's a two-way relationship as well. God calls each one of us – and we respond. As Christians we spend each hour, each day – indeed, our entire lives – responding to the call that comes from God. He knows each one of us; he calls us by name. In the book of Isaiah the Lord says 'Do not fear, for I have redeemed you; I have called you by name, you are mine.' God understands the importance of a name; he will call us by ours, and his desire is that we will respond. Mary responded – and as a result of that response, we move towards Bethlehem and the birth of a Saviour.
O Emmanuel, our king and our lawgiver, the hope of the nations and their Saviour: Come and save us, O Lord our God.
God responds, 'Truly, tomorrow I will be there.'
Post Communion
Heavenly Father, who chose the Blessed Virgin Mary to be the
mother of the promised saviour: fill us your servants with your grace,
that in all things we may embrace your holy will and with her rejoice in your salvation; through Jesus Christ our Lord.
Deciphering words in the New Testament
(It's all Greek to me)
Amen. 'erkou, Kurie 'Iesou: Amen. Come Lord Jesus.
(Revelation 22.20)  
The closing words of the New Testament pray fervently for the Return of Jesus Christ.  As the Book of Revelation sees it, Christ's return would mean a full vindication of those who had remained faithful to Him in the recent persecutions under the Roman Emperors Nero and Diocletian, and a corresponding judgement upon the people and forces responsible.
Though the prayer, 'Come Lord Jesus', was never answered by Christ returning physically, it still remains for us today as a real longing and prayer of the Christian heart. We won't be alone, for the same prayer has been in constant use in Middle Eastern Christian faith ever since the time of Christ.
When you can, do please, as a final Advent exercise before Christmas Day, read the whole of the last chapter of Revelation (ch 22) to get the full resonance of the repeated prayer 'Come Lord Jesus'. Don't let the negative bits upset you!   AND DO NOTE the change of meaning in verses 16 – 17 where rather than the "thirsty" (that is us) calling on Jesus to come quickly, it is Jesus, his Angel, the Spirit and the Bride (i.e., the church itself) who call us to Him.  A welcome invitation.
The prayer 'erkou Kurie Jesou' is the rendering in Greek of an even more primitive version of the same prayer in Aramaic "marana tha" which comes at the end of Paul's 1st Letter to the Corinthians (1Cor.16.22).
It comes again at the end of the Communion prayer in an ancient Instruction manual for Christians in Alexandria known as The Didache. (From probably the first century AD).
So, whether as "Come Lord Jesus" or "marana tha" (for both are equivalent), the church sees Jesus as its Lord, and the only One who by his return can put right the wrongs of the world.
That still holds good today. In the meantime, our calling is to try and build a few more bricks into the walls of the Kingdom. Our inspiration and strength will come from Him whose Birth we are about to celebrate. So let us now go even unto Bethlehem . . . . .   
Happy Christmas all.
John Giles
NOTICES
Aldringham Church Calendar 2021

The Aldringham church calendar for
2021 is now on sale.
You can either collect a copy at any of the services at Aldringham church or contact David Gordon
to reserve your copy.

The calendars are £10 each.
Free copies have been distributed to the sick and the lonely in the congregation and the rest will be sold to raise money for church funds.

 

 Food Banks at the East of England Co-op 

Foodbanks provide a valuable service to those in need in our communities and have an even more vital role to play as we navigate our way through these unprecedented times. With Christmas fast approaching, your donations will make all the difference.

The Aldeburgh Co-op and Solar in Leiston are doing a grand job in collecting food donations, which are collected regularly and distributed. So please look out for the various collection baskets.

 
 

Weekly Benefice Newsletter 

If you would like something added to the weekly newsletter that is relevant to the Benefice, please do let Claire know and we will do our best to include it the following week. Whether it be a story to tell, or tips or recipes or a notice to be added to spread the word.
What Christmas stories do you have to share?
 

A CHRISTMAS MESSAGE FROM THE REVD JOHANNA MABEY

Dear Friends,
With reports of COVID-19 infections rising, the prospect of more restrictions and a far from normal Christmas, it seems rather incongruous for me to be wishing you all a happy and jolly festive season.
This year has felt like a relentless and exhausting barrage of difficulties, challenges, and heartbreak not only for my family but for countless others. I know many of you will empathise through your own experiences. I have needed some time away from active ministry to cope with everything and I am extremely grateful to you, Revd. Mark and the clergy team for the unfailing support and care received. I aim to be back on the rota in the new year!
During the darkest of times, this prayer by Thomas Merton gave me great comfort…
My Lord God,
I have no idea where I am going.
I do not see the road ahead of me.
I cannot know for certain where it will end.
nor do I really know myself, and the fact that I think
I am following your will does not mean that I am actually doing so.
But I believe that the desire to please you does in fact please you.
And I hope I have that desire in all that I am doing.
I hope that I will never do anything apart from that desire.
And I know that if I do this you will lead me by the right road,
though I may know nothing about it.
Therefore will I trust you always though I may seem to be lost
and in the shadow of death.
I will not fear, for you are ever with me, and you will never leave
me to face my perils alone.

I hope that 2021 brings happier and better times for us all.
God's blessings for a safe and peaceful Christmas.
With love, Please note my new email address:
FRISTON CHRISTMAS SERVICE
St Mary, Friston, 6pm, 22nd December 2020
Dear Friends – there are just 4 pews seating up to 4 people (in your bubble/household) left available for the Christmas Service at Friston this year.  There will be music, readings, poetry and the Church will – as always – be lit with hundreds of candles and lights.  Unfortunately, due to the restrictions we cannot fill the church as we would normally, and it is NECESSARY to book a pew.  Each pew can take up to 4 people from your household or bubble. All are welcome.  Please contact
Carole Edwards, Church Warden.
We look forward to welcoming you to a beautiful, atmospheric service to celebrate the coming birth of Jesus.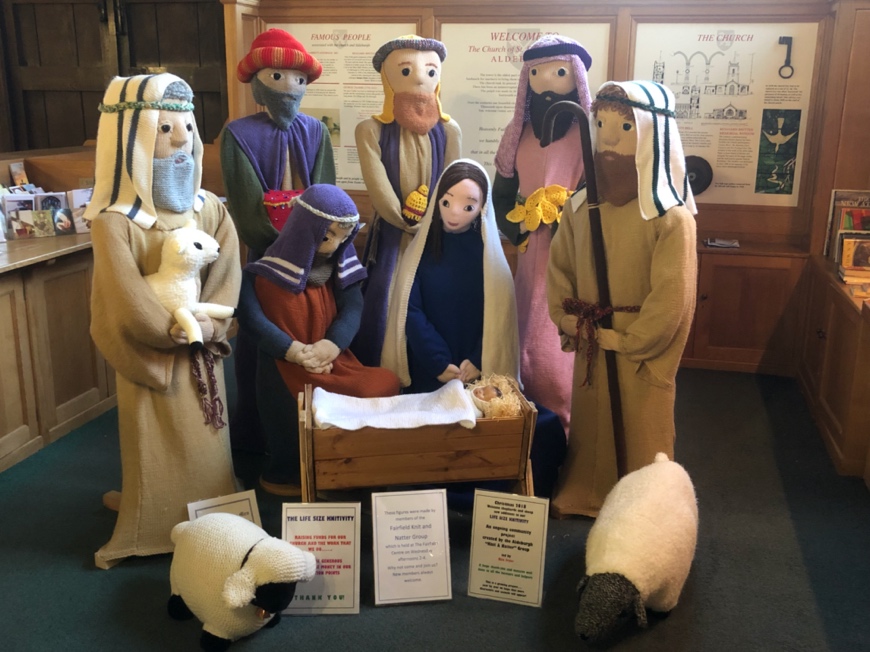 We Wish You All A Very
Happy Safe Christmas