Benefice Holy Communion

Aldeburgh Parish Church

10.30am

 
Message from The Rector

This feels a bit odd. I'm writing this a few days before Christmas and you will probably read it just before Christmas. But we are really looking to the first Sunday of Christmas which, this year, brings us the gospel story that ends with Jesus's naming and circumcision. Anticipation is the name of the game.
Our services will be rather limited over the forthcoming week. There is just one in our Benefice on Sunday 27th – a service of Holy Communion at 10.30 in Aldeburgh church. And there won't be a service there on Wednesday 30th at 10.00. But we hope and pray that there will be services in all of our churches on Sunday January 3rd as we celebrate the feast of the Epiphany. Here's hoping that the Magi have a better view of the bright shining star than we have had of the 'great conjunction' of Jupiter and Saturn in recent days. Some believe that it was just such a conjunction that was seen in the sky back in New Testament times so perhaps this is another special kind of anniversary year. And maybe the fact that we couldn't see the two planets as well as we had hoped is just another example of the disappointments that this year has brought us. Hey ho.
2021 promises to end better than it begins, and we give thanks for, and hold in our prayers, all of those working on developing and distributing the vaccines that will eventually release us from our very 21st-century captivity. So, in the name of him whose life, death and resurrection set us all free, I with you a very happy, healthy and peaceful new year.
UPDATE – STOP PRESS.
It has just been announced that Suffolk will enter Tier 4 restrictions from December 26th. I don't propose that we change any of our immediate plans and there will still be services in all of our churches on Christmas Day and the one planned service in Aldeburgh on Sunday December 27th. But I would ask everyone to take care. Please do read this article from the East Anglian Daily Times:
https://www.eadt.co.uk/news/health/ipswich-hospital-coronavirus-crisis-revealed-6864228
The situation is now more serious here than it has ever been and the first thing that everyone must do is to look after themselves and those close to them. If that means that you don't feel able to come to church at the moment, everyone understands. There will continue to be services online. We will monitor the situation and make adjustments to our plans should they become necessary but please don't risk your own health or that of others.
With love, as ever
Mark
Collect
Merciful Lord, cast your bright beams of light upon the Church:
that, being enlightened by the teaching of your blessed apostle and evangelist Saint John, we may so walk in the light of your truth
that we may at last attain to the light of everlasting life;
through Jesus Christ your incarnate Son our Lord, who is alive 
and reigns with you, in the unity of the Holy Spirit,
one God, now and for ever. 
First Reading
Exodus 33.7-11a
Now Moses used to take the tent and pitch it outside the camp, far off from the camp; he called it the tent of meeting. And everyone who sought the Lord would go out to the tent of meeting, which was outside the camp. Whenever Moses went out to the tent, all the people would rise and stand, each of them, at the entrance of their tents and watch Moses until he had gone into the tent. When Moses entered the tent, the pillar of cloud would descend and stand at the entrance of the tent, and the Lord would speak with Moses. When all the people saw the pillar of cloud standing at the entrance of the tent, all the people would rise and bow down, all of them, at the entrance of their tents. Thus the Lord used to speak to Moses face to face, as one speaks to a friend. Then he would return to the camp; but his young assistant, Joshua son of Nun, would not leave the tent.
Second Reading
1 John 1
We declare to you what was from the beginning, what we have heard, what we have seen with our eyes, what we have looked at and touched with our hands, concerning the word of life this life was revealed, and we have seen it and testify to it, and declare to you the eternal life that was with the Father and was revealed to us we declare to you what we have seen and heard so that you also may have fellowship with us; and truly our fellowship is with the Father and with his Son Jesus Christ. We are writing these things so that our joy may be complete.
This is the message we have heard from him and proclaim to you, that God is light and in him there is no darkness at all. If we say that we have fellowship with him while we are walking in darkness, we lie and do not do what is true; but if we walk in the light as he himself is in the light, we have fellowship with one another, and the blood of Jesus his Son cleanses us from all sin. If we say that we have no sin, we deceive ourselves, and the truth is not in us. If we confess our sins, he who is faithful and just will forgive us our sins and cleanse us from all unrighteousness. If we say that we have not sinned, we make him a liar, and his word is not in us.
Gospel Reading
John 21.19b-end
Peter turned and saw the disciple whom Jesus loved following them; he was the one who had reclined next to Jesus at the supper and had said, 'Lord, who is it that is going to betray you?' When Peter saw him, he said to Jesus, 'Lord, what about him?' Jesus said to him, 'If it is my will that he remain until I come, what is that to you? Follow me!'  So the rumour spread in the community that this disciple would not die. Yet Jesus did not say to him that he would not die, but, 'If it is my will that he remain until I come, what is that to you?'
This is the disciple who is testifying to these things and has written them, and we know that his testimony is true. But there are also many other things that Jesus did; if every one of them were written down, I suppose that the world itself could not contain the books that would be written.
Sermon for 27th December – The First Sunday of Christmas by our Rector, The Revd Mark Lowther
I met Jesus once. Or to be slightly more specific, I met a Jesus once. He was a musician who'd come into the BBC studios to be interviewed. He was Spanish. In Spanish-speaking countries Jesus is a not-uncommon name for a boy – it is, after all, just another form of the name Joshua – which comes in at No. 25 of the top 100 most popular boys names in 2020 (down nine places from 2019!). We say Joshua, they say Jesus. And it means 'God saves.' Remember Matthew's account of when the angel visited Mary and told her that her baby would be called Jesus 'because he will save his people from their sins'. That's what the name means – and, of course, that's what Jesus did – he lived up to his name.
Today is the Sunday when, this year, we read about the Naming and Circumcision of Jesus – anticipating the actual Festival on New Year's Day. And so it's a day that we approach with an extraordinary mixture of emotions. We anticipate the arrival of a New Year. We mark the passing of an old year – and that is inevitably a mixture of emotions in itself. We celebrate with the Holy Family as they initiate their new-born baby into the faith – as Jewish people had done and continue to do, following the command of God to Abraham (Genesis Chapter 17). We celebrate the naming of the one who saves.
And, I suspect, this new year of all new years, we wonder a bit about what the future holds. New Years seem to be times of uncertainty these days, don't they? Looking back, I see that three years ago I commented on the fact that, the previous year, we didn't see either Donald Trump or Brexit coming. And as things are I'm certainly not going to attempt any predictions about the year to come.
So, we approach 2021 with our own mixture of emotions, our own uncertainties about ourselves and those we love and the future of the world. You certainly wouldn't be alone in being glad to see the back of 2020. But let me make a prediction or two about 2021. Politics will continue to surprise us, people will continue to die and at least one world event will happen that we didn't see coming. This isn't, of course, an amazing feat of fortune-telling on my part – it happens every year.
But, but …..
Another rash prediction. There will be times, in 2021, when we will have to pray a lot. We will have to ask God a lot of questions. We will join the generations and generations going back to the time of the Psalmists and even earlier, who find themselves saying 'Why Lord. Why this? What in God's name is going on?' But let me quote a book I may well have quoted before, 'Unapologetic' by Francis Spufford. Whatever happens, he reminds us, 'the churches are (we hope and pray) open, doing their ancient and necessary business, and they will still be open tomorrow, and the day after that …. They will still be offering the hush in which we can bear to find out what we're like. Christ will still be looking across at us from the middle of the angry crowd. God will still be there, shining.'
As the angel said to both Mary and the shepherds, 'don't be afraid'. Love came down at Christmas. Jesus – Joshua – lives. God saves – still and always.
Post Communion
Grant, O Lord, we pray, that the Word made flesh
proclaimed by your apostle John may, by the celebration
of these holy mysteries, ever abide and live within us;
through Jesus Christ our Lord.
The Week Ahead
Next Sunday 3rd January/Epiphany
| | | |
| --- | --- | --- |
| 9.30am | Holy Communion | Knodishall Church |
| 9.45am | Holy Communion | Friston Church |
| 10.30am | Holy Communion | Aldeburgh Church |
| 11.00am | Holy Communion | Aldringham Church |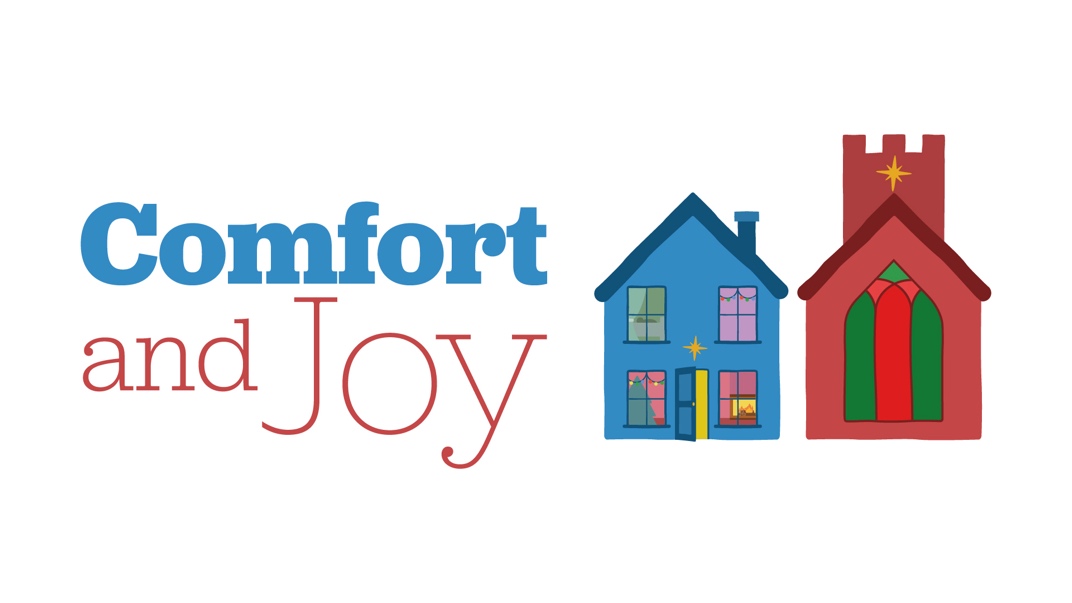 We Wish You All a
Very Happy Safe Christmas and a
Happy New Year