Message from our Curate in Charge,
The Revd James Marston
Remembrance Sunday  
A reminder that there will be a Holy Communion using the Book of Common Prayer at Aldeburgh church at 8am. This ensures canon law is satisfied and the benefice has a communion service for those who wish to receive the sacrament.  
Remembrance Sunday services are happening across the benefice with services at Aldeburgh Moot Hall, Aldringham, Knodishall and Friston. All begin by gathering at the respective war memorials – the Alde Sandlings villages all have memorials in the churchyards.  
Lest we forget  
James  
Collect
Heavenly Father,
whose blessed Son was revealed to destroy the works of the devil
and to make us the children of God and heirs of eternal life:
grant that we, having this hope,
may purify ourselves even as he is pure;
that when he shall appear in power and great glory
we may be made like him in his eternal and glorious kingdom;
where he is alive and reigns with you,
in the unity of the Holy Spirit,
one God, now and for ever.

First Reading
Daniel 12.1-3
At that time Michael, the great prince, the protector of your people, shall arise. There shall be a time of anguish, such as has never occurred since nations first came into existence. But at that time your people shall be delivered, everyone who is found written in the book. Many of those who sleep in the dust of the earth shall awake, some to everlasting life, and some to shame and everlasting contempt. Those who are wise shall shine like the brightness of the sky, and those who lead many to righteousness, like the stars for ever and ever.
Second Reading
Hebrews 10.11-14 [15-18] 19-25
And every priest stands day after day at his service, offering again and again the same sacrifices that can never take away sins. But when Christ had offered for all time a single sacrifice for sins, 'he sat down at the right hand of God', and since then has been waiting 'until his enemies would be made a footstool for his feet.' For by a single offering he has perfected for all time those who are sanctified.[And the Holy Spirit also testifies to us, for after saying, 'This is the covenant that I will make with them after those days, says the Lord: I will put my laws in their hearts, and I will write them on their minds', he also adds, 'I will remember their sins and their lawless deeds no more.' Where there is forgiveness of these, there is no longer any offering for sin.] Therefore, my friends, since we have confidence to enter the sanctuary by the blood of Jesus, by the new and living way that he opened for us through the curtain (that is, through his flesh), and since we have a great priest over the house of God, let us approach with a true heart in full assurance of faith, with our hearts sprinkled clean from an evil conscience and our bodies washed with pure water. Let us hold fast to the confession of our hope without wavering, for he who has promised is faithful. And let us consider how to provoke one another to love and good deeds, not neglecting to meet together, as is the habit of some, but encouraging one another, and all the more as you see the Day approaching.
Gospel Reading
Mark 13.1-8
As he came out of the temple, one of his disciples said to him, 'Look, Teacher, what large stones and what large buildings!'  Then Jesus asked him, 'Do you see these great buildings? Not one stone will be left here upon another; all will be thrown down.' When he was sitting on the Mount of Olives opposite the temple, Peter, James, John, and Andrew asked him privately, 'Tell us, when will this be, and what will be the sign that all these things are about to be accomplished?' Then Jesus began to say to them, 'Beware that no one leads you astray. Many will come in my name and say, "I am he!" and they will lead many astray. When you hear of wars and rumours of wars, do not be alarmed; this must take place, but the end is still to come. For nation will rise against nation, and kingdom against kingdom; there will be earthquakes in various places; there will be famines. This is but the beginning of the birth pangs.
Post Communion
Gracious Lord,
in this holy sacrament
you give substance to our hope:
bring us at the last
to that fullness of life for which we long;
through Jesus Christ our Saviour.
Sermon By The Revd Johanna Mabey preached on
Sunday 7th November 2021 – 3rd Sunday before Advent

Jonah 3:1-5,10 – Hebrews 9:24 to end – Mark 1: 14-20
"May the words of our mouths and the meditations of our hearts be acceptable in thy sight, O Lord our rock and our redeemer"
It's said that a change is as good as a rest, but we look at all the changes that we've been through over the last 18 months or so, and the changes that are still to come to us as a community both locally and globally, and it doesn't feel very restful, does it?
For some people, the prospect of change is terrifying, while others find it stimulating, but I suppose all of us know – change has to happen!
Whilst none of us want change for change's sake, we can't fail to notice that all life involves change – it's as natural as the God-given rhythm of the seasons.
Jesus promised change to those four disciples who were simply sitting, mending their nets. They probably didn't set out that morning thinking 'I need a new job'. But Jesus turned up and simply said 'Follow me and I will make you fish for people.' And they did – without question, without knowing where they were going, seemingly without even stopping to think about it.
Jesus had launched onto the scene following the arrest of John the Baptist.
He'd come to proclaim that the Kingdom of God was near, and he had a very simple message – 'Follow me', and 'fish for people'. In that message he declared himself a very different style of teacher.
In ancient times it was never the responsibility of a Rabbi to call people to follow – it was the responsibility of any prospective disciples to seek out their chosen Rabbi and ask for permission to follow. In this case, Jesus did the seeking out.
In those days, to follow a Rabbi was to follow a particular set of teachings.
But to follow Jesus was to follow a person, something which we all are still called to do today.
For the four disciples, the call to follow Jesus meant literally walking in his footsteps. They followed him throughout Galilee and Samaria for three years.
They followed Jesus with no idea of where it would lead. They were truly fishermen in the wilderness – but something made them stay with Jesus.
They were called to follow at the beginning of Jesus' ministry, and they chose to stay – until it all got too dangerous for them and then, after the events of Good Friday and Easter Day, they went back to what they knew.
In John's Gospel we're told that Peter said 'I am going fishing'. Jesus met them on the shore for breakfast – and Jesus's last words to Simon Peter were 'Follow me! At the low points and the high points of our lives, Jesus says 'Follow me'.
The disciples' calling, and the calling of every single person here is the same – Follow me and I will make you fishers of men. Follow me and feed my sheep.
As disciples, our first calling is to enter into a relationship with Jesus, a relationship that's one of complete and utter trust. We follow by developing that relationship through Prayer, Bible Study and fellowship with other followers.
Our calling to a relationship with Jesus is a calling to give him our burdens and worries and to receive from him the gifts he longs to share with us peace, hope, grace, joy, truth, love, strength, wisdom.
As disciples we're also called to action. We're called to be people who go out and live as Christ in the world.
We're called to be people who allow Jesus to speak through us,
offering challenge and rebuke as well as encouragement and love.
We're called to minister God's reconciling love to the world…
all the world, not just to people like us.
We're called to bring God's word of forgiveness and of hope to all who need it.
Our calling to follow demands total commitment.
That's not easy, because it's counter cultural in our instant society.
It's not easy because it demands something which most of us are not
willing to give. It demands discipline, single-mindedness, and a determination to make Jesus the centre of our lives.
Jesus says 'Follow me'.
May we all hear those words, follow in His footsteps and never be the same.
Amen.
Almighty and eternal God,
from whose love in Christ we cannot be parted, either by death or life:
hear our prayers and thanksgivings for all whom we remember this day;
fulfil in them the purpose of your love;
and bring us all, with them,
to your eternal joy;
through Jesus Christ our Lord.
Amen

 
Do take a look at the Royal British Legion website with
useful information and links:
Next week –
Sunday 21st November
Christ the King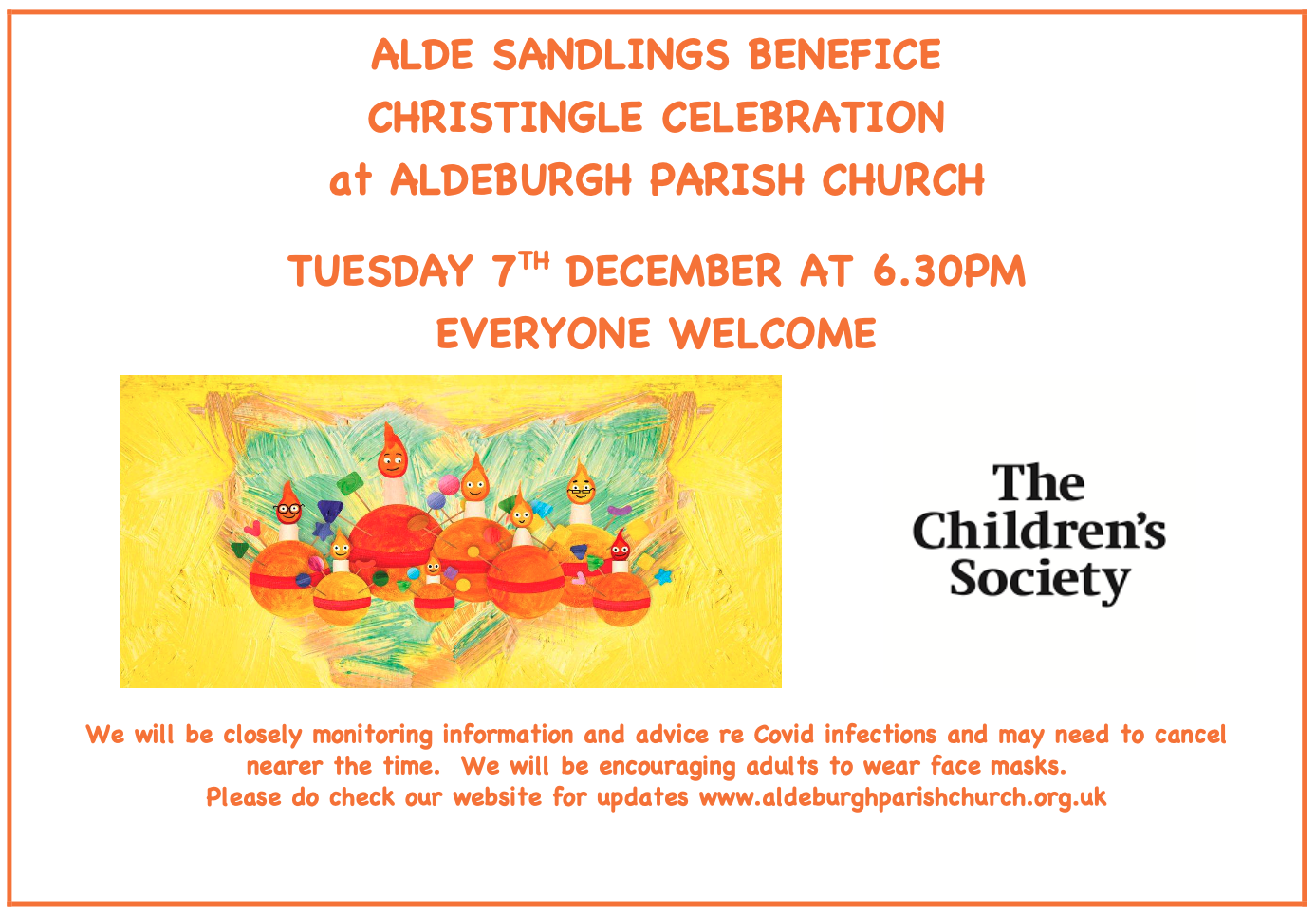 NOTICES
Weekly Benefice Newsletter
If you would like something added to the weekly newsletter that is relevant to the Benefice, please do let Claire know and we will do our best to include it the following week.
Pilgrims Together on Wednesdays
The Pilgrims worship together every Wednesday.
You are all more than welcome to join them via Zoom.  
The worship starts at 6.30pm (Zoom call opens from 6.10pm) and the call is then left open after the worship time for people to catch up.  The worship is about 30 minutes long.  We have a different worship sheet each week which goes out on a Monday ahead of the Wednesday.  
People are welcome to email pilgrimstogether473@gmail.com 
to receive a copy or be added to our mailing list.
Zoom Quiz night: Saturday 27th November.  
Please email Sue and Richard.
Please contact pilgrimstogether473@gmail.com for the links or more information.

Food Banks at the East of England Co-op
Foodbanks provide a valuable service to those in need in our communities. The Aldeburgh Co-op and Solar in Leiston are doing a grand job in collecting food donations, which are collected regularly and distributed. So please look out for the various collection baskets.
The Trussel Trust Organisation
Food banks in our network have seen an increase in the number of food parcels given out over the last year due to Coronavirus, so any donations are much appreciated. You can find out which items your local food bank is most in need of by entering your postcode here – https://www.trusselltrust.org/give-food/ 
BANK HOLIDAY & STAFF TRAINING CLOSURE DATES
The surgery will be closed for staff training on Thursday 08.12.21 from 13.00. The surgery will be closed 27th December 2021 and 28th December 2021
and 3rd January 2022
When the surgery is closed, please call NHS 111
Covid Boosters and Flu vaccinations
The practice continues to administer our Covid boosters and flu vaccinations. If you are due, please call the surgery to book your appointment or visit our website for further information.