Sunday 9th August
Ninth Sunday after Trinity
9.30am Thorpeness Service 2 – The Meare, Thorpeness
9.30am Patronal Festival Service _ Knodishall Church
9.45am Morning Praise – Friston Church
11.00am Informal Service – Aldringham Churchyard
3.00pm Online Service available
6.00pm Celtic Evening Service – Aldeburgh Parish Church

 
Message from the Rector

Although much that we normally look forward to at this time of year has had to be cancelled or at least postponed there are some things to look forward to in the coming weeks. Please do put the dates of the open-air music-making in Friston churchyard in your diaries (see elsewhere in this document) – I know that the musicians involved are very much looking forward to being able to make music together when so many other opportunities have been denied them. Then, for those who are happy to watch services online please do put Sunday September 13th at 5.30pm in your diaries too. That is when James will be ordained priest in our cathedral and you will be able to join the service at www.facebook.com/stedscathedral/posts
The following Sunday, at 10.30am in Aldeburgh church, James will preside at Holy Communion for the first time. You would be, of course, welcome to join us for that service but we will also attempt to record it and put it online as soon afterwards as we can.
By the way, my apologies to all of those who were hoping to be able to see the recorded service from Aldeburgh at 3pm last Sunday. For technical reasons I won't bore you with it took me much longer to upload it to the website that I expected, and it was eventually there at about 5.15pm (and is still there). Lessons have been learned (!) and I very much hope that this week's recorded service, from Knodishall (their Patronal Festival) will be online by 3.
I would also draw your attention to the notice later in this document about the remarkable and very powerful piece of music that Alan Bullard has composed, inspired by the beauty of Friston village and the future threat from large-scale power generation-related development. Hearing the music and seeing the images he has put together to accompany it speaks more powerfully than words ever could – do watch and listen.
Finally, we still have a date in the diary for the annual lunch for the Friends of Aldeburgh Church – Friday November 6th. We are continuing to work on the basis of this being possible but, of course, we will have to abide by whatever rules are in place at the time. But don't delete the date yet, we are ever hopeful!
With love, as ever
Mark
Collect
Almighty God, who sent your Holy Spirit to be the life and light of your Church: open our hearts to the riches of your grace, that we may bring forth the fruit of the Spirit in love and joy and peace; through Jesus Christ your Son our Lord, who is alive and reigns with you, in the unity of the Holy Spirit, one God, now and for ever.
First Reading
1 Kings 19.9-18
At that place Elijah came to a cave and spent the night there.
Then the word of the Lord came to him, saying, 'What are you doing here, Elijah?' He answered, 'I have been very zealous for the Lord, the God of hosts; for the Israelites have forsaken your covenant, thrown down your altars, and killed your prophets with the sword. I alone am left, and they are seeking my life, to take it away.'
He said, 'Go out and stand on the mountain before the Lord, for the Lord is about to pass by.' Now there was a great wind, so strong that it was splitting mountains and breaking rocks in pieces before the Lord, but the Lord was not in the wind; and after the wind an earthquake, but the Lord was not in the earthquake; and after the earthquake a fire, but the Lord was not in the fire; and after the fire a sound of sheer silence.  When Elijah heard it, he wrapped his face in his mantle and went out and stood at the entrance of the cave. Then there came a voice to him that said, 'What are you doing here, Elijah?' He answered, 'I have been very zealous for the Lord, the God of hosts; for the Israelites have forsaken your covenant, thrown down your altars, and killed your prophets with the sword. I alone am left, and they are seeking my life, to take it away.' Then the Lord said to him, 'Go, return on your way to the wilderness of Damascus; when you arrive, you shall anoint Hazael as king over Aram. Also you shall anoint Jehu son of Nimshi as king over Israel; and you shall anoint Elisha son of Shaphat of Abel-meholah as prophet in your place. Whoever escapes from the sword of Hazael, Jehu shall kill; and whoever escapes from the sword of Jehu, Elisha shall kill. Yet I will leave seven thousand in Israel, all the knees that have not bowed to Baal, and every mouth that has not kissed him.'
Second Reading
Romans 10.5-15
Moses writes concerning the righteousness that comes from the law, that 'the person who does these things will live by them.' But the righteousness that comes from faith says, 'Do not say in your heart, "Who will ascend into heaven?" ' (that is, to bring Christ down) 'or "Who will descend into the abyss?" ' (that is, to bring Christ up from the dead). But what does it say? 'The word is near you, on your lips and in your heart'
(that is, the word of faith that we proclaim); because if you confess with your lips that Jesus is Lord and believe in your heart that God raised him from the dead, you will be saved. For one believes with the heart and so is justified, and one confesses with the mouth and so is saved. The scripture says, 'No one who believes in him will be put to shame.' For there is no distinction between Jew and Greek; the same Lord is Lord of all and is generous to all who call on him. For, 'Everyone who calls on the name of the Lord shall be saved.'
But how are they to call on one in whom they have not believed? And how are they to believe in one of whom they have never heard? And how are they to hear without someone to proclaim him? And how are they to proclaim him unless they are sent? As it is written, 'How beautiful are the feet of those who bring good news!'
Gospel Reading
Matthew 14.22-33
Immediately Jesus made the disciples get into the boat and go on ahead to the other side, while he dismissed the crowds. And after he had dismissed the crowds, he went up the mountain by himself to pray. When evening came, he was there alone, but by this time the boat, battered by the waves, was far from the land, for the wind was against them. And early in the morning he came walking towards them on the lake. But when the disciples saw him walking on the lake, they were terrified, saying, 'It is a ghost!' And they cried out in fear.  But immediately Jesus spoke to them and said, 'Take heart, it is I; do not be afraid.'
Peter answered him, 'Lord, if it is you, command me to come to you on the water.' He said, 'Come.' So Peter got out of the boat, started walking on the water, and came towards Jesus. But when he noticed the strong wind, he became frightened, and beginning to sink, he cried out, 'Lord, save me!' Jesus immediately reached out his hand and caught him, saying to him, 'You of little faith, why did you doubt?' When they got into the boat, the wind ceased. And those in the boat worshipped him, saying, 'Truly you are the Son of God.'
Sermon, from Revd Nichola Winter
The Collect today speaks of the Holy Spirit being the life and light of the Church (a little like the life and soul of a party.) A bright, upbeat image full of energy, vigour and verve. Then it continues with a description of the Spirit inspiring love, joy and peace. A happy combination of the wisest of gifts for ensuring a good life. As Christians we are to proclaim this message – see Paul's direction to the Romans: the call to proclaim the Lord who will bring salvation:
"Everyone who calls on the name of the Lord shall be saved." But how are they to call on one in whom they have not believed? And how are they to believe in one of whom they have never heard? And how are they to hear without someone to proclaim him? And how are they to proclaim him unless they are sent? As it is written, "How beautiful are the feet of those who bring good news!"
We are the ones who are to bring the good news. We need to let God speak to us and we need to listen. No-one said it would be easy. Think of Elijah. Not knowing how to deal with the problems that beset him he heads for the hills. God tells him that he, God, will be found there. He – God – will 'pass by'. We can almost imagine Elijah bracing himself. But God isn't in the wind; he isn't in the earthquake; he isn't in the fire. What follows is sheer silence. Have you ever been in a place where the quiet is so deep that your ears almost ache as they stretch to pick up the slightest sound? Elijah is so affected he wraps his face up in his mantle. Only then is it that he hears God's voice; he receives counsel and can now set his course of action. That 'still small voice of calm' is the voice that begs to be heard. In our noisy, busy, bass-beat world finding that still silence is a great gift.
Jesus, tired and wanting himself and his disciples to have a break, directs them to take a boat out onto the water whilst he takes time out to pray. But we're not talking about a gentle evening row on the lake here, some downtime and a picnic after a tiring day. Remember, the folk of the bible held the sea in great fear and suspicion; this extended to all large expanses of water and the Sea of Galilee was no exception. The fishermen disciples would have been experienced in handling boats in all types of weather – but was handling a boat in dubious weather conditions really what they wanted at this time of the day? Water was (and is) an unpredictable element in which to work or travel. It is also a potent symbol, reassuring and reaffirming when used in our baptism services but, in its chaotic state, a metaphor for anything that prevents or disables that condition of fulness in God. The sea is always pushing against the boundaries set for it – consider the gradually eroding coastline at Aldeburgh. We can't predict how, or when, peace will come after turbulence. We can only place ourselves in the hands of God; trusting in his strength and not our own. Each storm will resolve in a different way. The gift of God's peace is not one to be grasped by our own choosing; as with his grace it will come in unexpected ways.
So here are the disciples, terrified, fearing the worst. When Jesus suddenly reappears he is walking on the water; no wonder they think it's a ghost. But Jesus bids Peter step out of the boat. From one danger to another. Impetuous Peter is going to give it a try though – and he steps out. Perhaps he can't believe he is actually doing this – and that doubt causes him to start sinking. Jesus reaches out a hand – here at last is something tangible that Peter can grasp – the fisherman in him can understand the strength of a human hand. Jesus chides their lack of faith – 'You of little faith, why did you doubt?' he says. Remember, this takes place after the occasion when Jesus had been in the boat with the disciples during a storm and had calmed the wind and waves. Their reaction then was, 'What sort of man is this, that even the winds and the sea obey him?' – now they are convinced. 'Truly you are the Son of God', they say. (Matthew 14:23-33.)
God walks with us – in turbulence and in peace. He is as close as breathing. His peace passes all understanding. It is beyond riches, too. Kahlil Gibran writes the following:
'The hidden wellspring of your soul must needs rise and run murmuring to the sea; And the treasure of your infinite depths
would be revealed to your eyes. But let there be no scales to
weigh your unknown treasure;
And seek not the depths of your knowledge with staff or sounding line. For self is a sea boundless and measureless.'
May we not fear the sea. May we find calm – even in the storms.
God is with us.
Post Communion
Holy Father, who gathered us here around the table of your Son
to share this meal with the whole household of God:
in that new world where you reveal the fullness of your peace,
gather people of every race and language to share in the eternal
banquet of Jesus Christ our Lord.
Press Release – Alan Bullard's new orchestral piece, Friston Moor
For several years composer Alan Bullard and his wife Jan have made a home in the Suffolk village of Friston, near Snape, on the Sandlings long distance footpath and the edge of an Area of Outstanding Natural Beauty. It is an area of rolling farmland, just a few miles inland from the towns of Aldeburgh and Thorpeness, with nature reserves, small villages and cliff paths – a fragile and beautiful environment much loved by the residents and tourists alike.
Friston Moor is a short orchestral piece which Alan Bullard wrote during lockdown about one of his favourite walks, though the village, past the church, and into the ever-changing landscape of the farmland beyond. Apart from the growing crops and the surrounding woodland, this area is characterised by two particular features, a grand and stately row of electricity pylons, and the village church always glimpsed through the trees. In a blog about the piece http://www.alanbullard.co.uk/pylon-power-a-new-orchestral-piece/ Alan wrote that:
'Just as railway viaducts cross hillsides, the electricity pylons that traverse this landscape, on their way from Sizewell to Ipswich and beyond, give a sense of perspective and of hidden power which I once found rather pleasing and exciting. But things have changed, and now the pylons feel menacing and frightening.'
This is because the whole of this area is currently threatened by plans to connect electric power to wind farms in the North Sea with underground cabling which will lead to three giant substations just north of the village of Friston. The permanent substations, if built, will cover over 35 acres of land, obliterating several well-used public footpaths and completely changing the view from the village church and green. The underground cabling will involve ripping up 6 miles of beautiful countryside with trenches 60 metres wide, which will take many years to return to normal.
A local campaigning organisation www.sases.org.uk (Substation Action – Save East Suffolk) has the slogan 'Yes to wind energy – but let's do it right!' – because there are other ways that wind energy can be brought ashore, notably by off-shore ring mains which link to already established substation sites – a much better way to preserve the environment, not only in Suffolk, but in Norfolk, and right the way up the East Coast. Thus, Alan Bullard feels that the drama of his piece of music will perhaps remind people of the damage that could be wrought in this part of East Anglia, and a hope that another solution may be found.
Although at present there is no orchestra available to play it, by using computer software (mainly a programme called NotePerformer) Alan has created the sound of a symphony orchestra, and combined this performance with visuals to make a short, colourful and dramatic film. You can see it here: https://youtu.be/oNppUzcFcto
About Alan Bullard
Alan Bullard is a professional composer whose music is performed and broadcast in many countries. He is particularly known for his choral music and music for education, though over the years he has written a wide range of music for most instruments. His music has been played and sung in halls ranging from London's Festival Hall to the Meyerson Symphony Center in Dallas, Texas, and in places of worship ranging from St Paul's Cathedral London, Norwich Cathedral, Kings and Selwyn Colleges Cambridge, and St Thomas Fifth Avenue, New York. For full details please visit www.alanbullard.co.uk
Alan Bullard:
Japonica Cottage, Donkey Lane, Friston, Saxmundham, IP17 1PL
07748 710593
SASES: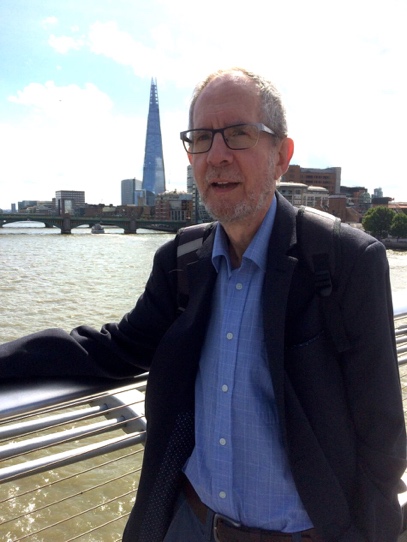 The Week Ahead – Next Sunday
16th August – Tenth Sunday after Trinity
Thorpeness Service 3

The Meare, Thorpeness

Morning Praise

Friston Church

Holy Communion

Aldeburgh Church

Informal Service

Aldringham Churchyard

Online Service available
NOTICES
Suffolk Historic Churches Ride and Stride
Saturday 12th September 9am-4pm
The 2020 Ride and Stride is going ahead but will be adapted to the current Covid 19 guidelines. The Annual Sponsored Ride and Stride is a national event, and every second Saturday in September cyclists and walkers all round the country are out making money for their local county Churches Trust. Our usual wonderful volunteers at Aldeburgh Parish Church will be taking part and a new addition too in the form of a certain member of the clergy.
If you would like to take part or indeed sponsor one of our team,
please either:
Contact us using the Aldeburgh Parish Church contact form
https://www.aldeburghparishchurch.org.uk/contact/
Or email admin@aldeburghparishchurch.org.uk and Claire will pass on your details to Fran Smith, who is leading this event.
Or see Fran after the services at Aldeburgh where she will be pleased to take your details (socially distanced).
Our participants currently are Revd James Marston, Adrian and Jill Brown, Richard & Emily Rapior, and Mary Sidwell. Fran Smith (who will be sponsored for the registering of participants).
Some useful pointers:
Follow the Government guidance on COVID prevailing at the time
Some churches may not open or there is no one to welcome you, just sign the register. 
Don't worry if there is no register, just mark your own sponsor form with churches visited
As an alternative to signing in, you could take a photo of the church sign as evidence.
Take your own pen
There is unlikely to be refreshments
Toilets may not be available
If you enter a church, touch as little as possible
Take hand sanitizer
Take your own refreshments
Remember the Highway Code and use lanes and minor roads where possible
Please visit the Suffolk Historic Church Trust website for more information. https://shct.org.uk/ride-and-stride/
Food Banks at the East of England Co-op 
Foodbanks provide a valuable service to those in need in our communities and have an even more vital role to play as we navigate our way through these unprecedented times.
The Aldeburgh Co-op and Solar in Leiston are doing a grand job in collecting food donations, which are collected regularly and distributed. Please do keep a look out at their notices as they will be putting a list of the items most needed.
They both have large donation baskets that you can add your items to.
✟ Songs of Praise on The Green 🎶
A Benefice Service at Friston – 30th August 2020 3.00pm
POSTPONED
Another date will be advised nearer the time.
Pilgrims Together
(part of The Alde Sandlings Benefice)
invite you to
Thorpeness Summer Services 2020
Celtic Style Worship
9.30am at The Meare, Thorpeness
Sunday 9th August
Sunday16th August
Sunday 23rd August
ALL ARE WELCOME
Please bring your own chair!