Services this Sunday for The Alde Sandlings Benefice
Aldeburgh

Aldringham

Friston

Knodishall

10.30am

11.00am

9.00am

9.00am

Sea Sunday Service

Morning Service

Holy Communion

Morning Prayer

 
 
 
Message from Revd Sarah du Boulay
Dear Friends, 
I hope you have all had a good week. 
My welcome to the benefice continues, and I would like to thank everybody for all your kindnesses and support during my first week on ministry here in Alde Sandlings.
I'm sure you understand that there is a lot for me to understand and diarise, so I need to ask for your continued patience. If you contact me, I WILL respond, but it might not be within the first 24 hours – please bear with me!
I'm looking forward to worshipping with Friston this Sunday, and Aldringham the next, so I hope to meet some new faces at both.
With continued prayers,
Sarah
Collect
O God, the protector of all who trust in you,
without whom nothing is strong, nothing is holy:
increase and multiply upon us your mercy;
that with you as our ruler and guide
we may so pass through things temporal
that we lose not our hold on things eternal;
grant this, heavenly Father,
for our Lord Jesus Christ's sake,
who is alive and reigns with you,
in the unity of the Holy Spirit,
one God, now and for ever.

First Reading
Deuteronomy 30.9-14
The Lord your God will make you abundantly prosperous in all your undertakings, in the fruit of your body, in the fruit of your livestock, and in the fruit of your soil. For the Lord will again take delight in prospering you, just as he delighted in prospering your ancestors, when you obey the Lord your God by observing his commandments and decrees that are written in this book of the law, because you turn to the Lord your God with all your heart and with all your soul. Surely, this commandment that I am commanding you today is not too hard for you, nor is it too far away. It is not in heaven, that you should say, 'Who will go up to heaven for us, and get it for us so that we may hear it and observe it?' Neither is it beyond the sea, that you should say, 'Who will cross to the other side of the sea for us, and get it for us so that we may hear it and observe it?' No, the word is very near to you; it is in your mouth and in your heart for you to observe.

Second Reading
Colossians 1.1-14
I Paul, an apostle of Christ Jesus by the will of God, and Timothy our brother, to the saints and faithful brothers and sisters in Christ in Colossae:
Grace to you and peace from God our Father. 
In our prayers for you we always thank God, the Father of our Lord Jesus Christ, for we have heard of your faith in Christ Jesus and of the love that you have for all the saints, because of the hope laid up for you in heaven. You have heard of this hope before in the word of the truth, the gospel that has come to you. Just as it is bearing fruit and growing in the  whole world, so it has been bearing fruit among yourselves from the day you heard it and truly comprehended the grace of God. This you learned from Epaphras, our beloved fellow-servant. He is a faithful minister of Christ on your behalf, and he has made known to us your love in the Spirit. For this reason, since the day we heard it, we have not ceased praying for you and asking that you may be filled with the knowledge of God's will in all spiritual wisdom and understanding, so that you may lead lives worthy of the Lord, fully pleasing to him, as you bear fruit in every good work and as you grow in the knowledge of God. May you be made strong with all the strength that comes from his glorious power, and may you be prepared to endure everything with patience, while joyfully giving thanks to the Father, who has enabled you to share in the inheritance of the saints in the light. He has rescued us from the power of darkness and transferred us into the kingdom of his beloved Son, in whom we have redemption, the forgiveness of sins.


Gospel Reading
Luke 10.25-37
Just then a lawyer stood up to test Jesus. 'Teacher,' he said, 'what must I do to inherit eternal life?' He said to him, 'What is written in the law? What do you read there?' He answered, 'You shall love the Lord your God with all your heart, and with all your soul, and with all your strength, and with all your mind; and your neighbour as yourself.' And he said to him, 'You have given the right answer; do this, and you will live.' But wanting to justify himself, he asked Jesus, 'And who is my neighbour?' Jesus replied, 'A man was going down from Jerusalem to Jericho, and fell into the hands of robbers, who stripped him, beat him, and went away, leaving him half dead. Now by chance a priest was going down that road; and when he saw him, he passed by on the other side. So likewise a Levite, when he came to the place and saw him, passed by on the other side. But a Samaritan while travelling came near him; and when he saw him, he was moved with pity. He went to him and bandaged his wounds, having poured oil and wine on them. Then he put him on his own animal, brought him to an inn, and took care of him. The next day he took out two denarii, gave them to the innkeeper, and said, "Take care of him; and when I come back, I will repay you whatever more you spend." Which of these three, do you think, was a neighbour to the man who fell into the hands of the robbers?' He said, 'The one who showed him mercy.' Jesus said to him, 'Go and do likewise.'
Sermon preached by The Revd Sarah du Boulay at
Aldeburgh 3rd July 2022
On Thursday, Bishop Martin told you that I am persistent. He also told you that I am here to love you, and to serve you. That shows a generous and worryingly insightful awareness of my character from our Diocesan Bishop. I wanted to take this opportunity to offer you an insight into some of my theology of ministry as well.
I believe with all my heart that our faith is simple. God loves us. And we are called to accept and absorb that love. We are then called to reflect that love back out into the world. That's it. God invites us into his loving embrace; we accept; and then we invite others in alongside us.
There is a poem which I have loved for a long time, which, when I was priested, became very important to me. I keep a copy on the inside cover of my liturgical books, and pray over it before every service that I lead – I did so today. It is a well known poem, which many of you will know, and I wanted to share it with you. It is called Love (III) by George Herbert:
LOVE bade me welcome; yet my soul drew back,
            Guilty of dust and sin.
But quick-eyed Love, observing me grow slack
    From my first entrance in,
Drew nearer to me, sweetly questioning
            If I lack'd anything.
'A guest,' I answer'd, 'worthy to be here:'
            Love said, 'You shall be he.'
'I, the unkind, ungrateful? Ah, my dear,
            I cannot look on Thee.'
Love took my hand and smiling did reply,
            'Who made the eyes but I?'
'Truth, Lord; but I have marr'd them: let my shame
            Go where it doth deserve.'
'And know you not,' says Love, 'Who bore the blame?'
            'My dear, then I will serve.'
'You must sit down,' says Love, 'and taste my meat.'
            So I did sit and eat.
Of course, the character of Love is in fact God – God is love and love is God. That is simple. God always has his arms opened wide to us, bidding us welcome, inviting us in. All we have to do is accept that invitation. Knowing we are unworthy. Knowing that it is God himself who has paid the price for our sin. Knowing that we are entirely reliant on God's mercy and forgiveness and love.
Love bade me welcome. All I had to do was to say 'yes'.
It strikes me that this resonates strongly with the stories of both St Peter and St Paul. St Paul – a great sinner – persecutor of early Christians – heard God's call, and said 'yes'. He absorbed God's love and he reflected it back out. St Peter too – literally heard the call of Jesus, and said 'yes'. He followed Christ, absorbing his love, and reflecting it back out into the world. Both these men exercised their ministry courageously, wisely, and faithfully. Both men did not always get it right. Both men relied entirely on God's invitation and forgiveness of their sins. Both men faced great opposition. Both men prayed fervently. Both men were rescued, both physically and spiritually by God. Both men literally gave their lives for their Lord and Saviour.
Love bade them welcome. Their souls drew back. And yet, all they had to do was to say 'yes'.
Yesterday I was fortunate to be at the Priesting service at the cathedral. We were celebrating the ministry of 13 men and women who had all accepted God's invitation and said 'yes' to it. Funnily, the Gospel reading was the same as today, and the preacher reflected that in saying 'yes' to God, Peter became the rock on which the church was built. He may have been the rock, but I want to remind us all that we are all individual stones in the structure. We are all called, at different times and in different ways, to love God and to love our neighbours.
This is true for all followers of Christ – past, present and future. It is our calling right here and right now, throughout the whole of this benefice. We may not hear. We may not understand. We may hear and understand, and still draw back, through fear or self doubt:
LOVE bade me welcome; yet my soul drew back,
            Guilty of dust and sin.
But quick-eyed Love, observing me grow slack
    From my first entrance in,
Drew nearer to me…
God constantly has his arms opened wide to us. He is always inviting us. He persistently loves us. God wants us to be loved, and to love in return. It really is that simple.
So our challenge, I think, as a benefice, is to work out how we respond to this call. Keeping our eyes firmly on God. Loving God and loving our neighbours. How are we going to say 'yes'? How are you going to say 'yes'?
Post Communion
Eternal God,
comfort of the afflicted and healer of the broken,
you have fed us at the table of life and hope:
teach us the ways of gentleness and peace,
that all the world may acknowledge
the kingdom of your Son Jesus Christ our Lord.
This week's photo is supplied by Mary Sidwell
Mary has kindly shared her peaceful moment from last week with an early morning paddle between Aldeburgh and Thorpeness, with just the sound of a shore lark singing overhead. We can almost hear it!!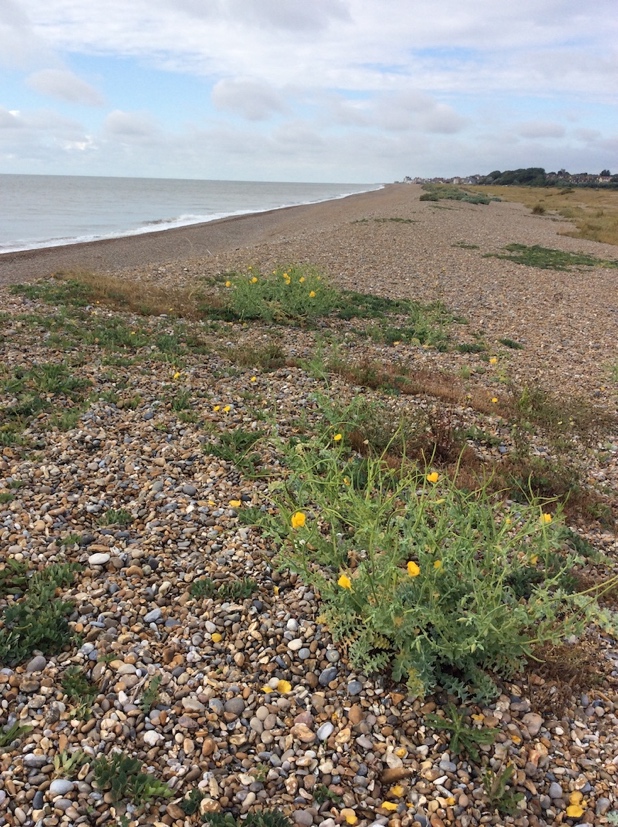 NOTICES
Weekly Benefice Newsletter
If you would like something added to the weekly newsletter that is relevant to the Benefice, please do let Claire know and we will do our best to include it the following week.
All requests by 4pm on Thursday please
Food Banks at the East of England Co-op
Foodbanks provide a valuable service to those in need in our communities. The Aldeburgh Co-op and Solar in Leiston are doing a grand job in collecting food donations, which are collected regularly and distributed. So please look out for the various collection baskets.
Friston Classics on the Green
Thursday 14th July from 3pm
Bring your veteran, vintage car or bike (all vehicles in production before 1970) or just bring your friends and family. Tea, coffee, cakes and scones in the Village Hall, pop-up bar and barbecue on the Village Green and food and drink at the Old Chequers. Village Green reserved for classics and Blue Badge holders only. Public parking in Grove Road – not on the main roads please. Entrance is free but we need your donations please.
✞ Pilgrims Together on Wednesdays on Zoom ✞
The worship starts at 6.30pm (Zoom call opens from 6.10pm) and the call is then left open after the worship time for people to catch up.   People are welcome to email pilgrimstogether473@gmail.com 
to receive a copy, be added to our mailing list.
Pilgrims @ The Meare Thorpeness
Sunday 10th July Pilgrims @ The Meare: Outside F2F Worship Gathering 10 am (Bring your own chair!) Celtic style worship of the Iona Community, Sundays in July, and August, on the grass next to the Boating Lake just beyond The Meare Café.
Pilgrims Together
Saturday 16th July Community Good News Faith Cafe @ The Outside Inn, Parrot Pub 9.30 – 10.30
A time for conversation, a hot drink, and a croissant.  A time to share and offer our thoughts and stories. Acts of kindness within the Outside Inn and taken out into the outside world.
Alde Sandlings Benefice Fun Days in August
This August we will have two Friday markets on the 
5th and 26th 10am – 2pm.  The proposed stalls are as follows:
BBQ, Vegetables, Plants, Fruit and Flowers, Cakes and Savouries, Jams etc, Craft Stalls, General Bric a Brac. Tombola and Games.  
All the churches in the Alde Sandlings are invited to have their chosen stalls to raise funds for the churches. 
Please contact admin@aldeburghparishchurch.org.uk if any church members of the Alde Sandlings Benefice would like to have a stall.
Toys, prizes for the tombola, jewellery, scarves, and good quality bric a brac needed. Cakes and produce too (please bring on the day)
Bring and share lunch – 31st July at Aldeburgh
As you all know we are having a Benefice service on the 31st July, 10.30am at Aldeburgh to say farewell to Revd Sheila Hart as she retires from active ministry. This will be followed by and bring and share lunch in the church hall straight afterwards. You will find a notice on each of your noticeboards in church asking if you would like to contribute with a dish etc, i.e. meat/fish, salads of all variations, savoury (quiches etc) and desserts. If you could please add your name and exactly what dish you are bringing that would be most appreciated, or of course email admin@aldeburghparishchurch.org.uk
Next Week
Sunday 17th July
Fifth Sunday after Trinity