Message from Revd James Marston
Excitement is mounting across the benefice as our new priest prepares to be among us in just a few days.

Rev'd Sarah arrives with much goodwill and a warm welcome from all our churches. Rev'd Sarah has moved into the vicarage in Aldeburgh and arrives in post at her licensing service on June 30. I expect she will be busy getting to know us all over the coming weeks and months. I know Rev'd Sarah is hugely excited to be coming here as she takes this big step in her ministry journey.
With every blessing,
James
Collect
Lord, you have taught us
that all our doings without love are nothing worth:
send your Holy Spirit and pour into our hearts that
most excellent gift of love,
the true bond of peace and of all virtues,
without which whoever lives is counted dead before you.
Grant this for your only Son Jesus Christ's sake,
who is alive and reigns with you,
in the unity of the Holy Spirit,
one God, now and for ever.


First Reading
1 Kings 19.15-16, 19-end
Then the Lord said to him, 'Go, return on your way to the wilderness of Damascus; when you arrive, you shall anoint Hazael as king over Aram. Also you shall anoint Jehu son of Nimshi as king over Israel; and you shall anoint Elisha son of Shaphat of Abel-meholah as prophet in your place. So he set out from there, and found Elisha son of Shaphat, who was ploughing. There were twelve yoke of oxen ahead of him, and he was with the twelfth. Elijah passed by him and threw his mantle over him. He left the oxen, ran after Elijah, and said, 'Let me kiss my father and my mother, and then I will follow you.' Then Elijah said to him, 'Go back again; for what have I done to you?' He returned from following him, took the yoke of oxen, and slaughtered them; using the equipment from the oxen, he boiled their flesh, and gave it to the people, and they ate. Then he set out and followed Elijah, and became his servant.
Second Reading
Galatians 5.1, 13-25
For freedom Christ has set us free. Stand firm, therefore, and do not submit again to a yoke of slavery. For you were called to freedom, brothers and sisters; only do not use your freedom as an opportunity for self-indulgence, but through love become slaves to one another. For the whole law is summed up in a single commandment, 'You shall love your neighbour as yourself.' If, however, you bite and devour one another, take care that you are not consumed by one another. Live by the Spirit, I say, and do not gratify the desires of the flesh. For what the flesh desires is opposed to the Spirit, and what the Spirit desires is opposed to the flesh; for these are opposed to each other, to prevent you from doing what you want. But if you are led by the Spirit, you are not subject to the law. Now the works of the flesh are obvious: fornication, impurity, licentiousness, idolatry, sorcery, enmities, strife, jealousy, anger, quarrels, dissensions, factions, envy, drunkenness, carousing, and things like these. I am warning you, as I warned you before: those who do such things will not inherit the kingdom of God. By contrast, the fruit of the Spirit is love, joy, peace, patience, kindness, generosity, faithfulness, gentleness, and self-control. There is no law against such things. And those who belong to Christ Jesus have crucified the flesh with its passions and desires. If we live by the Spirit, let us also be guided by the Spirit.

Gospel Reading
Luke 9.51-end
When the days drew near for him to be taken up, he set his face to go to Jerusalem. And he sent messengers ahead of him. On their way they entered a village of the Samaritans to make ready for him; but they did not receive him, because his face was set towards Jerusalem. When his disciples James and John saw it, they said, 'Lord, do you want us to command fire to come down from heaven and consume them?' But he turned and rebuked them. Then they went on to another village. As they were going along the road, someone said to him, 'I will follow you wherever you go.' And Jesus said to him, 'Foxes have holes, and birds of the air have nests; but the Son of Man has nowhere to lay his head.' To another he said, 'Follow me.' But he said, 'Lord, first let me go and bury my father.' But Jesus said to him, 'Let the dead bury their own dead; but as for you, go and proclaim the kingdom of God.' Another said, 'I will follow you, Lord; but let me first say farewell to those at my home.' Jesus said to him, 'No one who puts a hand to the plough and looks back is fit for the kingdom of God.'
Sermon preached by The Very Revd Christopher Lewis at
Aldringham19th June 2022

Luke 8.26-39 – First Sunday after Trinity
The Gospel is a strange story: Jesus; the crowd; the man with his demons; the herd of swine. In these parts we ought to be familiar with herds of swine as they seem to be all over the fields, each pig-family with a plastic house. This morning, we are fortunate that the account is told by Luke, because of the fascinating way in which he paints pictures of Jesus and his message.
What was going on? Jesus and a crowd; in strange circumstances, he heals a man with serious mental illness. As in the world of today, there is disease and death, the unclean and the demonic …and here is Jesus confronted by it. What does he do? He talks to the man and heals him. The miracles of Jesus were all 'miracles of the kingdom', or in other words, evidence of God's sovereignty breaking into a confused and difficult world and putting it right. The manner of change in this case is the calming of a deranged mind: a man with a morbid preoccupation with graves, abnormal strength, insensitivity to pain and a refusal to wear clothes. The cure was accompanied by a violent and obstreperous convulsion which caused a nearby herd of pigs to stampede in panic
Not surprising that the onlookers were frightened. They shared the common belief that there was an affinity between unclean demons and unclean beasts, so that was how the occasion was experienced and reported. The fact that there were pigs at all, shows that they were in Gentile not in Jewish territory; this was a message for the world.
It is hard at first to see quite what we learn from this Gospel reading, as the world in which we live seems different, at least in the way that crowds behave. Or is it? In the last few years, we have certainly become used to the fact that the world is full of disease and confusion and there have been crowds turning out all the time. Fighting disease has led to some successes, but also has led to chaos of a kind which it would have been hard to foresee.
As we know, plagues and diseases of very strange kinds have been features of every age. What the crowd experienced then and what we have experienced in Covid, is nothing new. Homer's Iliad, drawing on ancient oral tradition and written down in the 8th century before Christ, gives an account of the quarrel between Achilles and Agamemnon during a war against the Trojans. A daughter of a priest was captured in battle.

The god Apollo sends a plague as punishment and the daughter is returned. That was mythology, but much has been very real: Black Death, Cholera, so-called Spanish 'flu.
The idea that madness or indeed plagues are a punishment from God or the gods, goes right through history and is still the pattern for some, although gradually medical science has developed and has shown that the causes are more predictable and treatable than was once believed. That contrast between the interpretations of medical science and those of religion has led to all kinds of disputes right up until modern times. Some religious people have poured scorn on the sciences, for the religious have sometimes claimed that it is God alone who understands and acts, whereas science is secondary. There are contemporary Christians who have said that if you have enough faith in God, then you do not need a vaccination. Then there have been Muslim Imams who have said that the deaths of people with Covid are to be treated as deserved by those who are not believers, and then on the other hand that Covid provides an immediate route to paradise for those who are true converts to Islam.
Add to these confused reactions the fact of the sinister matter of blame. At times in history, there has been blame of religious groups as if they are responsible for what is happening. During the Black Death pandemic, Jews were said to be poisoning drinking water, and in revenge many Jews were killed for being behind the plague.
So the matter of disease is full of complexity. In particular the question to be asked is: how do we face what seem to be vast and unfathomable threats thrown up by the very world which we have been given to live in? Is this part of some obstacle course which we are challenged (by God) to navigate; is it part of the inevitable growing pains of God's creation; is it an accident which we should have foreseen and coped with; is it a test of our ability to behave as one world rather than as separate rival nations? That last question about separate and rival nations is especially painful, as rich countries are much more able to cope with pandemics than the poor. That has been true of Covid and while Covid goes on, vast numbers die and have died every year from malaria and ebola, with rich nations only fairly recently making major efforts to tackle those very African plagues.
What should our response be? The answer is to respond to Jesus in a modern context with our knowledge as it is today. We can look to his teaching to the people of his day and to his mission to face up to suffering and then to heal, whatever the circumstances. In taking these steps we have a new challenge and joy which is to see that our faith can walk hand-in-hand with a longing for (and the support of) scientific advance. Thank
God for vaccines. Thank God also for Bill Gates: for his money of course, but more for his warnings and guidance which were largely ignored in 2017, but will now be heeded more seriously. One role of our faith is to listen to prophets and make sure that the truth is heard. Governments have sadly close horizons with their wish for votes, but those with faith in God can have a much longer view of the future of the world.
It is not easy. Why is the world as it is? Why does it not seem to get better – to be more healthy, more just, fairer? Global warming should be easily sorted because it is plainly all our fault. But these plagues and diseases are less obvious in their origins. What of earthquakes, tsunamis and ebola?
The only answer is to reflect on the life of Jesus and follow him. There is no doubt that if we responded to God more completely and followed in Jesus' path of bringing love and help to those who suffer, then our futures would be more hopeful. There was the man towards the end of the account, sitting at the feet of Jesus, clothed and in his right mind. He asked to be with Jesus but Jesus said that he was to return to where he had come from and was to tell those at home how much had been done for him by God. Jesus showed the way and that way was first to look to God and then lovingly to oppose suffering. He says the same to us.
Amen
Post Communion
Loving Father,
we thank you for feeding us at the supper of your Son:
sustain us with your Spirit,
that we may serve you here on earth
until our joy is complete in heaven,
and we share in the eternal banquet
with Jesus Christ our Lord.
Next Week
Sunday 3rd July
Third Sunday after Trinity
Solstice Sunset at Aldeburgh
Thank you to Eloise Mabey for this stunning shot.
If you manage to capture a moment of beauty in our local area,
do share your photos with us.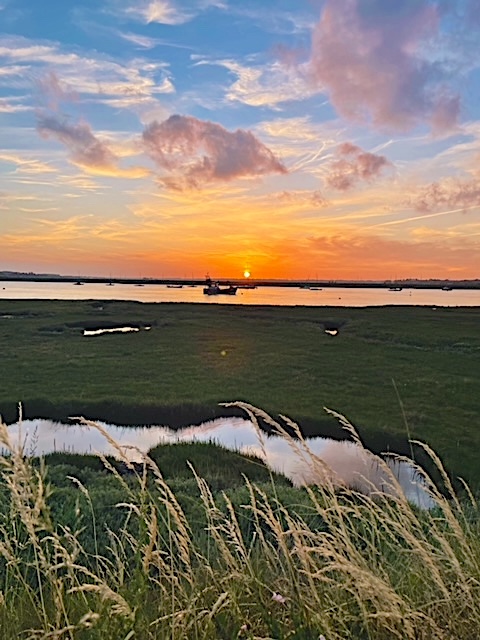 NOTICES
Licensing and Installation of Reverend Sarah du Boulay
at 7.30pm on Thursday 30th June 2022
at the Parish Church of St Peter & St Paul, Aldeburgh
The Churchwardens wish to invite everyone to the licensing by The Bishop of St Edmundsbury and Ipswich, and the Installation by The Archdeacon of Suffolk of the Reverend Sarah du Boulay as
Priest-in-Charge of The Alde Sandlings Benefice.
There will be refreshments in the Church Hall after the service

Can you contribute with a plate of food? We need small finger food – sandwiches, sausage rolls, cheese straws, savoury tartlets, sausages, crisps, and cakes. To prevent vast quantities of the same item, there will be a list in the west porch at Aldeburgh Parish church that you could add your name and food item that you would like to contribute with. Perhaps each church in the Benefice would like to do the same, or please do let Sandra Saint know or Claire at admin@aldeburghparishchurch.org.uk
Weekly Benefice Newsletter
If you would like something added to the weekly newsletter that is relevant to the Benefice, please do let Claire know and we will do our best to include it the following week.
All requests by 4pm on Thursday please
Food Banks at the East of England Co-op
Foodbanks provide a valuable service to those in need in our communities. The Aldeburgh Co-op and Solar in Leiston are doing a grand job in collecting food donations, which are collected regularly and distributed. So please look out for the various collection baskets.
Sunday 3rd July 3pm
The Marenzio Singers at St Mary's Friston
In a concert to celebrate Suffolk and Summer, this vocal quintet will sing music from the sixteenth century to the present day: English and French madrigals, modern part songs including movements from Alan Bullard's 'A Summer Garland' and American close harmony songs, all linked by piano interludes and spoken introductions.
Tickets £10 at the door on the day which includes a
glass of sparkling wine after the concert.
Friston Classics on the Green
Thursday 14th July from 3pm
Bring your veteran, vintage car, or bike (all vehicles in production before 1970) or just bring your friends and family. Tea, coffee, cakes and scones in the Village Hall, pop-up bar and barbecue on the Village Green and food and drink at the Old Chequers. Village Green reserved for classics and Blue Badge holders only. Public parking in Grove Road – not on the main roads please. Entrance is free but we need your donations please.
✞ Pilgrims Together on Wednesdays on Zoom ✞
The worship starts at 6.30pm (Zoom call opens from 6.10pm) and the call is then left open after the worship time for people to catch up.   People are welcome to email pilgrimstogether473@gmail.com 
to receive a copy, be added to our mailing list or for the Zoom links.
Pilgrims @ The Meare Thorpeness
Sunday 3rd July Pilgrims @ The Meare: Outside F2F Worship Gathering 10 am (Bring your own chair!) Celtic style worship of the Iona Community, Sundays in July and August, on the grass next to the Boating Lake just beyond The Meare Cafe.