A Prayer for Ukraine
God of peace and justice,
We pray for the people of Ukraine today.
We pray for peace and the laying down of weapons.
We pray for those who fear for tomorrow,
that your Spirit of comfort would draw near to them.
We pray for those with power over war or peace,
for wisdom, discernment, and compassion to guide their decisions.
Above all, we pray for all your precious children, at risk and in fear,
that you would hold and protect them.
We pray in the name of Jesus, the Prince of Peace.
Amen.
Archbishop Justin Welby, Archbishop Stephen Cottrell
DEC Ukraine Humanitarian Appeal – World Vision UK

A message from Bishop Martin
"The crisis in Ukraine is creating a humanitarian catastrophe, as all of us can see from the daily news reports.  Bishop Mike and I are calling on all the parishes and congregations of the Diocese this Lent to raise funds through collections, individual gifts, events, and activities, to respond to the terrible situation the people of Ukraine are facing – both in the country and as refugees.
We are very grateful to be in partnership with World Vision who will receive our donations and handle the gift aid.

Be assured that every pound goes directly to those in need. World Vision is also part of the Disasters Emergency Committee (DEC), whose appeal is supported by the UK Government.
We ask you to be as generous as possible, and to continue to pray fervently for the end of the military operation and for peace.
With prayers for you, and for the children and families affected by the conflict in Ukraine."
Bishop Martin
How your donation helps
The funds you donate to this emergency appeal will support emergency response for displaced children and families in Ukraine and neighbouring countries. We will use donations in Ukraine through partners when it is possible. If this is not possible or in the unlikely event we receive more donations than we need for this emergency, the donations will be used to help displaced and refugee populations elsewhere around the world.
content.wvunited.org
You can donate by visiting the World Vision UK website here:
https://content.wvunited.org/en-gb/emergencies/ukraine-crisis-eds-ips-appeal/#donate
Aldeburgh Parish Church has pre-labelled
Ukraine Humanitarian Appeal gift envelopes into which you can put your donation, and then place into one of the donation boxes, or hand to the churchwarden,
or the treasurer
SUPPLIES TO UKRAINE
David Jenkins of Thorpeness has been volunteering his time at
Anchor Freights warehouse in Ipswich, where they are sorting and distributing supplies to Ukraine.
At this time due to Customs restrictions food cannot be accepted but items that would be welcomed are: –
Toiletries
Nappies
Woman's sanitary items
Warm clothing
Power Banks
Bedding
Sleeping bags
First Aid items
Wipes
Torches
David has very kindly said that he is more than happy for donations to be delivered to his home address for onward transmission. 
Please contact admin@aldeburghparishchurch.org.uk if you would like to donate items.
Services this Sunday for The Alde Sandlings Benefice

| | | |
| --- | --- | --- |
| Aldeburgh | 10.30am | Holy Communion |
| Aldringham | 11.00am | Service of the Word |
| Friston | 9.00am | CANCELLED |
| Knodishall | 9.00am | Morning Prayer |
Collect
Almighty God, you show to those who are in error the light of your truth,
that they may return to the way of righteousness:
grant to all those who are admitted into the fellowship of Christ's religion,
that they may reject those things that are contrary to their profession,
and follow all such things as are agreeable to the same;
through our Lord Jesus Christ, who is alive and reigns with you,
in the unity of the Holy Spirit, one God, now and for ever.

First Reading
Genesis 15.1-12, 17-18
After these things the word of the Lord came to Abram in a vision, 'Do not be afraid, Abram, I am your shield; your reward shall be very great.' But Abram said, 'O Lord God, what will you give me, for I continue childless, and the heir of my house is Eliezer of Damascus?' And Abram said, 'You have given me no offspring, and so a slave born in my house is to be my heir.' But the word of the Lord came to him, 'This man shall not be your heir; no one but your very own issue shall be your heir.' He brought him outside and said, 'Look towards heaven and count the stars, if you are able to count them.' Then he said to him, 'So shall your descendants be.'  And he believed the Lord; and the Lord reckoned it to him as righteousness. Then he said to him, 'I am the Lord who brought you from Ur of the Chaldeans, to give you this land to possess.' But he said, 'O Lord God, how am I to know that I shall possess it?' He said to him, 'Bring me a heifer three years old, a female goat three years old, a ram three years old, a turtle-dove, and a young pigeon.' He brought him all these and cut them in two, laying each half over against the other; but he did not cut the birds in two. And when birds of prey came down on the carcasses, Abram drove them away. As the sun was going down, a deep sleep fell upon Abram, and a deep and terrifying darkness descended upon him. When the sun had gone down and it was dark, a smoking fire-pot and a flaming torch passed between these pieces. On that day the Lord made a covenant with Abram, saying, 'To your descendants I give this land, from the river of Egypt to the great river, the river Euphrates'.
Second Reading
Philippians 3.17-4.1
Brothers and sisters, join in imitating me, and observe those who live according to the example you have in us.  For many live as enemies of the cross of Christ; I have often told you of them, and now I tell you even with tears. Their end is destruction; their god is the belly; and their glory is in their shame; their minds are set on earthly things. But our citizenship is in heaven, and it is from there that we are expecting a Saviour, the Lord Jesus Christ. He will transform the body of our humiliation so that it may be conformed to the body of his glory, by the power that also enables him to make all things subject to himself. Therefore, my brothers and sisters, whom I love and long for, my joy and crown, stand firm in the Lord in this way, my beloved.
Gospel Reading
Luke 13.31-end
At that very hour some Pharisees came and said to him, 'Get away from here, for Herod wants to kill you.' He said to them, 'Go and tell that fox for me, "Listen, I am casting out demons and performing cures today and tomorrow, and on the third day I finish my work. Yet today, tomorrow, and the next day I must be on my way, because it is impossible for a prophet to be killed away from Jerusalem." Jerusalem, Jerusalem, the city that kills the prophets and stones those who are sent to it! How often have I desired to gather your children together as a hen gathers her brood under her wings, and you were not willing! See, your house is left to you. And I tell you, you will not see me until the time comes when you say, "Blessed is the one who comes in the name of the Lord."
Post Communion
Almighty God, you see that we have no power of ourselves to help ourselves: keep us both outwardly in our bodies, and inwardly in our souls; that we may be defended from all adversities which may happen to the body, and from all evil thoughts which may assault and hurt the soul; through Jesus Christ our Lord.
Sermon preached by The Revd James Marston at
Knodishall 6th March 2022
Luke 4.1-13
May I speak in the name of the living God, Father, Son and Holy Spirit.
According to the website wiki.how to do anything, under coping with temptation it has the following recommendations.
Distract yourself with a healthier activity.
Tell yourself you'll indulge your craving in 15 mins, then delay it longer.
Visualize yourself resisting the temptation to increase your resolve
All of these are, of course, and I speak as one who loves temptation, boring, dull and not much fun.
We all love to indulge ourselves, don't we? Not only am I in an Odyssean battle with my attempts to stop smoking, I have a little blue sports car which I certainly don't need but rather like the attention it draws.
Even our 18th century friend Canon Woodforde enjoyed the temptations of a fine table. On a day in Lent 1778 Woodforde spent the day fishing with friends before dining on stewed carp, a filet of veal and roasted ham followed by some mince pies and tarts, before spending the rest of the evening gambling and losing four schillings and six pence and not getting home until half past nine o'clock.
The next day, according to his diary, he brewed some strong beer and got his two large pigs "amazingly drunk" so much, so they were unable to walk for two days, and he was able to slit their ears without noticing.
An observation that made me wonder if Canon Woodforde ever had time to fit in doing the benefice rota let alone a PCC meeting.
Resisting the things, we like but aren't always good for us; resisting temptation is, for all of us, something of a Sisyphean task.
And in today's gospel reading even Jesus, the son of the most high God, has the same battle. Tempted in the wilderness by the devil with food, and by earthly power and glory, Jesus is human after all.
How Jesus deals with temptation shows us the way. He turns to God and the devil leaves him alone until another day.
Indeed, Jesus responds with quotations drawn from the Old Testament that show awareness of the true source of life and identity (he knows that life is more than food), his reliance on God (the one worthy of true worship and service), and his understanding of God's character (not one to be tested)
Jesus' responses are rooted in an underlying narrative that he is dependent on God rather than self for life, glory, and identity.
Lent is, of course, our time to turn to God. We use this time in our tradition to deepen our relationship with Him as we live through and echo the forty days of wilderness that Jesus endured.
Lent is heralded by Ash Wednesday, which we marked this week, in which we promise to turn away from sin and turn towards Christ. And Lent ends with Maundy Thursday when we remember the last supper and focus on the forgiveness and reconciliation of the Eucharist.
At this time of examination and deepening of our faith, my challenge to you is not to rely on yourself and your own means to resist the temptations and inducements that draw you away from God – whatever they may be – but to consciously try to rely just a little bit more on God.
Turn to Him in your wilderness, turn to Him when you need help to make the right decision, turn to Him in all things. Because therein lies the path to holiness we, as Christians and as followers of Jesus, are all compelled to seek.
Amen
Next Week
Sunday 20th March
Third Sunday of Lent
NOTICES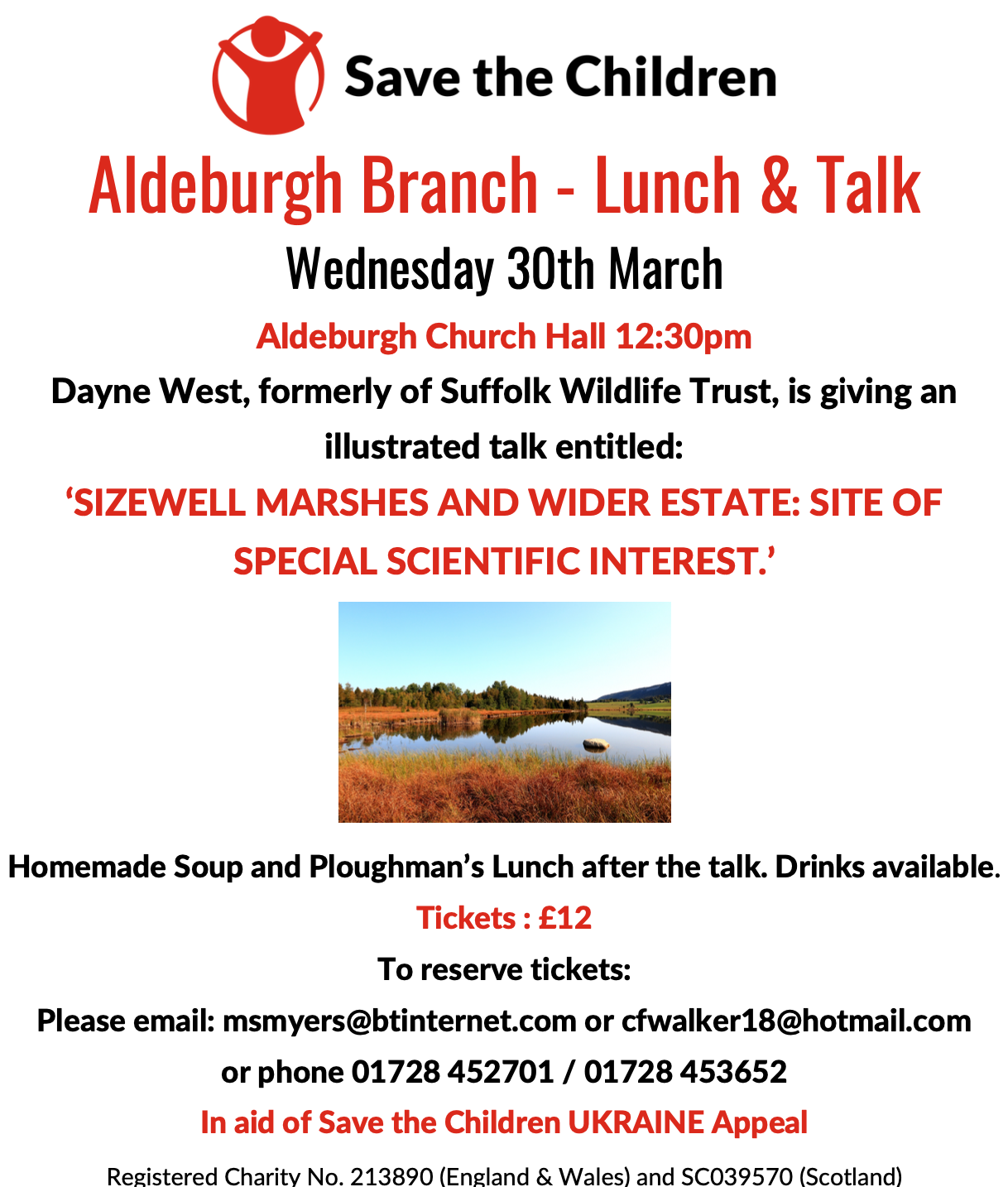 MOTHERING SUNDAY POSIES
We will be making posies on the 26th March from 10am in the vestry, for our Mothering Sunday Service at Aldeburgh. Do come along and help if you can spare the time.
If you can spare any greenery, please do leave it in the west porch before the 26th. Thank you
Food Banks at the East of England Co-op
Foodbanks provide a valuable service to those in need in our communities. The Aldeburgh Co-op and Solar in Leiston are doing a grand job in collecting food donations, which are collected regularly and distributed. So please look out for the various collection baskets.
The Trussel Trust Organisation
Food banks in our network have seen an increase in the number of food parcels given out over the last year due to Coronavirus, so any donations are much appreciated. You can find out which items your local food bank is most in need of by entering your postcode here – https://www.trusselltrust.org/give-food/
Weekly Benefice Newsletter 
If you would like something added to the weekly newsletter that is relevant to the Benefice, please do let Claire know and we will do our best to include it the following week.
All requests by 4pm on Thursday please
Pilgrims Together on Wednesdays 
The Pilgrims worship together every Wednesday.
You are all more than welcome to join them via Zoom.  
The worship starts at 6.30pm (Zoom call opens from 6.10pm) and the call is then left open after the worship time for people to catch up.   People are welcome to email pilgrimstogether473@gmail.com 
to receive a copy or be added to our mailing list.
Friday 18th March 6.30pm Aldeburgh Parish Hall F2F Pilgrims
We will be gathering for f2f worship followed by a time of fellowship.  We are very excited, almost 2 years to the day (it was 4th March 2020 when we last gathered together inside).
Worship material will all be provided so there is nothing to print off.
We will place chairs a safe distance apart and the hall will be well ventilated.
Please do wear a mask if you feel more comfortable with that.
Following our time of worship, we will also have a time of sharing fellowship and food: You may bring your own plate of food for yourself. We will bring the usual bread cheese / jam fare should you wish to have a bite from that selection. Teas and coffees should you wish…
If you need a lift, please do say…that can be organised!
Lunchtime Concert at Aldeburgh Parish Church
Monday 4th April at 12 noon
Following the huge success of Nadia's concert with us in October, we welcome Nadia's and friends, to raise more money for Save the Children.
ROBIN SOLDAN – FLUTE
NATHANIEL HARRISON – BASSOON
NADIA LASSERSON – PIANO
Trios by Bach, Beethoven & Donizetti
Admission free- a retiring collection for Save the Children
All welcome
Aldeburgh Youth Club Returns
As we emerge from the Covid restrictions we have had to follow during the past two years, we look forward to a time when we can meet up again and get back to hobbies, activities, and clubs.  The first Monday would be May 9th, due to the various Bank Holidays. We will be meeting from 7 to 9pm at the Fairfield Centre. We are delighted to be able to welcome youngsters aged 10 to 14 years. We would welcome volunteers to help us with our programme of activities, so, if YOU are interested and enjoy the company of young people, please get in touch with me, at :-admin@aldeburghparishchurch.org.uk
Fran Smith, Lay Elder, Aldeburgh Parish Church