A Prayer for Ukraine
God of peace and justice,
We pray for the people of Ukraine today.
We pray for peace and the laying down of weapons.
We pray for those who fear for tomorrow,
that your Spirit of comfort would draw near to them.
We pray for those with power over war or peace,
for wisdom, discernment, and compassion to guide their decisions.
Above all, we pray for all your precious children, at risk and in fear,
that you would hold and protect them.
We pray in the name of Jesus, the Prince of Peace.
Amen.
Archbishop Justin Welby, Archbishop Stephen Cottrell
DEC Ukraine Humanitarian Appeal – World Vision UK
A message from Bishop Martin
"The crisis in Ukraine is creating a humanitarian catastrophe, as all of us can see from the daily news reports.  Bishop Mike and I are calling on all the parishes and congregations of the Diocese this Lent to raise funds through collections, individual gifts, events, and activities, to respond to the terrible situation the people of Ukraine are facing – both in the country and as refugees.
We are very grateful to be in partnership with World Vision who will receive our donations and handle the gift aid.
Be assured that every pound goes directly to those in need. World Vision is also part of the Disasters Emergency Committee (DEC), whose appeal is supported by the UK Government.
We ask you to be as generous as possible, and to continue to pray fervently for the end of the military operation and for peace.
With prayers for you, and for the children and families affected by the conflict in Ukraine."
Bishop Martin
How your donation helps
The funds you donate to this emergency appeal will support emergency response for displaced children and families in Ukraine and neighbouring countries. We will use donations in Ukraine through partners when it is possible. If thisis not possible or in the unlikely event we receive more donations than we need for this emergency, the donations will be used to help displaced and refugee populations elsewhere around the world.
content.wvunited.org
You can donate by visiting the World Vision UK website here:
https://content.wvunited.org/en-gb/emergencies/ukraine-crisis-eds-ips-appeal/#donate
Aldeburgh Parish Church has pre-labelled
Ukraine Humanitarian Appeal gift envelopes into which you can put your donation, and then place into one of the donation boxes, or hand to the churchwarden,
or the treasurer
Services this Sunday for The Alde Sandlings Benefice

Aldeburgh

10.30am

Holy Communion

Aldringham

Friston

11.00am

9.00am

Service of the Word

Holy Communion

Knodishall

9.00am

Morning Prayer
Message from Revd James Marston
Dear Everyone, 
This is without doubt an exciting time for our churches – the benefice has appointed a new priest-in-charge and Rev'd Sarah will soon be with us and leading us into a new chapter. I am personally delighted at this appointment and wish you all, and her, all the very best for the future. 
Perhaps, in the coming weeks, the church communities of our benefice might like to think about how we might help pave the way for Rev'd Sarah: What support she might need as she takes up this post? How can you help welcome a new priest-in-charge? What challenges might she face? How can your church assist and support her ministry among you in the months and years to come?  
Moreover, we have the excitement of Easter just around the corner. As the season of Lent draws to an end and we mark Holy Week I wish you a prayerful and peaceful time as we draw closer to God and the joy of our faith. 
One final note I'm hoping to see as many of you as possible on the beach at Thorpeness as we welcome in the day that marks the resurrection of our Lord Jesus Christ and the hope on which the Christian faith is based. 
With all my prayers
James
Collect
Almighty and everlasting God,
who in your tender love towards the human race 
sent your Son our Saviour Jesus Christ to take upon him our flesh
and to suffer death upon the cross:
grant that we may follow the example of his patience and humility,
and also be made partakers of his resurrection;
through Jesus Christ your Son our Lord,
who is alive and reigns with you,
in the unity of the Holy Spirit,
one God, now and for ever.
The Liturgy of the Passion

First Reading
Isaiah 50.4-9a
The Lord God has given me the tongue of a teacher,
that I may know how to sustain the weary with a word.
Morning by morning he wakens—wakens my ear to listen as those who are taught. 
The Lord God has opened my ear, and I was not rebellious,
I did not turn backwards. I gave my back to those who struck me,
and my cheeks to those who pulled out the beard; I did not hide my face
from insult and spitting.  The Lord God helps me; therefore I have not been disgraced; therefore I have set my face like flint, and I know that I shall not be put to shame; he who vindicates me is near. Who will contend with me? Let us stand up together. Who are my adversaries? Let them confront me. It is the Lord God who helps me;
who will declare me guilty? All of them will wear out like a garment;
the moth will eat them up. 

Second Reading
Philippians 2.5-11
Let the same mind be in you that was in Christ Jesus, who, though he was in the form of God, did not regard equality with God as something to be exploited, but emptied himself, taking the form of a slave, being born in human likeness. And being found in human form, he humbled himself and became obedient to the point of death—even death on a cross. Therefore God also highly exalted him and gave him the name that is above every name, so that at the name of Jesus every knee should bend,
in heaven and on earth and under the earth, and every tongue should confess that Jesus Christ is Lord, to the glory of God the Father. 
Gospel Reading
Luke 23.1-49
Then the assembly rose as a body and brought Jesus before Pilate. They began to accuse him, saying, 'We found this man perverting our nation, forbidding us to pay taxes to the emperor, and saying that he himself is the Messiah, a king.' Then Pilate asked him, 'Are you the king of the Jews?' He answered, 'You say so.' Then Pilate said to the chief priests and the crowds, 'I find no basis for an accusation against this man.' But they were insistent and said, 'He stirs up the people by teaching throughout all Judea, from Galilee where he began even to this place.' When Pilate heard this, he asked whether the man was a Galilean. And when he learned that he was under Herod's jurisdiction, he sent him off to Herod, who was himself in Jerusalem at that time. When Herod saw Jesus, he was very glad, for he had been wanting to see him for a long time, because he had heard about him and was hoping to see him perform some sign. He questioned him at some length, but Jesus gave him no answer. The chief priests and the scribes stood by, vehemently accusing him. Even Herod with his soldiers treated him with contempt and mocked him; then he put an elegant robe on him, and sent him back to Pilate. That same day Herod and Pilate became friends with each other; before this they had been enemies. Pilate then called together the chief priests, the leaders, and the people, and said to them, 'You brought me this man as one who was perverting the people; and here I have examined him in your presence and have not found this man guilty of any of your charges against him. Neither has Herod, for he sent him back to us. Indeed, he has done nothing to deserve death. I will therefore have him flogged and release him.' Then they all shouted out together, 'Away with this fellow! Release Barabbas for us!' (This was a man who had been put in prison for an insurrection that had taken place in the city, and for murder.)  Pilate, wanting to release Jesus, addressed them again; but they kept shouting, 'Crucify, crucify him!' A third time he said to them, 'Why, what evil has he done? I have found in him no ground for the sentence of death; I will therefore have him flogged and then release him.' But they kept urgently demanding with loud shouts that he should be crucified; and their voices prevailed. So Pilate gave his verdict that their demand should be granted. He released the man they asked for, the one who had been put in prison for insurrection and murder, and he handed Jesus over as they wished. As they led him away, they seized a man, Simon of Cyrene, who was coming from the country, and they laid the cross on him, and made him carry it behind Jesus. A great number of the people followed him, and among them were women who were beating their breasts and wailing for him. But Jesus turned to them and said, 'Daughters of Jerusalem, do not weep for me, but weep for yourselves and for your children. For the days are surely coming when they will say, "Blessed are the barren, and the wombs that never bore, and the breasts that never nursed." Then they will begin to say to the mountains, "Fall on us"; and to the hills, "Cover us." For if they do this when the wood is green, what will happen when it is dry?' Two others also, who were criminals, were led away to be put to death with him. When they came to the place that is called The Skull, they crucified Jesus there with the criminals, one on his right and one on his left. Then Jesus said, 'Father, forgive them; for they do not know what they are doing.' And they cast lots to divide his clothing. And the people stood by, watching; but the leaders scoffed at him, saying, 'He saved others; let him save himself if he is the Messiah of God, his chosen one!' The soldiers also mocked him, coming up and offering him sour wine, and saying, 'If you are the King of the Jews, save yourself!' There was also an inscription over him, 'This is the King of the Jews.' One of the criminals who were hanged there kept deriding him and saying, 'Are you not the Messiah? Save yourself and us!' But the other rebuked him, saying, 'Do you not fear God, since you are under the same sentence of condemnation? And we indeed have been condemned justly, for we are getting what we deserve for our deeds, but this man has done nothing wrong.' Then he said, 'Jesus, remember me when you come into your kingdom.' He replied, 'Truly I tell you, today you will be with me in Paradise.' It was now about noon, and darkness came over the whole land until three in the afternoon, while the sun's light failed; and the curtain of the temple was torn in two. Then Jesus, crying with a loud voice, said, 'Father, into your hands I commend my spirit.' Having said this, he breathed his last. When the centurion saw what had taken place, he praised God and said, 'Certainly this man was innocent.' And when all the crowds who had gathered there for this spectacle saw what had taken place, they returned home, beating their breasts. But all his acquaintances, including the women who had followed him from Galilee, stood at a distance, watching these things.
Post Communion
Lord Jesus Christ,
you humbled yourself in taking the form of a servant,
and in obedience died on the cross for our salvation:
give us the mind to follow you
and to proclaim you as Lord and King,
to the glory of God the Father.
Sermon preached by The Revd James Marston at
Aldringham 3rd April 2022
'Leave her alone. She bought it so that she might keep it for the day of my burial. You always have the poor with you, but you do not always have me.' 
May I speak in the name of the living God, Father, Son and Holy Spirit,  
A whacking great sunset bathed level and drain 
From Kirkby with Muckby to Beckby-on-Bain, 
And I saw, as I journeyed, my marketing done, 
Old Caisterby tower take the last of the sun. 
 The night air grew nippy.  An autumn mist roll'd 
(In a scent of dead cabbages) down from the wold, 
In the ocean of silence that flooded me round 
The crunch of the wheels was a comforting sound. 
The lane lengthened narrowly into the night 
With the Bain on its left bank, the drain on its right, 
And feebly the carriage-lamps glimmered ahead 
When all of a sudden the pony fell dead. 
 For the Betjeman fans among us Sir John's poem tells the story of a mad rector in a remote Lincolnshire church.  
It is, of course, something of a whimsical poem – clergymen are never strange or odd – but I do think Betjeman paints an evocative picture as he builds up with little details to the somewhat unnerving climax of the tale.  Indeed we can feel ourselves there, at the scene as Betjeman continues.  
As down swung the tenor, a beacon of sound, 
Over listening acres of waterlogged ground 
I stood by the tombs to see pass and repass 
The gleam of a taper, through clear leaded glass. 

And such lighting of lights in the thunderous roar 
The heart summoning courage to hand at the door; 
I grated it open on scents I knew well, 
The dry smell of damp rot, the hassocky smell. 
 
I think we can all imagine the taper gleaming through clear leaded glass as well as the dry smell of damp rot and hassocky smell.  
The sense of smell is one that often triggers our emotional memories, often brings us back to something in our past, and is often an evocative way of describing something we can all understand.  
Indeed if we conjure up in our minds the smell of freshly mown grass or polished wooden floors or even a Sunday roast coming out of the oven – it is sometimes as if we can smell those memories now.  
And of course, our gospel reading today is about smell. Mary's gift to Jesus emits an aroma that saturates the house and the minds of everyone in it. 
Of course, the fragrance of the perfume, slightly erotically applied with Mary's hair, strikes a contrast to Jesus' death and burial. Our interpretation of the scene cannot ignore the gloom and Mary does not anoint Jesus as king or Messiah; she's anointing a corpse. 
And if the beautiful scent and ugly crucifixion seem incongruent, then we are onto John's strange logic whereby Jesus is lifted up onto a cross so that he might attract all to himself.  
This small vignette which happens just in advance of the triumph of Palm Sunday and Jesus' prediction of his own death also contrasts lavish self-giving with critical stinginess. The exuberant giving of Mary with the critique of Judas, which although we understand points towards an yielding piety which cannot tolerate the wild and disturbing love exhibited by Mary.  
As one commentator puts it "Acts of true grace and love regularly get slandered as deviance."Yet, we cannot ignore the fact that Jesus' response,  
'Leave her alone. She bought it so that she might keep it for the day of my burial. You always have the poor with you, but you do not always have me.' Warns us today against mistaking discipline for discipleship. And permits us to embrace affection as part of a devotion to Jesus that is nothing less than the costly, precious gift of one's whole self.  
Which, of course, in turn challenges us all.  
Lent, of course, is a time for us to ask difficult questions of ourselves. And it is only asking those questions that we discover ourselves and ultimately our God.  
How wildly and selflessly do we love Jesus?  
How passionately does the aroma of that perfume given by Mary persist in our nostrils today?  
Do you really live your life through the lens of the crucifixion and resurrection that was to follow?  
Amen
Next Week
Sunday 17th April
Easter Sunday
NOTICES
Coffee Morning for Ukraine
A huge thanks to the Fran Smith and the GENESIS team for organising and hosting the coffee morning
last Saturday (2nd April).
A well-attended event. The latest money count shows the
money raised is a truly amazing £1433.95 which will be donated
to the DEC Ukraine Humanitarian appeal.
Thank you to all for your support.
Weekly Benefice Newsletter
If you would like something added to the weekly newsletter that is relevant to the Benefice, please do let Claire know and we will do our best to include it the following week.
All requests by 4pm on Thursday please
Food Banks at the East of England Co-op
Foodbanks provide a valuable service to those in need in our communities. The Aldeburgh Co-op and Solar in Leiston are doing a grand job in collecting food donations, which are collected regularly and distributed. So please look out for the various collection baskets.
Message from Father Tony
We shall be having our annual 'Seven Last Words' on Monday 11th at 7pm, at Our Lady and St Peter, Aldeburgh, with music by Haydn and meditations by Cardinal Basil Hume.
There will be a retiring collection for the Disasters Emergency Committee Ukrainian Humanitarian Appeal
✞ Pilgrims Together on Wednesdays ✞
The Pilgrims worship together every Wednesday.
You are all more than welcome to join them via Zoom.  
The worship starts at 6.30pm (Zoom call opens from 6.10pm) and the call is then left open after the worship time for people to catch up.   People are welcome to email pilgrimstogether473@gmail.com 
to receive a copy or be added to our mailing list, or for the Zoom links.
Sunday 10th April Good News Breakfast Faith Cafe at the Parrot is open from 9.30 – 10.30.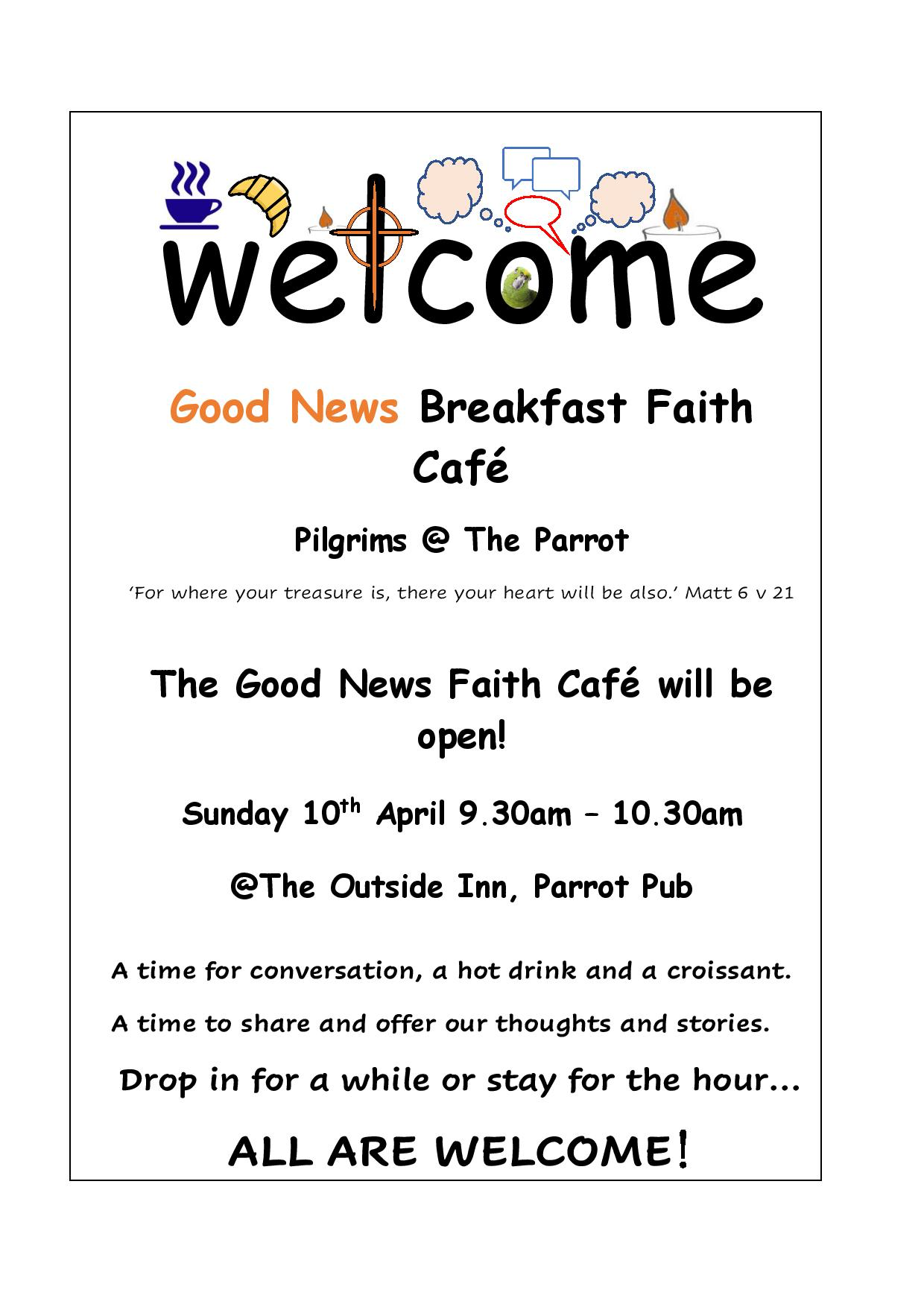 Friday 22nd April F2F Pilgrims 6.30pm Aldeburgh Parish Hall Celtic Worship followed by a time of fellowship