A Prayer for Ukraine
God of peace and justice,
We pray for the people of Ukraine today.
We pray for peace and the laying down of weapons.
We pray for those who fear for tomorrow,
that your Spirit of comfort would draw near to them.
We pray for those with power over war or peace,
for wisdom, discernment, and compassion to guide their decisions.
Above all, we pray for all your precious children, at risk and in fear,
that you would hold and protect them.
We pray in the name of Jesus, the Prince of Peace.
Amen.
Archbishop Justin Welby, Archbishop Stephen Cottrell
DEC Ukraine Humanitarian Appeal – World Vision UK

A message from Bishop Martin
"The crisis in Ukraine is creating a humanitarian catastrophe, as all of us can see from the daily news reports.  Bishop Mike and I are calling on all the parishes and congregations of the Diocese this Lent to raise funds through collections, individual gifts, events, and activities, to respond to the terrible situation the people of Ukraine are facing – both in the country and as refugees.
We are very grateful to be in partnership with World Vision who will receive our donations and handle the gift aid.
Be assured that every pound goes directly to those in need. World Vision is also part of the Disasters Emergency Committee (DEC), whose appeal is supported by the UK Government.
We ask you to be as generous as possible, and to continue to pray fervently for the end of the military operation and for peace.
With prayers for you, and for the children and families affected by the conflict in Ukraine."
Bishop Martin
How your donation helps
The funds you donate to this emergency appeal will support emergency response for displaced children and families in Ukraine and neighbouring countries. We will use donations in Ukraine through partners when it is possible. If this is not possible or in the unlikely event we receive more donations than we need for this emergency, the donations will be used to help displaced and refugee populations elsewhere around the world.
content.wvunited.org
You can donate by visiting the World Vision UK website here:
https://content.wvunited.org/en-gb/emergencies/ukraine-crisis-eds-ips-appeal/#donate
Aldeburgh Parish Church has pre-labelled
Ukraine Humanitarian Appeal gift envelopes into which you can put your donation, and then place into one of the donation boxes, or hand to the churchwarden,
or the treasurer
Services this Sunday for The Alde Sandlings Benefice

Aldeburgh

10.30am

6.00pm

Service of the Word

Evening Prayer

Aldringham

11.00am

Service of the Word

Friston

9.00am

Morning Prayer

Knodishall

9.00am

Morning Prayer
Next Week
Sunday 3rd April
Fifth Sunday of Lent
Collect
God of compassion, whose Son Jesus Christ, the child of Mary,
shared the life of a home in Nazareth, and on the cross drew the whole human family to himself: strengthen us in our daily living that in joy and in sorrow we may know the power of your presence to bind together and to heal; through Jesus Christ your Son our Lord, who is alive and reigns with you, in the unity of the Holy Spirit, one God, now and for ever.

First Reading
Exodus 2.1-10
Now a man from the house of Levi went and married a Levite woman. The woman conceived and bore a son; and when she saw that he was a fine baby, she hid him for three months. When she could hide him no longer she got a papyrus basket for him, and plastered it with bitumen and pitch; she put the child in it and placed it among the reeds on the bank of the river. His sister stood at a distance, to see what would happen to him. The daughter of Pharaoh came down to bathe at the river, while her attendants walked beside the river. She saw the basket among the reeds and sent her maid to bring it. When she opened it, she saw the child. He was crying, and she took pity on him. 'This must be one of the Hebrews' children,' she said. Then his sister said to Pharaoh's daughter, 'Shall I go and get you a nurse from the Hebrew women to nurse the child for you?' Pharaoh's daughter said to her, 'Yes.' So the girl went and called the child's mother. Pharaoh's daughter said to her, 'Take this child and nurse it for me, and I will give you your wages.' So the woman took the child and nursed it. When the child grew up, she brought him to Pharaoh's daughter, and she took him as her son. She named him Moses, 'because', she said, 'I drew him out of the water.'
Second Reading
2 Corinthians 1.3-7
Blessed be the God and Father of our Lord Jesus Christ, the Father of mercies and the God of all consolation, who consoles us in all our affliction, so that we may be able to console those who are in any affliction with the consolation with which we ourselves are consoled by God. For just as the sufferings of Christ are abundant for us, so also our consolation is abundant through Christ. If we are being afflicted, it is for your consolation and salvation; if we are being consoled, it is for your consolation, which you experience when you patiently endure the same sufferings that we are also suffering. Our hope for you is unshaken; for we know that as you share in our sufferings, so also you share in our consolation.
Gospel Reading
Luke 2.33-35
And the child's father and mother were amazed at what was being said about him. Then Simeon blessed them and said to his mother Mary, 'This child is destined for the falling and the rising of many in Israel, and to be a sign that will be opposed so that the inner thoughts of many will be revealed—and a sword will pierce your own soul too.'
Post Communion
Loving God, as a mother feeds her children at the breast
you feed us in this sacrament with the food and drink of eternal life:
help us who have tasted your goodness
to grow in grace within the household of faith;
through Jesus Christ our Lord.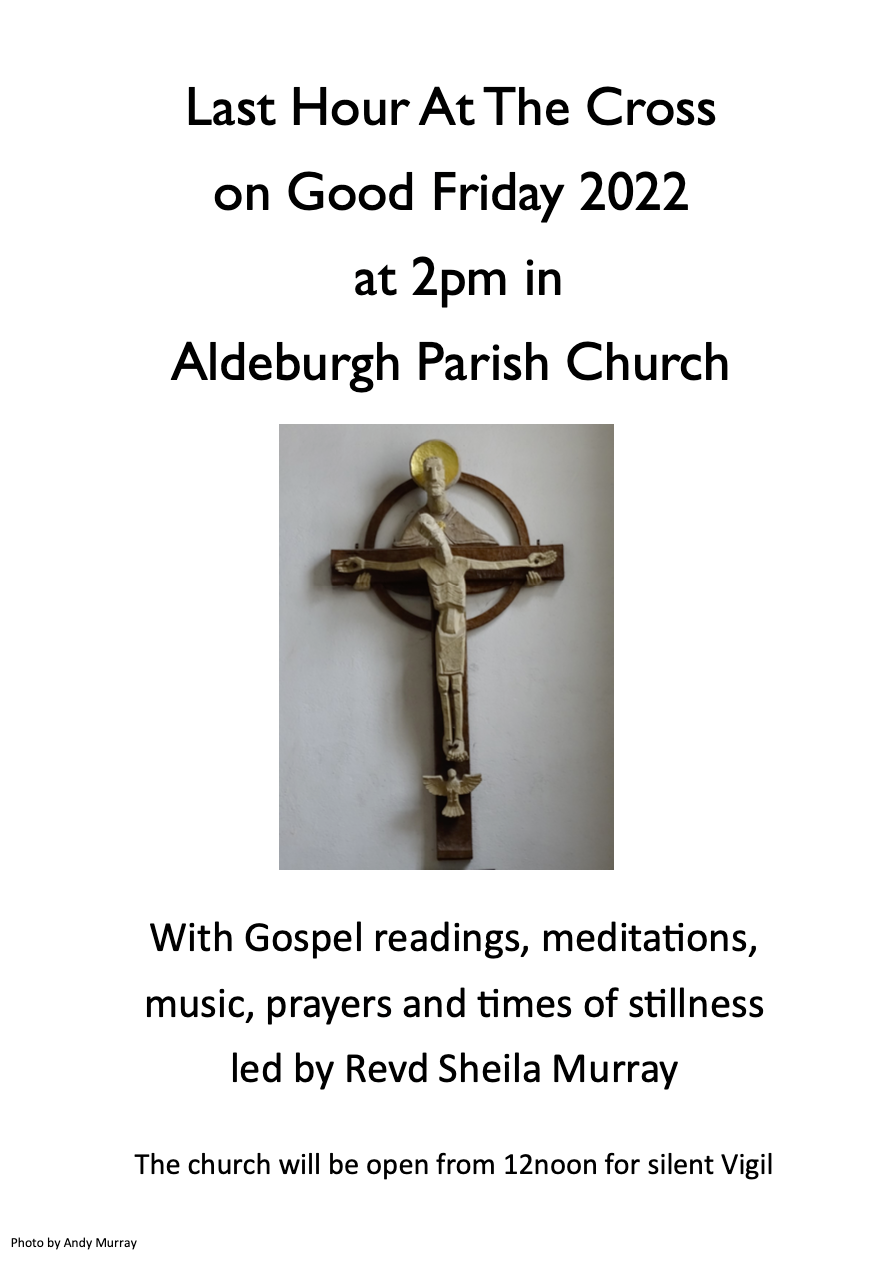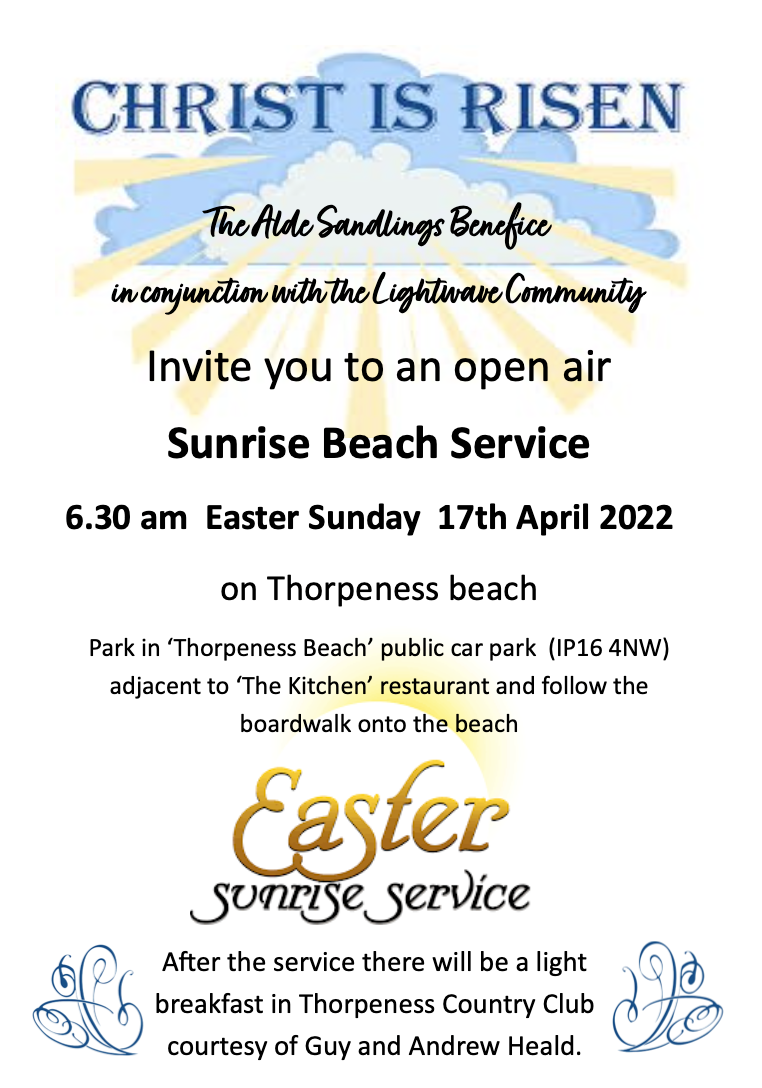 Sermon preached by The Very Revd Christopher Lewis at
Aldringham 20th March 2022
Isaiah 55.1-9
The first reading has some of the most beautiful and moving passages in the Bible. It speaks of the free gift of God's grace: 'Come, buy and eat! Come, buy wine and milk without money and without price.' And then later in the passage, there is reference to the everlasting covenant which God offers to his people, so they should 'Seek the Lord while he may be found' and 'call upon him while he is near'. There is the promise that God will pardon the wicked when they return to Him, with God explaining that He acts differently from us: 'For my thoughts are not your thoughts, nor are your ways my ways, says the Lord'.
There is, however, a test and a challenge here. Are we able to receive a free gift? It is a Lent test and requires a very great degree of clearing of the mind: not mine clearance as in land-mines, but mind clearance, which may be just about as difficult.
We have to re-educate ourselves. You know all that stuff about there being 'no free lunches' which we learned on our mother's (probably actually our father's) knee. And you know all that saying about people only appreciating what they pay for. Someone said to me the other day that we really ought to charge people to come to church….then they'd appreciate it.
You know those letters you throw away: Dear Rev Lewis, congratulations on having got to the last stage in the competition to win a ….Ford Tantrum….imagine yourself, with your partner beside you, purring along. Or that commercial operation, the 'postcode lottery' with its £10 per month subscription, although it is at least true that a third of that goes to charities.
Then there are the presents or the good turns that you receive, and which send you into a terrible anxiety about how on earth you will repay them, for repay them you feel you must. Otherwise, you will feel patronised or indebted and that would be terrible.
No, for this is the test. Unlike the lunches and the offers and the presents, this gift is free. And so: are you able to believe the older saying which came long before all the 'free lunch' business, that 'the best things in life are free'. So, to the Lent test – not a test in the sense of an exam, but rather in the sense of a struggle: is it possible to think in God's way and for us to receive free gifts without embarrassment, without hurt pride. 'Come buy wine and milk without money'.
That, I think, is why Jesus uses children as examples to us all….and one reason why he commends the people whom society rejects. Why? Because they are not fussed about receiving free gifts. When I was a Vicar in a parish in Lincolnshire, homeless men used to come to our door asking for sandwiches and more: marmite sandwiches, jam – anything would do, and our children looked on with fascination and chatted.
On the subject of Vicars, there was a once a Vicar who was in the middle of the eucharist service in his church and he got up to read the Gospel. It was to have been from St Luke's Gospel where Jesus says (Lk 6;27): 'Love your enemies, do good to those who hate you, bless those who curse you, pray for those who abuse you…' But he could not say it; he stopped in the middle: 'bless those who….' He had to sit down. Then a voice came from the back which said 'Don't worry Vicar; I find it impossible to live by it too'. And instead of the Gospel reading and the
sermon, they had a spontaneous discussion about the wonder of the Christian faith: bless those who curse you. So, once they had lost their pride, they could discuss God's help, usually called his grace.
It is a Lent test to realise that God is not just another person only kind-of infinite. When Jesus told the parable of the workers in the vineyard – the one where the people all got the same wage, even when they started working just before the end of the day – he realised that it would be hard for people to get the point. God's ways are different. He is not fair at all. For his love goes out to people whoever they are and it is free. It is 'amazing grace'. And, in a sense, we are not required to pay him back. Except that he longs for us to show the same kind of unreasonable love to him and to others.
We are in the middle of an international crisis during which it is right to reach out to God and pray for the Ukrainians and indeed for the Russians. We have to recognize that many very brave Russians demonstrate against the war, interrupt a news bulletin, or are just horrified and leave their country. But we also realize that the Russian Orthodox Church (again with some exceptions) is backing the war in the form of its Patriarch Kirill – no doubt in part because the Ukraine has formed its own breakaway Orthodox Church, but also because he backs Putin, in Putin's demands for Ukrainian surrender. Put differently, Patriarch Kirill could be labelled very clearly as among the enemy.
How then do we, as it were, forward God's free gift of love? Remember Jesus' saying 'Love your enemies' and the voice from the back of the church which said 'Don't worry Vicar; I find it impossible to live by too'. What God in Jesus brought was a whole new way of living: a free gift which is also a challenge. Force has to be used in some circumstances as it had to be used against Hitler. The message, however, must mean that we treat others with understanding and do not bear grudges. It did real harm to hate Germans in the 1920's and it did no good to hate them in the 1950's.
Jesus words were part of his bringing in a whole new kind of world: the kingdom of God on its way to being realized on earth. That led to his life-giving healing to those who were suffering and outcast, and then his death at the hands of the enemy namely the religious and political elite of his day. Lent is an appropriate time during which to reflect on that life and to pray that we may follow it as best we can. We do not look ahead too quickly to Easter as if it solves all problems. We concentrate on God's free gift of love and grace now.
Amen
NOTICES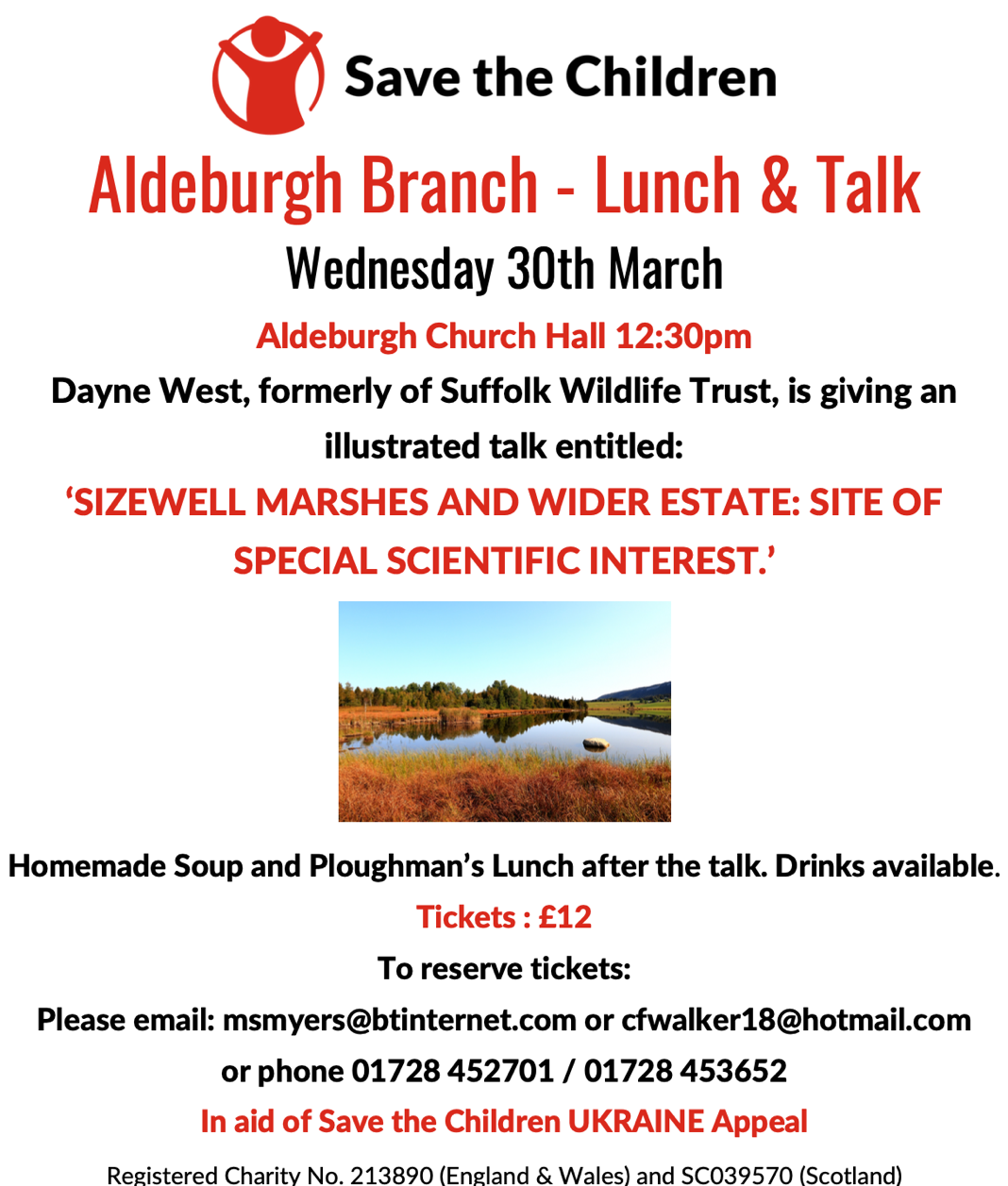 Church of England and Diocese Online Worship
There are many online services you can view from the Church of England and our cathedral. Here are some links below.
Church of England website
https://www.churchofengland.org/prayer-and-worship/
church-online/weekly-online-services
Church of England Facebook page
https://www.facebook.com/
thechurchofengland/
Church of England YouTube channel
https://www.youtube.com/channel/
UCLecK8GovYoaYzIgyOElKZg
St Edmundsbury Cathedral Facebook Page
https://www.facebook.com/stedscathedral
Lent Sessions
Will take place in the vestry of Aldeburgh church and in the home of Jill Brown, who has kindly offered to host an evening session through the Lenten period.
The dates and times are as follows:
Wednesday's 11am, Aldeburgh church Vestry –
hosted by Rev'd James – beginning on March 2
Thursdays 7pm, Onemana, Alde House Drive, Aldeburgh, IP15 5EE hosted by Jill Brown – beginning on March 3
Weekly Benefice Newsletter
If you would like something added to the weekly newsletter that is relevant to the Benefice, please do let Claire know and we will do our best to include it the following week.
All requests by 4pm on Thursday please
Food Banks at the East of England Co-op
Foodbanks provide a valuable service to those in need in our communities. The Aldeburgh Co-op and Solar in Leiston are doing a grand job in collecting food donations, which are collected regularly and distributed. So please look out for the various collection baskets.
The Trussel Trust Organisation
Food banks in our network have seen an increase in the number of food parcels given out over the last year due to Coronavirus, so any donations are much appreciated. You can find out which items your local food bank is most in need of by entering your postcode here – https://www.trusselltrust.org/give-food/
Pilgrims Together on Wednesdays
The Pilgrims worship together every Wednesday.
You are all more than welcome to join them via Zoom.  
The worship starts at 6.30pm (Zoom call opens from 6.10pm) and the call is then left open after the worship time for people to catch up.   People are welcome to email pilgrimstogether473@gmail.com 
to receive a copy, added to our mailing list or for the Zoom links .
Saturday 2nd April Pilgrim Community Breakfast and Ramble starting at the Parrot Pub at 9.30am for Breakfast.
As before, a delicious breakfast bap and coffee / tea combo for £5 is on offer at the Parrot…definitely not to be missed, before we head out to explore local paths. Come just for breakfast and a catch-up with folk, come for just the ramble or come and enjoy both. (You don't need to book in advance, you can decide on the morning.) To help with timing, if coming only to ramble then we generally head from The Parrot around 10.30am. Please do invite friends along.
Lunchtime Concert at Aldeburgh Parish Church
Monday 4th April at 12 noon
Following the huge success of Nadia's concert with us in October, we welcome Nadia's and friends, to raise more money for Save the Children.
ROBIN SOLDAN – FLUTE
NATHANIEL HARRISON – BASSOON
NADIA LASSERSON – PIANO
Trios by Bach, Beethoven & Donizetti
Admission free- a retiring collection for Save the Children

All welcome