Services this Sunday for The Alde Sandlings Benefice

Aldeburgh

Aldringham

Friston

Knodishall

10.30am

11.00am

9.00am

9.00am

Holy Communion

Service of the Word

Holy Communion

Morning Prayer
Collect
Almighty God,
whose Son Jesus Christ is the resurrection
and the life: raise us, who trust in him,
from the death of sin to the life of righteousness,
that we may seek those things which are above,
where he reigns with you in the unity of the Holy Spirit,
one God, now and for ever.
First Reading
Acts 9.36-end
Now in Joppa there was a disciple whose name was Tabitha, which in Greek is Dorcas. She was devoted to good works and acts of charity. At that time she became ill and died. When they had washed her, they laid her in a room upstairs. Since Lydda was near Joppa, the disciples, who heard that Peter was there, sent two men to him with the request, 'Please come to us without delay.' So Peter got up and went with them; and when he arrived, they took him to the room upstairs. All the widows stood beside him, weeping and showing tunics and other clothing that Dorcas had made while she was with them. Peter put all of them outside, and then he knelt down and prayed. He turned to the body and said, 'Tabitha, get up.' Then she opened her eyes, and seeing Peter, she sat up. He gave her his hand and helped her up. Then calling the saints and widows, he showed her to be alive. This became known throughout Joppa, and many believed in the Lord. Meanwhile he stayed in Joppa for some time with a certain Simon, a tanner.
Second Reading
Revelation 7.9-end
After this I looked, and there was a great multitude that no one could count, from every nation, from all tribes and peoples and languages, standing before the throne and before the Lamb, robed in white, with palm branches in their hands. They cried out in a loud voice, saying, 'Salvation belongs to our God who is seated on the throne, and to the Lamb!'  And all the angels stood around the throne and around the elders and the four living creatures, and they fell on their faces before the throne and worshipped God, singing, 'Amen! Blessing and glory and wisdom and thanksgiving and honour and power and might be to our God for ever and ever! Amen.' Then one of the elders addressed me, saying, 'Who are these, robed in white, and where have they come from?' I said to him, 'Sir, you are the one that knows.' Then he said to me, 'These are they who have come out of the great ordeal; they have washed their robes and made them white in the blood of the Lamb.  For this reason they are before the throne of God, and worship him day and night within his temple, and the one who is seated on the throne will shelter them.  They will hunger no more, and thirst no more; the sun will not strike them, nor any scorching heat;  for the Lamb at the centre of the throne will be their shepherd, and he will guide them to springs of the water of life, and God will wipe away every tear from their eyes.'
Gospel Reading
John 10.22-30
At that time the festival of the Dedication took place in Jerusalem. It was winter, and Jesus was walking in the temple, in the portico of Solomon. So the Jews gathered around him and said to him, 'How long will you keep us in suspense? If you are the Messiah, tell us plainly.' Jesus answered, 'I have told you, and you do not believe. The works that I do in my Father's name testify to me; but you do not believe, because you do not belong to my sheep. My sheep hear my voice. I know them, and they follow me. I give them eternal life, and they will never perish. No one will snatch them out of my hand. What my Father has given me is greater than all else, and no one can snatch it out of the Father's hand. The Father and I are one.'
Post Communion
Merciful Father, you gave your Son Jesus Christ to
be the good shepherd, and in his love for us to lay down
his life and rise again: keep us always under his protection,
and give us grace to follow in his steps;
through Jesus Christ our Lord.
Sermon preached by The Revd Sheila Murray at
Aldringham 1st May 2022
John 21:1-19
In today's gospel story of breakfast on the beach, we enter further into the Easter season, and the work of Easter: working out what it means to have the Resurrection set loose in the world, in the church, and in our lives.
One of the oddest experiences of Easter is that it can feel empty, after the graphic realities of Holy Week: bread broken, feet washed, thorns pressed into Jesus' scalp, crosses raised, a body laid in a newly hewn grave. Easter, by contrast, is about an absence: the body is no longer in the tomb; and we are left to work out what that means.
Today's story makes it clear that one of the functions of Resurrection life is restoration of relationship, and deep forgiveness.
Peter announces he's going fishing, and several of the disciples decide to go along with him. In earlier chapters in John's gospel, Peter has denied Jesus and fled from the scene of his crucifixion.. Last week we had the story of Jesus appearing to his disciples in the Upper Room. And although it's clear that Peter loves Jesus without reservation, we are left to imagine his disappointment with himself, and his guilt and shame.
It seems that Peter has returned to what he knows; he feels most like himself aboard a fishing boat, handling the heavy nets, battling with nature often during the darkness of the night. And in our story, we hear that sadly his efforts are fruitless. After a night of fishing, they have caught no fish. On top of his grief, and his sense of having failed Jesus, he is now confronted with failing at something he has done all his life.
But as the dawn breaks, the disciples see a man on the shore, and they see the smoke from a small fire. The stranger calls out to them suggesting they cast their nets on the other side of the boat, as he shouts across the water. Surprisingly, the disciples comply – and suddenly the nets are full to bursting with fish!
We are told that the beloved disciple shouts: "It is the Lord!" and Peter in his usual impetuous manner, climbs out of the boat, making his way to the shore with his heart bursting with excitement.
This story provides a bookend to the Last Supper; this being the "First Breakfast" which changes the trajectory for the disciples from grief and confusion to purpose and mission. Everything Jesus said to the disciples before his crucifixion – and in John's gospel, he said a lot – is now coming to bear on the disciples, and their purpose.
But first, Jesus has some very specific business with Peter. It always bears repeating that Peter, in so many gospel stories, is a stand-in for us. His enthusiasm, awkwardness, lack of understanding, and enormous love for Jesus are just like our own. So, when the gospel story focuses on Peter, it's fair to say that we are also a part of the story.
Before his arrest and crucifixion, Jesus told Peter that he would deny him, and sadly, his prediction came true. Peter was accosted repeatedly by bystanders as he waited outside while Jesus was being interviewed, and each time, Peter denies knowing Jesus. He is absent at the crucifixion. But we know he was among the disciples who met behind locked doors out of fear. Now Jesus speaks to him directly: "Simon, son of John, do you love me more than these?" Jesus asks him three times, and three times Peter affirms his love for Jesus. Each time, Jesus says: then feed my sheep.
Peter is given the opportunity to undo his denial of Jesus with three affirmations of his love. Jesus tells him what to do with that love: feed the flock. Though the word "forgiveness" never appears in this story, it is nevertheless a critical theme. Peter, the impetuous, big-mouthed disciple, gave in to fear, and failed to acknowledge Jesus, failed to stick around for the bitter end. Now Peter is given the opportunity to face his risen Lord and begin again – in the words of the hymn 'I come with joy a child of God, forgiven, loved and free."
And this story offers some of the deepest implications of the Resurrection for us: we too are forgiven. We too are invited to start over. We too are completely loved. And we too have a job to do. This isn't only Peter's story; it's our story. When fear holds us back, love calls us forward. When we feel trapped by the way things have always been, Jesus invites us to cast our nets on the other side of the boat – change our perspective, in light of the Resurrection.
So, what does this mean for you? If you understand yourself to be completely forgiven, completely loved, and completely free, how would that change the choices you make about your work? Your money? Your relationships?
The light of the resurrection, shining into us, invites us to look clearly at how we have made choices out of fear rather than love, and to move away from the fears that bind us.
The implications of this story also resonate in our churches: If we are completely loved, completely forgiven and completely free, what does that imply about how we do church, about how we relate to the other churches in the Benefice and how we relate to our local communities?
God's love, set loose in the world in the Resurrection, needs our eyes, our hands, our feet, and our hearts to make it concrete in our place and time. Like Peter, we're invited to change our perspective, and cast our nets where the love of God is available for us and there's plenty for everyone.
I wonder if you know these words written by St Teresa of Avila:
"Christ has no body now but yours. No hands, no feet on earth but yours. Yours are the eyes through which he looks with compassion on this world. Yours are the feet with which he walks to do good. Yours are the hands through which he blesses all the world. Yours are the hands, yours are the feet, yours are the eyes, you are his body. Christ has no body now on earth but yours." Amen.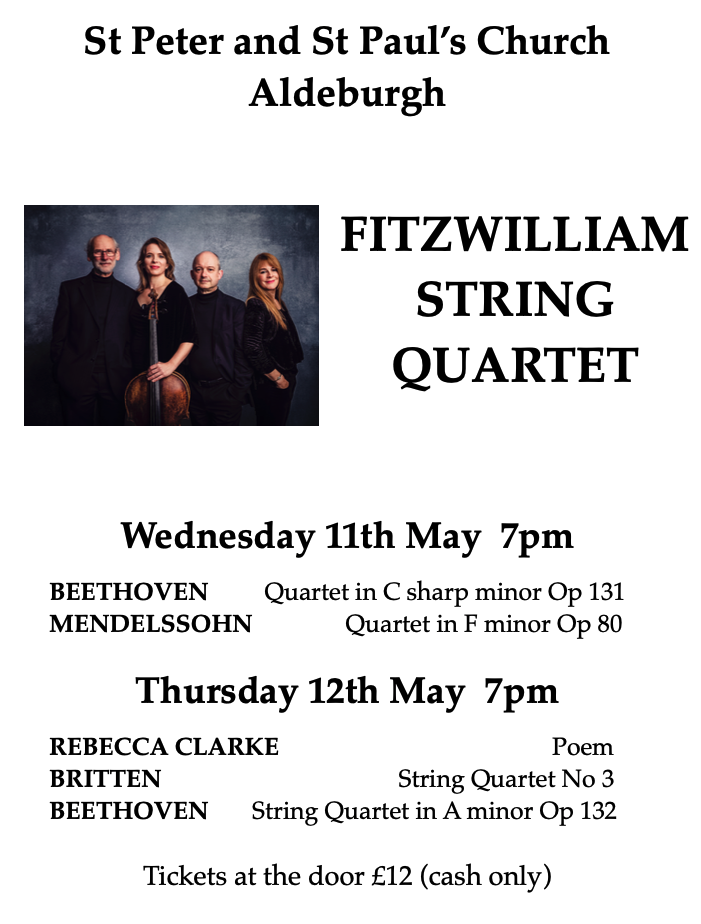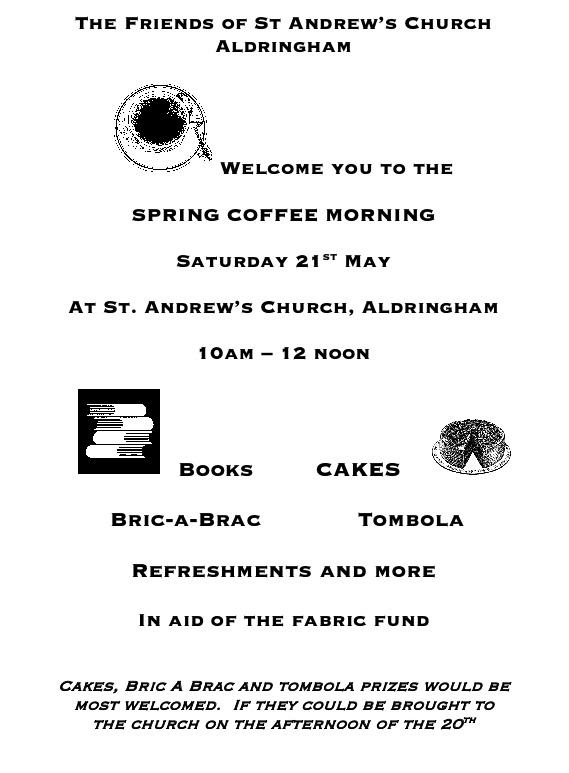 Aldringham Church – Ukraine Appeal
Aldringham church had a collection every Sunday during Lent for the Diocese Ukraine appeal. The grand total (including giftaid) came to £1,793. A huge thank you to all that donated.  David Gordon – Aldringham Treasurer
A Call for Helpers and Keys (Aldeburgh)
You will all be aware that I have been the sole churchwarden for almost two years now. During this time, I have been blessed with the generous assistance of Adrian Brown, our Treasurer and Derek Cook, our Deputy Churchwarden. The role of churchwarden is personally rewarding but also demanding of one's time, energy and sometimes one's patience. Every church needs two churchwardens, and this is especially important for a church the size of Aldeburgh Parish Church. As we approach our Annual Parochial Church Meeting, I am concerned that we may enter another year with only one churchwarden. I am happy to continue as a churchwarden, but this is not a job that I can continue to do on my own. We very much need someone with energy and enthusiasm to join me as churchwarden. As we return to offering a variety of services and move to larger congregations, we find that we need more helpers in our church. We particularly need sacristans, servers, and cleaners. Are you able to offer your time and help? Our cleaning team gather in the church on Saturday morning after Morning Prayer so please come along and join in. If you are interested in helping to prepare for and possibly serving at our communion services, please contact either myself, Claire our Administrator, or one of our priests. We can explain what is involved and offer full training.
We need additional keys for our church volunteers.  Are there any keys out there that aren't used anymore?  Perhaps you have stood down from your role within the church but still have keys.  If you could let me or Claire know, we can arrange returning of the keys and then update our records.   This would be very helpful and prevent an unnecessary expense of having to have new keys cut. 
Ken Smith
Church of England and Diocese Online Worship
There are many online services you can view from the Church of England and our cathedral. Here are some links below.
Church of England website
https://www.churchofengland.org/
prayer-and-worship/church-online/weekly-online-services
Church of England Facebook page
https://www.facebook.com/
thechurchofengland/
Church of England YouTube channel
https://www.youtube.com/channel
/UCLecK8GovYoaYzIgyOElKZg
St Edmundsbury Cathedral Facebook Page https://www.facebook.com/
stedscathedral
Weekly Benefice Newsletter
If you would like something added to the weekly newsletter that is relevant to the Benefice, please do let Claire know and we will do our best to include it the following week.
All requests by 4pm on Thursday please
Food Banks at the East of England Co-op
Foodbanks provide a valuable service to those in need in our communities. The Aldeburgh Co-op and Solar in Leiston are doing a grand job in collecting food donations, which are collected regularly and distributed. So please look out for the various collection baskets.
Pilgrims Together on Wednesdays
The Pilgrims worship together every Wednesday.
You are all more than welcome to join them via Zoom.  
The worship starts at 6.30pm (Zoom call opens from 6.10pm) and the call is then left open after the worship time for people to catch up.   People are welcome to email pilgrimstogether473@gmail.com 
to receive a copy, be added to our mailing list, or for the Zoom links.
Saturday 21st May Good News Faith Cafe @ The Outside Inn,
Parrot Pub 9.30 – 10.30
A time for conversation, a hot drink and a croissant.  A time to share and offer our thoughts and stories.  Acts of kindness within the Outside Inn and out into the outside world.
Next Week
Sunday 15th May
Fifth Sunday of Easter