This year's Carnival theme was "Aldeburgh" for the 75th Anniversary. So we just had to join in with the carnival fun, with Aldeburgh Parish Church being a large part of the Aldeburgh community. Revd Jo Mabey took on the challenge of organising the Church float, and gathered many helpers that all contributed their time and skills to make a memorable Carnival. Their efforts really did pay off. Well done everyone!
We also held a Carnival Songs of Praise Service on Sunday 20th August by The Moot Hall. This was a well attended Service. Revd Mark Lowther took the Service along with Pastor Terry Smith and Revd Sheila Hart. Some old friends of the Church told wonderful and amusing stories of carnivals gone past. We were also joined by the Mayor of Aldeburgh Councellor Jocelyn Bond, and The Carnival Queen of 2017 Shannon Strowger.
Please take a look at some photos taken over the weekend.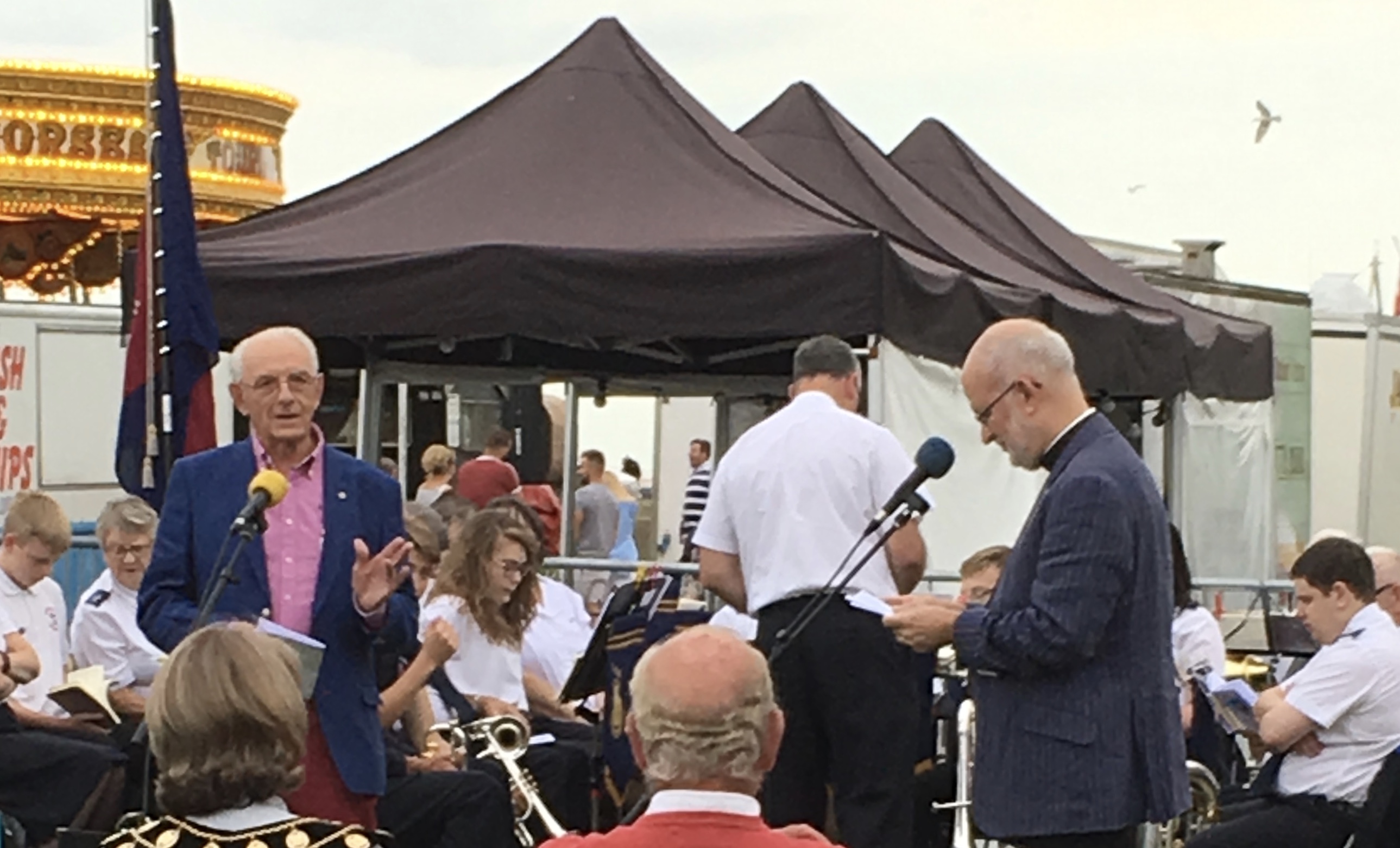 Revd Mark Lowther chats to Derek Cook. Derek has been on the carnival committee for many years along with Catherine.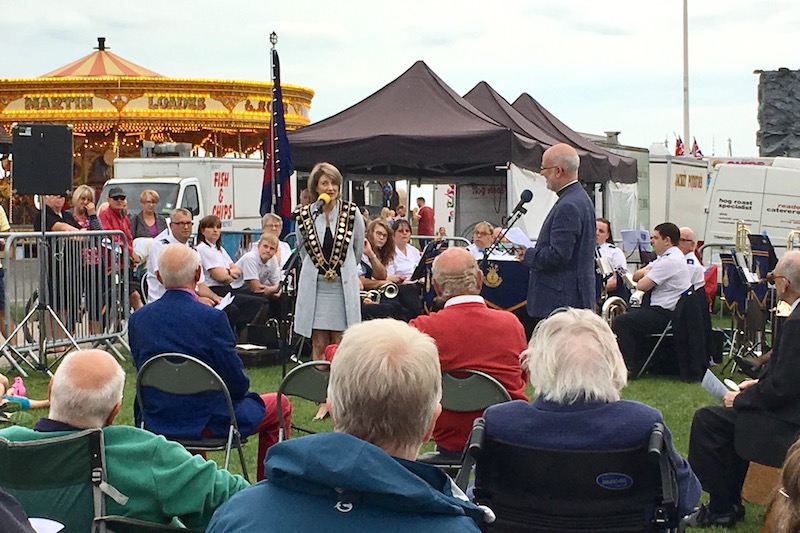 Mayor of Aldeburgh – Councellor Jocelyn Bond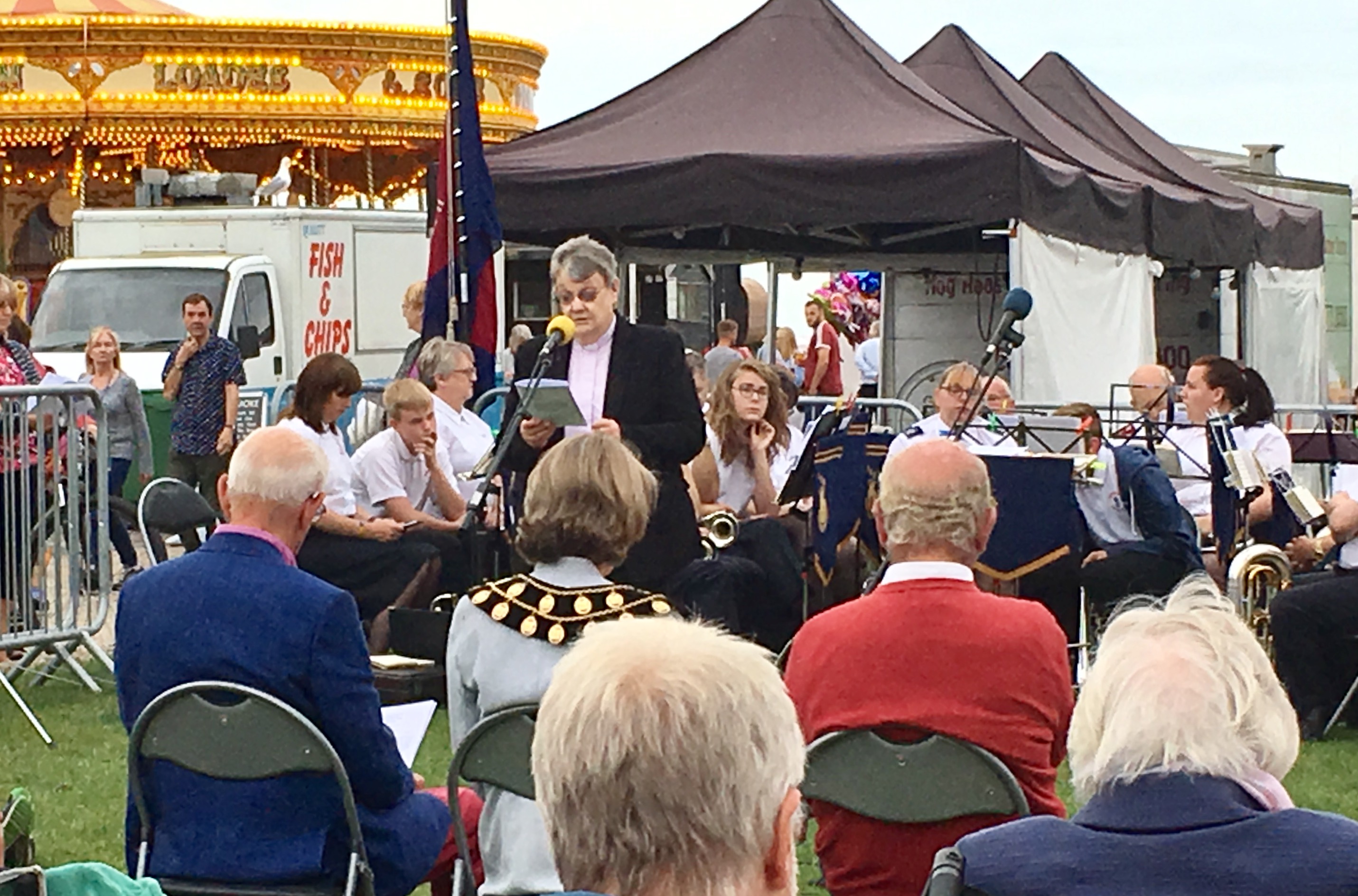 Revd Sheila Hart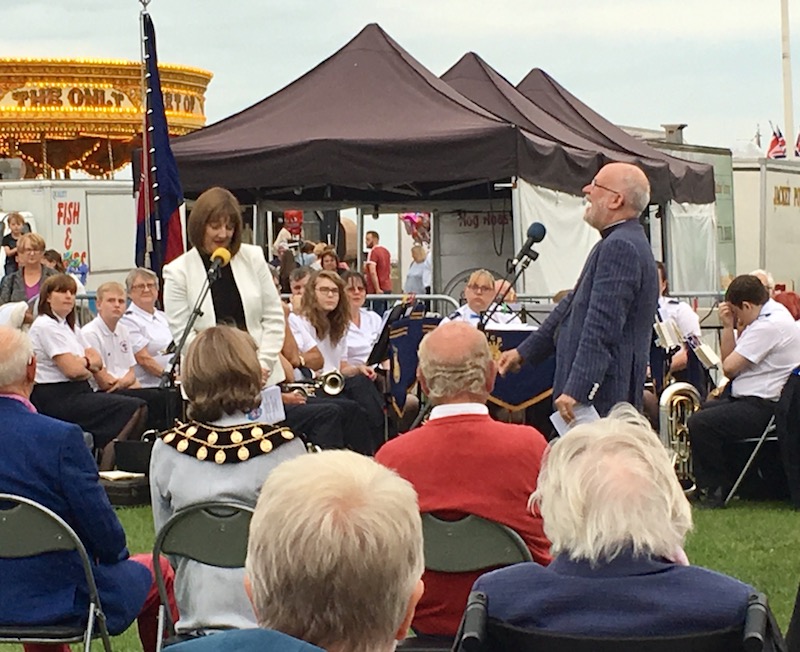 Revd Jo Mabey talks to Revd Mark Lowther about juggling her new role in wearing "the collar" and running her and her husbands restaurant.
The lovely Roderick Linsell tells us about his days in helping with the carnival. Involved a lot of home made wine!!! Say no more………
Pam Studd talks about her years in the Carnivals gone past, looking after the Carnival Queen.
This years Carnival Queen Shannon Strowger. Both her parents are well known to the carnival. Her father Vernon, was Mr Neptune in 2007, and her mother Beverly was Carnival Queen in 1981.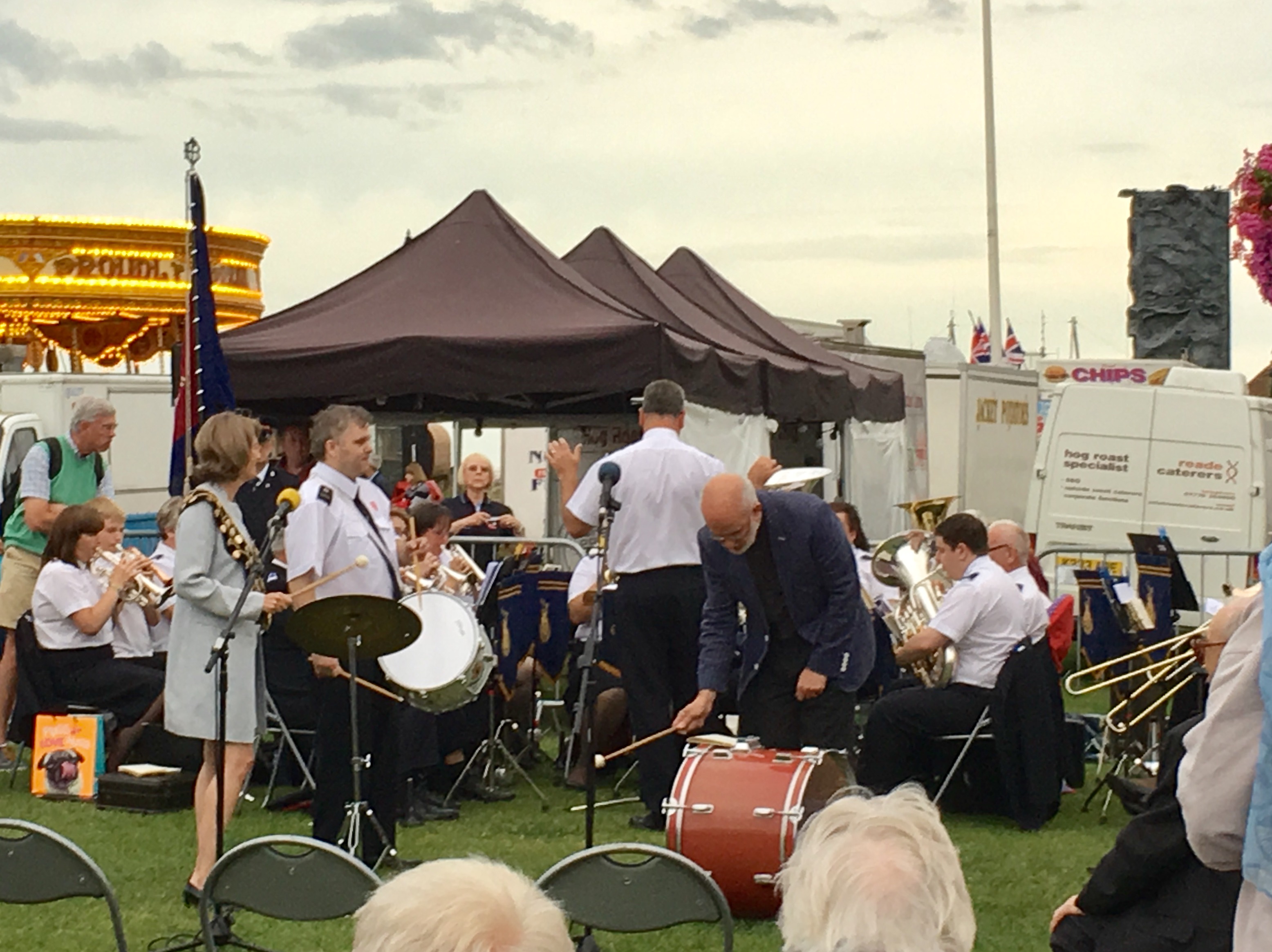 The amazing Salvation Army let Mark and Jocelyn loose on their instruments. Our heartfelt thanks to The Salvation Army. You just can't beat a brass band.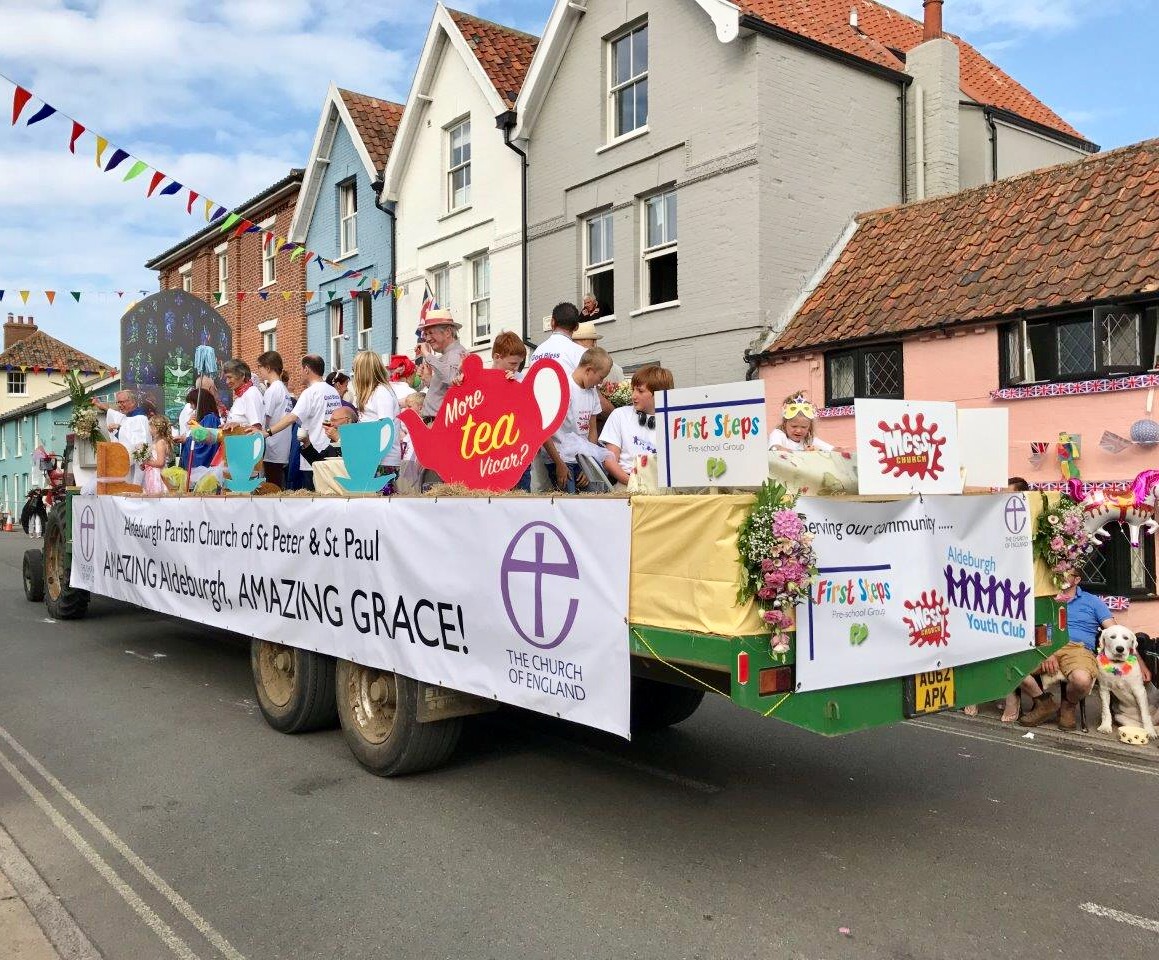 Amazing Aldeburgh, AMAZING GRACE. Here is our float. We were joined by our retired clergy, Canon John Giles, and Canon Arthur Phelps and Canon John Tipping. Revd Mark Lowther, and Revd Sheila Hart, performed different representations of services and ceremonies. More tea vicar!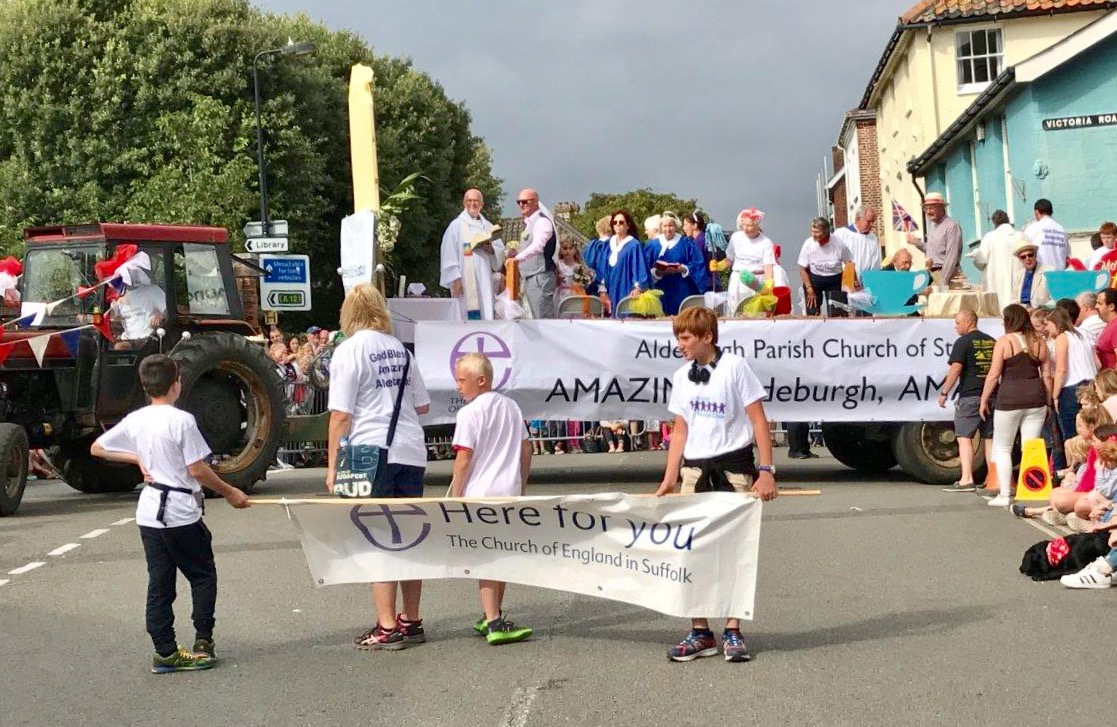 Not an easy task, getting that trailer around bends and up the hill past the church.
Here you can see the choir, and the youth club, and Anne Browning who organises our team of tip top cleaners that keep our church spick and span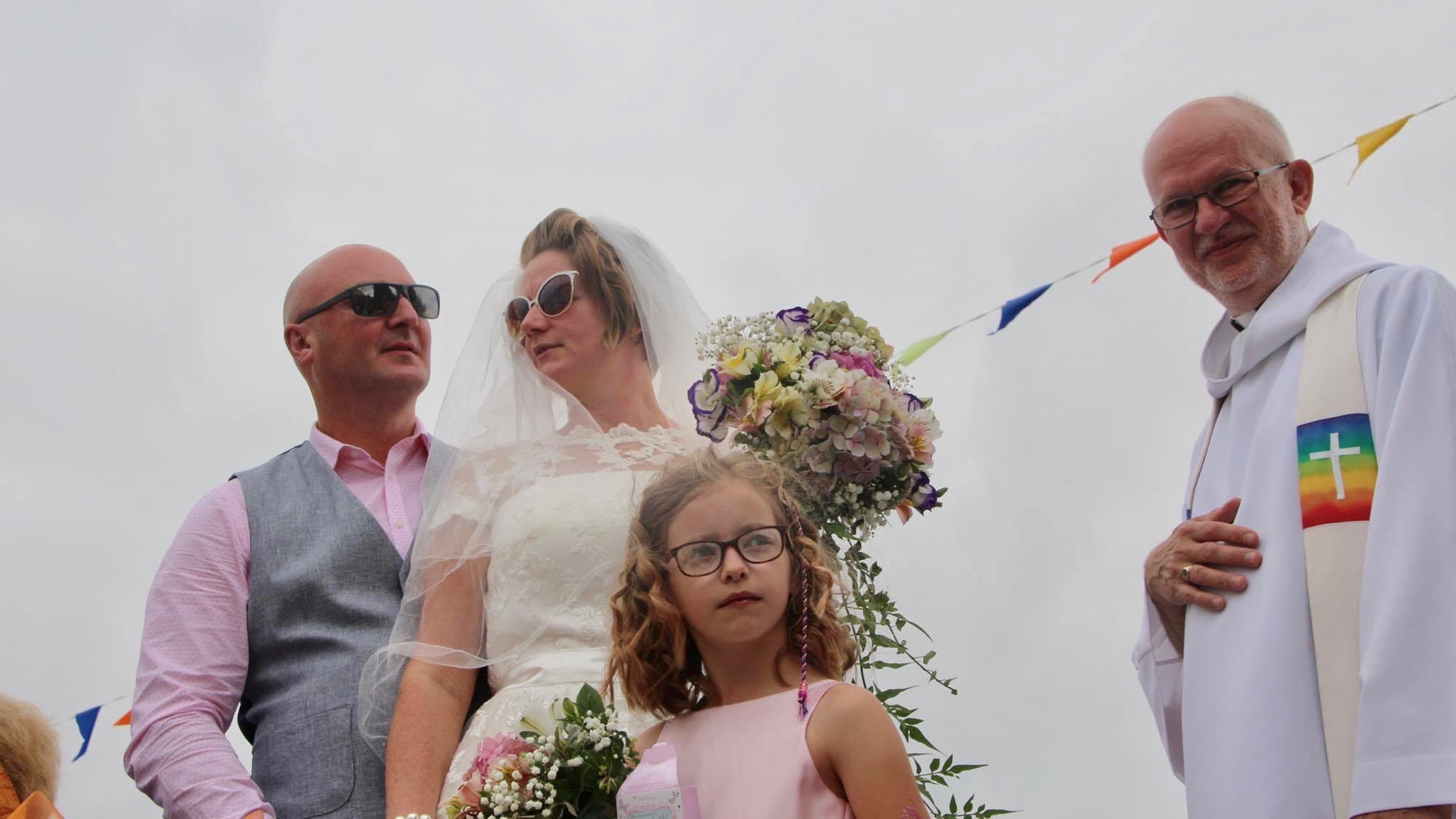 Revd Mark Lowther and our wedding couple
These photos were kindly passed onto us by Jenny Digby, who had prime location on the steps of The Moot Hall to take the most amazing photos. Thanks Jenny. Are you availble for weddings?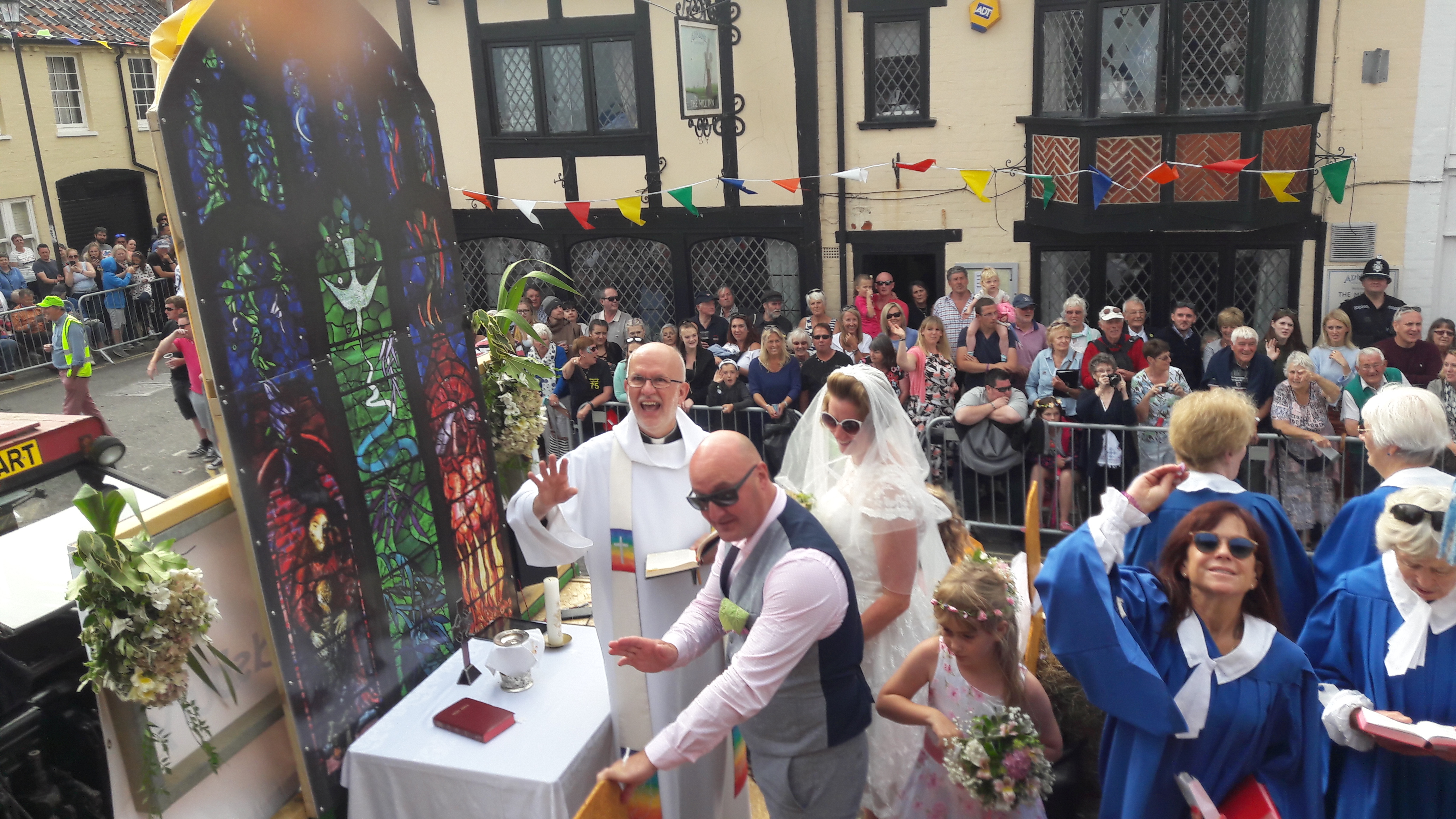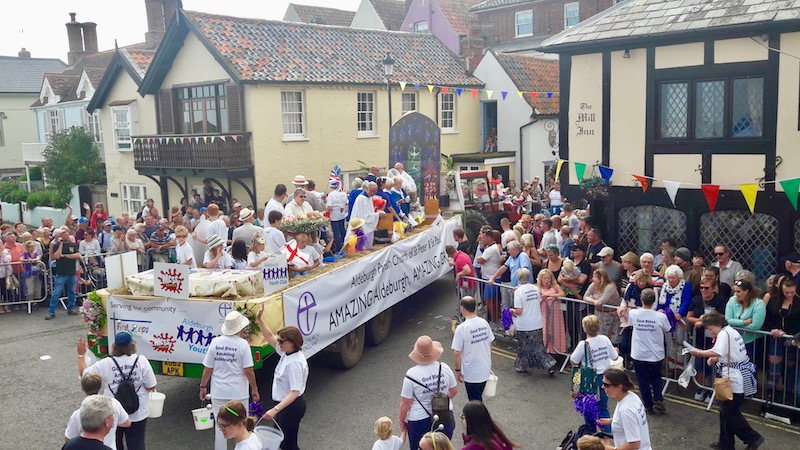 AND……….. We won third prize