January 2019 – Monthly letter from Revd Mark Lowther
Dear Friends
It's been quite a Christmas and it's not over yet! I must begin with lots of thank-yous. Even more than usual I have been aware of just how much of a team effort this Christmas has been. Four churches have been beautifully, and very differently, decorated and prepared for worship. Music has been rehearsed with care and performed with gusto. Claire and her trusty (most of the time) printer have been working overtime to produce Orders of Service. Colleagues both lay and ordained have shared in the leading of a very wide variety of services and have done it diligently, prayerfuly and joyfully. One of my personal highlights was attending the Crib Service on Christmas Eve with no leadership responsibilities (Nicky and Jo had that side of things well under control) and so able to be right in the thick of the sheer joy of a church full of people young and old – there were nearly 350 present. Our singing angel, Chrissy, looked gorgeous and sang beautifully. And, of course, there were the animals, two miniature donkeys, 'Xote and Pan, and Shaun the sheep. They behaved immaculately and the buckets and shovels secreted at the back of church remained unused! It was a fantastic occasion and should give us all pause for thought about how we should reach out to that constituency during the rest of the year. The star that shines from the top of the church tower in Friston and Aldeburgh reminds us that the light shines in the darkness for everyone.
The 'knitivity' has been taking its own very special message far and wide too. The figures, including the latest additions of shepherds and sheep, visited the 'Cribfest' in Grundisburgh church a couple of weeks before Christmas and made quite an impact. I'm told that schoolchildren queued up to have their photographs taken with them! Then, just before Christmas, the East Anglian Daily Times visited Aldeburgh church, took lots of photos and recorded video interviews with me, 'head knit' Rita Fryer and carpenter Adam MacIntyre, who made the wooden stands that support the knitting so well. The video is, as I write, still on the EADT website and shows off the hard work of the Fairfield Centre's 'Knit and Natter' group beautifully. Huge thanks, once again, to Rita and the team. I wonder if the rumour of a donkey for next year could possibly be true ….
This Christmas I wonder if anyone else was struck, as I was, by the coincidence in the Christmas messages and sermons that came from Buckingham Palace, Lambeth Palace and the Vatican? The Queen, the Archbishop of Canterbury and the Pope all said something about tolerance. The Queen spoke of the importance of people with opposing views treating each other respectfully. Archbishop Justin told the congregation in Canterbury Cathedral to aim for peace and unity at a time of challenge and discord. Pope Francis expressed a wish for fraternity. 'Fraternity among individuals of every nation and culture. Fraternity among people with different ideas, yet capable of respecting and listening to one another.' As we approach a potentially difficult year in our national life these messages must be heard. Internationally, nationally and locally the fear is that if any one constituency does not get its own way its reaction may well be extreme. However much we disagree about something (anything!) the message of Christmas is a very different one. As Archbishop Justin said 'God's language of love is exclusive. It requires us to forget other languages of hatred, tribalism, rivalry, political advantage and of materialism, pride, greed, and so many more.' That is one big ask and, sadly, it does not come easily to most of us. But if Christmas tells us anything at all it is that we are all called to try and speak the same language as those angels who, having first terrified the shepherds in the field outside Bethlehem, brought them the best news that they, or any of us, would ever hear. God is with us. The Good News is here. Do not be afraid. Peace.
With my love and prayers for a most peaceful 2019
Mark
December 2018 – Monthly letter from Revd Mark Lowther
I'm writing this in a little room at Belsey Bridge Conference Centre where I've come, for just over 24 hours, to be inspired and guided by Bishop Tim Stevens. Some of you may remember him – he was, for a few years, Bishop of Dunwich before spending 16 years as Bishop of Leicester. Now retired he lives in Bury St Edmunds and is an Honorary Assistant Bishop in our diocese. The subject of his sessions with us is 'A Church for the World – Witnessing to the Kingdom in uncertain times'. We are currently halfway through our time together and it is proving to be fascinating and very thought-provoking. As the news headlines continue to challenge and sometimes frighten us, what should the church be saying and doing? When we pray 'thy kingdom come on earth as it is in heaven' what do we actually mean? What might God's kingdom look like if it were to dawn tomorrow? These are all challenging questions and the answers will be challenging too. It has occurred to me, as Bishop Tim has been speaking, that we, as a society, really ought to be more angry. Why, in one of the wealthiest nations on earth, are there foodbanks? Why are we constantly hearing that 'we' cannot afford to care for our elderly properly? Why are we cutting back on so many things that the people in our country need?
The church does speak out. Archbishop Justin has been pretty clear about, for example, what 'economic justice' might mean if it were to be extended to everyone and his speech to the Institute for Public Policy Research back in September is well worth reading, not just the bits that were reported in some of the press. (A little gentle Googling will soon find it.) But the message that Jesus was trying to get over when he said 'Blessed are the poor in spirit, for theirs is the kingdom of heaven' often seems to be lost on us.
The Christmas season approaches and, all being well, Aldeburgh Parish Church will soon be illuminated not just by stars in the windows but by a bright star shining from the top of the tower too. 'Follow the Star' is a theme for the days of Christmas, suggested by our Archbishops and with a beautifully-produced little booklet to go with it containing short meditations for the twelve days of Christmas. There will be copies in all of our churches. The Christmas star, which shepherds and Magi followed to lead them to Christ, beckons us all too. The incarnation, God here on earth, born as a human being in what we might call inauspicious circumstances, sharing his first night on earth with animals as well as humans, is a miracle among miracles. The baby grew to become someone who called people to follow him as 'the way, the truth and the life'. Speaking the truth to power cost him his life though, of course, that was not the end of the story. But, as Bishop Tim has been asking us, are we prepared for the cost of being his disciples?
Over the next few weeks our churches will, once again, tell of Christ's birth, sing the praises of the newborn king and joyfully celebrate the incarnation. Do join us whenever you can, 'follow the star' for yourselves and know the love and the peace (and the challenge) that God came to earth to bring.
With my love and prayers for the happiest of Christmases
Mark
November 2018 – Monthly letter from Revd Mark Lowther
Dear Friends
At 11 o'clock on the 11th day of the 11th month of this year the two minutes of silence that will be kept in all of our parishes will resonate with a very special significance. It will be 100 years to the second since the Armistice took effect that officially ended hostilities on the Western Front – effectively the end of the First World War. It was the conclusion of the bloodiest war that anyone had ever known. 65 million men had been mobilised from countries all around the world. Historians estimate that around 10 million of them were killed and another 20 million wounded. The Western Front was the most famous of the theatres of war but there was also an Eastern Front that stretched from the Baltic to the Black Sea, an Italian front at the meeting of Italy and the Austro-Hungarian Empire and other fronts in Salonica, Palestine, East Africa and Cameroon. Around 100, 000 US troops were killed, 60, 000 from India and around the same number from Australia. There were even 300 casualties from Japan. This truly was a global conflagration and it changed world history in many ways. Empires came to an end, the borders of nation states were redrawn and there were political consequences that we are living with still.
We know from the names on our town and village war memorials that life for so many local families changed drastically too. Fathers and sons, husbands and boyfriends were killed and maimed. Women took on unfamiliar tasks. Hardly anyone's life was unaffected in some way or another. But, at the 11th hour on the 11th day of the 11th month it all ended. The sense of relief was overwhelming. The Foreign Secretary, Arthur Balfour, spoke to jubilant crowds, saying 'You and your children will remember this day as one on which right triumphed over wrong and justice was restored to the world.' And we still remember – especially in this year. We remember those who suffered and died for their countries. We remember those words of Jesus in John's gospel – 'No-one has greater love than this, to lay down one's life for one's friends'. We remember.
This year we are going to reinstate a service that has taken place in the past in Aldeburgh church but this time it will be for the whole benefice. At 6pm on the evening of Sunday November 4th we will be holding a service called 'Remembering the Loved'. Everyone who has lost a loved one, recently or in the past, is invited to join us. The service will be quiet, gentle and full of opportunities for personal remembrance. There will be an opportunity during the service to light a candle and say a prayer or two. If you, or anyone you know, would appreciate such an opportunity you are very welcome to be with us.
The reason we hold such a service at this time of year is because not only are we in a time of remembrance, with Armistice Day only a few days away, but also because November 2nd is kept in the church calendar as the day for 'The Commemoration of the Faithful Departed' – otherwise known as All Souls Day. Solemn though this may be it has, in the past, been a time for fun too. A rather splendid publication from 1902 called 'Christ lore: being the legends, traditions, myths, symbols, customs and superstitions of the Christian church' contains the following:
… bands of children, or of poor men, went round to the houses of the well-to-do on Souling Day, as they called it, begging money, apples, ale, or doles of cake. In some parts specially baked cakes were prepared in readiness to give away; they were called soul-cakes. The begging was performed by the aid of quaint ditties.
Cake? Ale? I feel a revival coming on!
With my love and prayers, as ever
Mark
October 2018 – Monthly letter from Revd Mark Lowther
Dear Friends
(With apologies to those who might have read some of what follows in the Parish Magazine for Aldringham, Friston, Knodishall and Thorpeness – I thought I ought to circulate it as widely as possible.)
A week or two back our friend The Revd Sheila Hart was licensed by our Archdeacon, The Venerable Ian Morgan, and at the service, in Saxmundham Parish Church, he preached a stirring and thought-provoking sermon. He spoke about how the church is called to preach the gospel 'afresh in each generation' (to quote the services at which clergy are ordained and readers licensed). That injunction poses us challenges – challenges that change constantly as the lives of the people that the church is called to serve change. The church sits at a crossroads, where that ever-changing world meets Jesus Christ who never changes – 'the same yesterday, today and forever' as the biblical Letter to the Hebrews tells us. But (and this is a big question) how much does that mean that the church should remain 'the same yesterday, today and for ever'?
When I arrived in Suffolk just over three years ago I let it be known that I was not interested in change for its own sake. That way lies chaos and confusion. But, I wonder, might there be ways in which the church's way of doing things might adapt (maybe a less frightening word that 'change') in order to carry out its task of preaching the gospel afresh in this generation? There is a danger for all of us (and I firmly include myself) that we think of the church as a comfort-blanket that insulates us from the world around us – a place where things are familiar and reassuring in a world that sometimes seems to be rushing away from us. If we read the gospels and hear again what Jesus said and did then something else soon emerges. Jesus's message was a long way from being a comfort-blanket, it was a challenge to the established way of being. He said some things that were designed to disturb. He said that to follow him was risky and potentially dangerous and might put people at odds with those around them. The heart of his message, though, was good news – good news for everyone. 'Gospel' means 'good news' and that good news is that we are all (ALL!) equally loved by God and called to love each other just as we are loved.
What might this really mean for us, here, now? Who are the people who need to hear this good news – the 'the gospel afresh' in this generation? How might the church reach them? As church, are we currently doing anything that actively discourages them? Big questions all!! Perhaps, however, these should be the questions that drive the church's thinking in the days, months and years to come. The challenge is a big one but if we duck it then, in a few years' time, the consequences might be drastic. Bluntly – do we want to be part of the problem or part of the solution?
I would really appreciate any feedback on these thoughts – from those who attend church and those who don't. Drop me a line by post at The Vicarage, email to mark@thelowthers.com or, of course, catch me for a word in church sometime.
With my love and prayers, as ever
Mark
September 2018 – Monthly letter from Revd Mark Lowther
Dear Friends
Firstly, a brief report on August, with relevant weather information.
Aldringham's visit to 'Priors Oak' – wet. (But we still raised a splendid amount of money.)
Aldeburgh's Lifeboat Service – wet. (But 35 people still filled the crew room at the Lifeboat Shed, we sang and celebrated and money was raised for the RNLI.)
Aldeburgh Carnival – sunny! And a good time was had by all. (The 'Songs of Praise' on the Sunday evening was a great success too and raised a goodly sum for the Salvation Army.)
Aldeburgh Friday Markets – weather variable. But, at the time of writing and not knowing the figures for the last market, we're heading for a stunning success and a total of money raised topping £6000.
All of these events have taken a huge amount of organising and a heartfelt 'thank-you' goes to all who have given so much time and energy to them – one way and another it's been quite a summer.
We are also so lucky to have four beautiful churches that people very much enjoy visiting. A peep at any of our visitors books reveals such positive comments. They are also all good places for music-making, both within services and on separate occasions. Whether it's folk-
music in Friston, cello playing and choral singing in Aldringham, quiet music recording in Knodishall or concerts in Aldeburgh all of our churches play host to wonderful music – and there's plenty to come in future weeks. On Saturday September 15th the Cantus Firmus Trust is organising a 'Pilgrimage of Song' around our benefice and anyone is welcome to join in. The route will follow the one that we have walked before, beginning in Friston, visiting Knodishall and Aldringham and ending in Aldeburgh and there will be music-making in each place. The publicity says 'The day begins with a workshop (in Friston at 9.45) at which we learn the music repertoire for the day. There will be a variety of music styles, with a mix of unison singing and some 4-part harmony – some easy, some a little more challenging, but certainly something for everyone. We then begin our walk. We encourage walkers to think of the whole day as an act of worship, meeting God through the services in each church, but also through the countryside, and in conversation with fellow-walkers.
Come prepared to sing or simply listen. Those who can't walk the whole route may make other arrangements for travel between churches.' And the day ends with fish and chips on the beach in Aldeburgh. (If wet, in the Baptist Church!) There are posters with more information in all of our churches and everyone will be most welcome. If you wish you can sign up on the Cantus Firmus Trust website (by September 7th please) and a requested donation of £15 covers the cost of the printed music that will be provided and the services of the professional musicians who will run the event.
Another date for the diary is Saturday September 29th when the German vocal ensemble Ars Nova (based at the St Nikolai church in Kiel) will include a concert in Aldeburgh Church as part of a visit to Suffolk. The group will be performing music by, among others, Bach, Parry, Stanford and Vaughan Williams and the concert begins at 6pm.
Then our Harvest Festivals are just around the corner. After last year's perambulations this year we return to the familiar pattern in each church with Aldringham, Friston and Knodishall's celebrations on the morning of September 23rd and Aldeburgh's on October 7th. As you will have realised, the weather has not made life easy for many of our farmers this year, particularly those with wheat fields, and though there is still plenty to celebrate we must never forget that farmers' livelihoods are at the mercy of our increasingly unpredictable weather. They are always in our prayers.
With my love and prayers, as ever
Mark
August 2018 – Monthly letter from Revd Mark Lowther
Dear Friends
Local politics don't normally feature in a 'Letter from the Vicarage' but I feel that the situation regarding the proposed building of an electricity substation in Friston needs to be widely known. As many of you will know, Scottish Power Renewables are proposing siting the necessary onshore infrastructure for their new offshore windfarms close to Friston village. There is, quite understandably, a great deal of local opposition, especially when there seems to be a much more sensible location available at Sizewell. I have let it be known that I am happy to do anything I can to support local opposition to the plans. I have already been in touch with Heritage England, who I have asked to comment on the fact that the delineated area for the proposed substation development comes within 150m of Friston church, a Grade 2*-listed building. I will keep everyone in the picture as and when any useful information emerges but, if you feel moved to do so, please do sign the online petition at www.sases.org.uk
There are some important dates for your diary this month, beginning with Aldringham's annual Animal Service, which takes place at 3pm on the afternoon of Sunday August 5th. As long as the weather is favourable we will be in the churchyard and all are welcome to be there, with or without an animal. Regular recent attenders have included dogs, the occasional very brave cat and some beautiful local sheep! It's a fun occasion but with a serious undertone as we give thanks for all of God's creatures and all that they give to us. Later that week there's a chance to visit Trudie Willis's beautiful garden at Priors Oak on Leiston Road, Aldeburgh. If you've not been before and love a good garden (complete with lots of plants that attract glorious butterflies) then please do try and come – Thursday August 9th from 2pm. Trudie is very generous to us, allowing us to raise money for St Andrew's, Aldringham and serve refreshments and we're most grateful to her.
St Mary's, Friston celebrates its Patronal Festival at 7pm on Wednesday August 15th with a special service of Holy Communion to which all are invited. And then it's Carnival weekend! We have an extra contribution this year with a concert in Aldeburgh church at 7.45pm on the evening of Saturday August 18th. It will be given by Hitchin Concert Band and features everything from a Gustav Holst Suite to a selection from Rogers and Hammerstein's 'South Pacific'. Sounds fun!
On the following evening we will be holding the traditional Carnival Songs of Praise at 6pm with music provided by the brass band from Ipswich Salvation Army. And then, once again, Aldeburgh church will have a float in the carnival procession on Monday 20th. Combining church with the carnival theme of 'Fly Me to the Moon' has proved an interesting challenge and all I'll say for the moment is that an angel (or two) has come to the rescue. Intriguing eh?! And if that isn't quite enough action for one month there is still the annual Lifeboat Service to look forward to, at 3pm on the afternoon of Sunday 26th. I always find this a moving occasion as we give thanks for the work of the RNLI and the dedication of our own lifeboat crew and onshore team, singing and praying within a few feet of 'Freddie Cooper' herself.
Throughout the month we will be holding our Thorpeness Summer Services at 9.30am each Sunday morning in the Country Club. These services always prove popular with regulars, visitors and regular visitors! Half-an-hour long and followed (with thanks to the Country Club staff) by coffee and opportunity to chat and meet up with old friends, the Summer Services remain an important part of our church life.
Finally we must not forget the Aldeburgh August Friday Markets. Each Friday morning at 10.00am Aldeburgh Church Hall will be filled with happy shoppers and a cornucopia of amazing bargains and tasty refreshments. The usual favourites will all be there – the plant stall, the ice-creams (which, if the weather continues as it is, could be a lifesaver!), the home-made produce and the amazing bookstall. There are new items every week, so don't think that all the best stuff has gone after week one.
What a great August it promises to be!
With my love and prayers, as ever
Mark
July 2018 – Monthly letter from Revd Mark Lowther
Dear Friends
There is no doubt about the most important news of the month – we have a new priest in our midst! The Revd Johanna (Jo) Mabey will be ordained Priest in St Edmundsbury Cathedral on June 30th and will preside at Holy Communion for the first time the following day. For any priest this is a big day and whatever your theology of communion may be, the fact is that it is a central part of what it means to be church. Jesus said 'Do this in remembrance of me' and so we do. In our modern-language service the officiating priest is described as the 'president' – they 'preside' at the service and enable the most important parts of it, most importantly asking God to grant that, by the power of the Holy Spirit, 'these gifts' (the bread and wine) 'may be to us the body and blood of our Lord Jesus Christ.' To enable this is one of the most powerful privileges of being a priest and presiding at Holy Communion for the first time is one of the most special days in a priest's life. We celebrate with Jo and offer her our warmest congratulations.
By an extraordinary and happy coincidence 2018 is also the year when The Revd Canon Arthur Phelps celebrates the 65th anniversary of his ordination – an event which, as he reminded me the other day, was at one and the same time overshadowed and enhanced by the fact that it happened in the year (and very close to the actual date) of our Queen's Coronation in 1953. Arthur has served the church in Liverpool, Chelmsford and Truro dioceses as well as our own and, though he formally retired 28 years ago, his service has, to this day, remained faithful and loyal. He has become a good friend and wise council to me since my arrival a mere three years ago and still has a very valuable ministry here. Congratulations Arthur, from me and from all of your many friends in Suffolk!
The Aldeburgh Festival ended on June 24th and Aldeburgh church hosted five concerts as well as the Festival Service. It seems to me that this is a hugely important part of the Parish Church's 'outreach'. The church hosted the very first festival concert, way back in 1948, and has been the scene of many a special event since and so it's good that the church is still a central part of festival activities . I was present for most of the concerts in church and as well as hearing some glorious music-making it was so good to have conversations with people, many of whom travel a great distance to attend festival events. I had lots of appreciative comments about the beauty of the building and the warmth of the welcome so I'd like to thank all who contributed to that. The Festival Service had a congregation of over 300 and as well as hearing beautiful music we were treated to a witty and thought-provoking sermon by The Revd Sarah Lenton. The text is listed below, and if you weren't there (or were and would like a refresher) I commend it to you.
Finally a reminder of two forthcoming 'special events' in the benefice. Friston's 'Classics on the Green' will be on Thursday July 5th. For anyone unfamiliar with this remarkable event, veteran and vintage cars and motorbikes gather on the village green in Friston and everyone is invited to bring family and friends to see them. All types of vehicle in production before 1970 are welcome and they will be arriving from 3pm. Tea, coffee, filled rolls, cakes and scones will be available in the Village Hall and a pop-up bar and barbecue will be on the Green. All profits go to Friston church and, though I know nothing at all about cars, I have enjoyed 'Classics' enormously! A good time is guaranteed. Then on Sunday July 8th we, together with the church nationally, mark 'Sea Sunday'. It will be being reflected at most of our services that day but particularly at our Ecumenical Service at the Fairfield Centre at 6pm. I don't need to remind you about the history of our part of Suffolk and its close relationship with the sea. It will be good to remember and celebrate together.
With summer services beginning in Thorpeness at the end of the month and the Aldeburgh Carnival not being too far off (more news next month) it really feels as if summer has arrived – at last!
With my love and prayers, as ever
Mark
SERMON PREACHED AT THE ALDEBURGH FESTIVAL SERVICE – JUNE 10TH 2018 
BY THE REVD SARAH LENTON
Genesis 3: 8-15
2 Corinthians 4:13-5:1
Mark 3: 20-end
+ In the Name…
What a the rich set of readings- what shall I go for? Jesus' tips for burglars? Adam and Eve?
Perhaps we should pause for a moment on that worrying verse about the unforgivable sin: Jesus' warning about blaspheming the Holy Spirit. (Ad lib – now everybody's got a different take as to what an unforgivable sin is – I suppose in Aldeburgh it's rating Michael Tippet above Benjamin Britten) but this passage is not so much about a specific sin as a deadness to sin. The Holy Spirit, as Jesus says elsewhere, is the Spirit of Truth, that God-given impulse inside us that discerns good from evil – our conscience. We can ignore this voice – we can shut it down – but if we do we could end up not being able to judge between good and evil at all – not recognise the things in us that need healing – and so not be able to ask for, or accept, God's forgiveness. If we do that, we've blocked it. The condition is reversible of course, and God can forgive absolutely everything, but He'll never force His forgiveness or grace upon us.
And it's God grace that I'd like to talk about today. Because really the scriptures, this service, and this Festival is full of it. God's grace is that unstinting, unconditional, love He showers upon us. In art, in community, amongst friends, and in His own surprising, and rather alarming, preference for our company. He not only loves us, He likes us – I think that's important to know – He likes hanging out with us, that's the Good News Jesus came to teach. But it can take a minute or two to recognise it.
I mean, how about the feelings of Jesus' actual family as they tried to get Him home and sort Him out? How about the crowd as they heard Him keeping His natural family at bay as He said to them, 'but you're my family as well…'. They might have been delighted of course, but being Middle Easterners, I rather wonder.
I'll never forget reading about K E Bailey's experiences as a seminary teacher in Lebanon, back in the 70s. He said Jesus' famous demand that we should be prepared to leave both mother and father horrified his students, he saw them go pale as they read it. The claims of family were so strong – apparently even the most sophisticated businessman in Tel Aviv would phone his dad back in the village before an important deal. He wouldn't necessarily take the old man's advice, but it was a courtesy and it was expected.
And it's this tight knot of family affection that Jesus came to loosen up. It's one of the things often overlooked about Him that He said, it's not the family we are born into that matters, it's the family we make. The people who see something in the world that we see, the friends who support us, the folk we meet week by week in church, or year after year at a Festival.
Now in many ways that's just a condition of human flourishing. We need companions, mates, people we trust. Some of us are born into unconventional families – Jesus certainly was – some of us have to create families, find our community. It's obvious that when Benjamin Britten, was languishing in California and came across that famous essay by EM Forster on the poetry of George Crabbe, it wasn't the sudden discovery of Crabbe's poem Peter Grimes that made him realise he had to come home. It was Forster's description of Aldeburgh, 'It is a bleak little place: not beautiful, it huddles round a flint-towered church and sprawls down to the North Sea.' as Britten read this, a wave of homesickness swept over him. He looked up and said to Peter Pears, 'We'll have to go'. And back he came, a boring and dangerous voyage, braving the U Boats in a Swedish cargo boat, to write about a hero who says, of this place:
I am native, rooted here.
By familiar fields,
Marsh and sand,
Ordinary streets,
Prevailing wind
Jesus, who never lost His Galilean accent would recognise that. But even so His call to find a family, find His family is disconcerting. Especially right now. Because it means the church. Not always a popular institution, and in spite of the Royal Wedding, not something that gets a good press. I'm writing a book with a friend at the moment about the questions children ask about God – and how to answer them – and in among the really good questions, you know how old is God? Who made Him? Why did He get bored with the dinosaurs? we get a persistent, Do I have to go to church? To which the straight answer is yes.
It's family. G K Chesterton once imagined what it would be like to be shot down a chimney into somebody else's living room and be told to get on with the family you found there. He said that's what actually happens to us when we are born, we're dumped into a family, we get used to mum and dad – then they suddenly unleash Uncle Bert on us, or Cousin Audrey jumps out from behind a sofa. That, in miniature, is what happens when we go to church. All sorts of people you'd never normally know – or may indeed wish to avoid – are in the pews next to you, and it is with them we hear about God's unwearying love, and the injunction laid on us. To love Him, and our neighbour. Simple instructions but appallingly difficult. And it's in church, one hour a week, just sitting there, bored possibly but sticking it out, we learn to love, and to like, and to look round and be able to say, 'these too are my mother, and my sisters and my brothers…'
And as we get used to that, and feel the first stirrings of that affection, we may get a glimpse of what St Paul is talking about in the epistle today, 'So we do not lose heart. Even though our outer nature is wasting away, our inner nature is being renewed day by day….because we look not at what can be seen but at what cannot be seen; for what can be seen is temporary, but what cannot be seen is eternal.'
Look round. The family we are surrounded by this morning, the people beside us in the pews, are glorious immortal beings, this flint towered church is the gate of Paradise. We might be outside for a bit, like poor Adam and Eve expelled from Eden, but we're on the threshold, and it's places like this, and festivals like this, that build up our common life, and give us a glimpse of Heaven.
'For we know that if the earthly tent we live in is destroyed, we have a building from God, a house not made with hands, eternal in the heavens'
I hope you have a happy and joyful Festival.
Amen.
June 2018 – Monthly letter from Revd Mark Lowther
Dear Friends
Ordinary time has begun. We have arrived at the part of the year when the names of our Sundays are simply described by the number of weeks 'after Trinity' in which they fall. This year the first Sunday in June is the 1st Sunday after Trinity and the pattern continues until Sunday 28th October – the 22nd and last Sunday after Trinity. For many churches 'ordinary time' (the generic name for this part of the year) is a relatively uneventful time of calm. But not in the Alde Sandlings Benefice! No sooner has ordinary time begun than we begin a series of extraordinary events of many kinds. The Aldeburgh Festival begins on June 8th and on Sunday 10th the annual Festival Service takes place in the Parish Church. This year we welcome The Revd Sarah Lenton as our guest preacher – someone for whom the expression 'multi-talented' might have been invented. Sarah is an opera historian, writer, lecturer, broadcaster, tour guide, cartoonist – and priest. I think a lively sermon can be guaranteed! Aldeburgh Voices will be singing the beautiful Four-Part Mass by William Byrd and also some 21st-century American music, including a World Premiere. All in all it promises to be a mini-festival of words and music as well as a service of Holy Communion.
Friston is holding its 'Open Gardens' event again this year, on Sunday June 17th and this always proves to be both an inspiration and a good afternoon out (with splendid refreshments provided too). Another extraordinary event will be The Revd Johanna Mabey's ordination to the priesthood on June 30th. Jo has already proved herself to be a wise and inspiring minister and once she has been 'priested' (the shorthand term for her second ordination) she will be able to preside at Holy Communion services, give God's blessing, baptise, take whole wedding services and a few other things too. If you are able to be with Jo for her big service at our cathedral in Bury St Edmunds on that Saturday afternoon and would like to travel on the coach that we are running then please let one of the clergy know and / or sign up on the sheet in Aldeburgh church porch.
The special events continue throughout the summer. Highlights include Friston's 'Classics on the Green' on July 5th, Sea Sunday on July 8th and, of course, the Aldeburgh carnival on the 3rd weekend of August in which we plan, once again, to have a church float. More news on this very soon but animals and an ark could possibly be involved.
Administratively we take a big step forward on the evening of Thursday June 7th with our first meeting of all four Parochial Church Councils. There are several items on the agenda that affect all four of our parishes and it will be good to see if addressing some of these together brings forward some new ideas and ways of thinking about things. Among other things we will be looking at music in our churches, courses and study meetings – and we also plan to talk about the proposed new development of a large-scale electricity substation which may well be in one of our parishes. This is an important subject for many and we need to think of how we might work together to become involved.
The season may be called 'Ordinary Time' but, for us, these are extraordinary times!
With my love and prayers, as ever
Mark
May 2018 – Monthly letter from Revd Mark Lowther
Dear Friends
I don' know if you agree but I find this time of year to be one of great hope. We are surrounded by new life and new colours. After the change of the clocks we have light evenings to enjoy and (with the odd blip!) the temperature is creeping up too. Ro and I have enjoyed our first meals out-of-doors and the short-sleeved shirts have begun to emerge from the wardrobe. Summer, and all that it brings, will soon be with us.
That sense of great hope extends to our church life too. The service, back in mid-April, at which Bishop Mike gave Nicky, Sheila, Jo and I our licenses for the new benefice was, I hope those who were present will agree, a great occasion. We worked our Bishop hard! He commissioned and re-commissioned Lay Elders and confirmed no less than eight people, three of whom were also baptised. Although our benefice has technically been in existence since the beginning of November the service felt like a real turning-point and to have so many people involved, from our parishes and beyond, felt gloriously positive. My renewed thanks to all who contributed to its success – I don't think I'll ever forget it.
So now we need to continue our exploration of what being the Alde Sandlings Benefice really means to us and what the opportunities are. The APCM season has just finished and we have our Parochial Church Councils in place for another year. A big thank-you to all of those who continue to give valuable service to their parishes and now to the wider benefice too. All sorts of ideas are beginning to bubble up about closer ways of working and I sense an exciting year ahead. There is much to be hopeful about here too.
A word about Ascension Day – Thursday May 10th. It will begin early, at 7.00am, with our traditional clamber up the church tower in Aldeburgh and an attempt at synchro-singing between the climbers and those who, sensibly, remain on the ground. We then move into church for a service of Holy Communion on what is one of the great 'feast days' of the church and which will be followed, appropriately, by a 'coffee and croissant' breakfast in the church itself. Then at 7.00pm we are hosting a service for our deanery on the village green in Friston, followed by refreshments in Friston Village Hall. This all promises to be rather special too and prayers for good weather will be very much appreciated. You will be very welcome at either (or both!) of the services. Ascension Day really is one of the most important days on the church calendar (it is a public holiday in many countries) and it forms the centrepiece of the great Eastertide trio of Easter Day itself, Ascension Day and Pentecost that, between them, tell us such important things about the nature of the God that we worship. As I write we are still very much in the middle of the 50-day Easter season. Eastertide formally ends at Pentecost (which this year falls on May 20th – the day of our Civic Service in Aldeburgh). At many of the services in our churches we are still interpolating 'Alleluias' into our welcome and our sending out. The joy of the resurrection continues to be reflected in our readings from the Acts of the Apostles. We are constantly being reminded that we are 'an Easter people' and I pray that the joy and the energy of Christ's bursting from the tomb remains the inspiration for us all as we journey onward together.
Alleluia, Christ is risen. He is risen indeed, Alleluia!
With my love and prayers, as ever
Mark
April 2018 – Monthly letter from Revd Mark Lowther
Dear Friends
First things first. ALLELUIA! CHRIST IS RISEN! HE IS RISEN INDEED, ALLELUIA!
During Lent our discussion groups explored what it might mean to live as Easter people – as people of the Resurrection. How might we carry the overwhelming joy of Christ's conquering of death out into a world that is in such desperate need of Good News? Some of what follows picks up on that theme.
'Pilgrimage' is something that seems to be very much in peoples' minds at the moment. There has recently been a series on television following a very varied bunch of people on the Camino do Santiago, the great pilgrimage-route of St James to Santiago de Compostela in north-western Spain. There have also been repeats of Simon Reeve's three programmes about the history of Pilgrimage. 'We are pilgrims on a journey, fellow travellers on the road; we are here to help each other walk the mile and share the load' – words from one of the most popular of modern hymns and which sum up the idea of 'pilgrimage' perfectly. When we, literally or metaphorically, walk together and share as we travel then all sorts of positive things can emerge. So here are some ways that we plan to make the metaphor come to life.
We often wonder if Sunday morning is the best time for everyone to be able to gather and worship. Such are the pressures on family life in particular that Sunday isn't always the best day. We are, therefore, going to experiment with a new way of worshipping together during the week. Fortnightly, on a Wednesday evening at 6.30pm, 'Pilgrims Together' will gather, worship and share fellowship (and some food!). The plan is that the gatherings will themselves travel the road, meeting in our churches, peoples' homes, maybe even a pub or two. The worship will be informal, using material from Iona and including hymns and songs from a number of different traditions. I hope to be present at most of the gatherings but this is very much a 'bottom up' exercise, not 'top down' and the leadership of each evening will be shared. The first meeting will be in St Andrew's, Aldringham on Wednesday April 11th at 6.30pm. To quote another wonderful worship song 'All are welcome in this place.'
Alongside the 'Pilgrim's Together' meetings we also plan to run a course, called 'Pilgrim' which, to quote its publicity 'aims to help every local church create a place where people can explore the Christian faith together and see how it can be lived out each day.' 'Pilgrim' is the successor to the very popular 'Emmaus' course that some of you may have encountered in the past. Those contributing to it include several Anglican bishops (male and female!), the bible-scholar Paula Gooder and a number of other leading theologians. Look out for information about when 'Pilgrim' begins – we plan to start it before the summer.
Finally a reminder of the big event this month when on Thursday April 19th at 6pm in Aldeburgh Parish Church we have both Bishop Mike and Archdeacon Ian visiting us to do all sorts of things including licencing and installing me as Rector of the new benefice, licensing my fellow clergy, commissioning and re-commissioning Lay Elders and there will even be some Confirmations. It promises to be a memorable evening.
ALLELUIA! CHRIST IS RISEN! HE IS RISEN INDEED, ALLELUIA!
A very Happy Easter to you all.
With my love and prayers, as ever
Mark
March 2018 – Monthly letter from Revd Mark Lowther
Dear Friends
Throughout March, and as the evenings grow lighter, the story we tell in church becomes gradually darker as we move towards Good Friday at the very end of the month. Lent turns to Passiontide on Sunday 18th, we mark Palm Sunday on the 25th – and then things get very dark indeed as, during Holy Week, we remember the events leading up to Jesus's trial and crucifixion. We will be marking the season in the usual way in our churches and with the usual services (see the separate list). And throughout the month our Lent course will continue too, anticipating the great events of Easter and pondering what they still mean for us today. The Tuesday afternoon group will meet weekly in Aldeburgh church vestry at 3pm and the Wednesday evening group meets at 7pm at a different location each week – listen out for announcements or contact Sheila or me if you need clarification.
We have, in recent years, begun our marking of Holy Week with a special meditation at the Roman Catholic church of Our Lady and St Peter in Aldeburgh, based around Haydn's 'Seven Last Words of Our Saviour on the Cross' for string quartet. This year, because of the availability of the players, that service will be held earlier than usual, on the evening of Monday March 5th at 7pm. Those who have been before will attest to the fact that this is a very special evening of words and music and I commend it to you.
We have another special musical event in Aldeburgh Parish Church this month. On the morning of Saturday March 17th we have a coffee concert at which the baritone Rainer Grämer and pianist Christopher Moore will perform Schubert's 'Winterreise' (Winter Journey). It is one of the great song-cycles – 24 songs, lasting just over an hour, which Schubert wrote at the end of his short life and telling the story of a lonely traveller journeying in winter weather. As, that weekend, we move into Passiontide and our own journey grows that bit darker it seems a good time to hear Schubert's powerful and moving masterpiece. Coffee will be served from 11.00 and the music begins at 11.30.
And a date for your diary for next month. It has been a while coming but on Thursday April 19th at 6pm we have both Bishop Mike and Archdeacon Ian visiting us for a special service. At it our united Benefice will be recognised by the licensing of the clergy to it (Nicky, Sheila and Jo will receive their licenses as benefice assistant clergy and I will receive my license as Rector) and Bishop Mike will also confirm some adults. Several people have already expressed an interest but if confirmation (or even baptism) is something that you have been thinking about then this is the time to contact one of the clergy for a chat. April 16th promises to be a very special day indeed.
A final thought about this time of year. The coincidence of Easter and springtime reminds us of God's ever-renewing love for us and promise to us. The signs of spring appearing around us daily are a glorious multi-coloured metaphor for the risen Jesus's promise that he will always be with us. Spring will always follow winter, light will always overcome darkness, God will always be with us, there is always hope. Something to keep in mind as we prepare to walk the way of the cross with Jesus.
With my love and prayers, as ever
Mark
February 2018 – Monthly letter from Revd Mark Lowther
Dear Friends
With Easter being quite early this year (April 1st) the penitential season of Lent begins early too, with Ash Wednesday falling on February 14th. We plan to mark the major events of Lent, Holy Week and Easter in much the usual way, beginning with special services on Ash Wednesday itself where we invite you to come to a service of Holy Communion in Aldeburgh church either in the morning, or in the evening when you will be invited to receive the sign of the cross on your forehead, marked with ash made from last year's palm crosses. This is, as the service has it, 'a sign of the spirit of penitence with which we shall keep this season of Lent' and it is important to remember that the familiar Lenten discipline of abstinence derives from this idea of a penitential season – a time when we remember the things that we have done (and still do) wrong and try our best, with God's help, to do something about it. To turn around and aim in a new direction.
I came across a wonderful illustrative image of this which asked us to imagine a bright light with people standing in a circle around it. But they are facing outwards with their backs to the light and all they can see is their own shadow. Lent is a time to turn around, to face the light, to put our own shadows behind us and see each member of the circle for who they are, equal sharers of the light. For us, of course, the light represents God, God's equal love for us all and a reminder that the miracle of Easter is Good News for all.
Throughout this year's penitential season we will be running a Lent Course written by Bishop John Pritchard called 'On The Third Day'. It's publicity says this:
'The resurrection is the Big Story that turned a little Jewish protest movement into a world-transforming religion. And yet by Easter Monday we've almost forgotten about it and are planning our summer holidays. How can we recapture the explosive power of the resurrection that ricocheted around the world? How can we live in the glow of resurrection and be an Easter people? How can 'there and then' become 'here and now'?'
Bishop John has chosen some excellent contributors to the course from a number of different Christian traditions including Bishop Libby Lane (Bishop of Stockport and the C of E's first woman bishop), the notable New Testament scholar and former Bishop of Durham Tom Wright, Ruth Gee (former President of Methodist Conference) and the Roman Catholic writer and broadcaster Paul Vallely. We hope that the course will be inspiring and thought-provoking and I commend it to you all. Please look out for separate information and sign-up sheets. We are planning to run the course, which is very much aimed at the whole benefice, at least twice each week with one session during the day and one in the evening, beginning in the week after Ash Wednesday. Hopefully that means that there will be a convenient time for most people. Listen for further announcements!
We are an Easter people. As, once again, we prepare to hear the story of Christ's betrayal and crucifixion and ponder on that most fundamental of Christian questions – why did Jesus die? – we must never forget that after three days came the event that did indeed transform not just a few middle-eastern people 2 000 years ago but the whole world forever. Now there's a thought!
With my love and prayers, as ever
Mark
January 2018 – Monthly letter from Revd Mark Lowther
Dear Friends
I must begin with some thanks for work done in the old year before looking forward to the new. I hope you all agree that our four churches have looked amazing over Christmas. My visits to each have been truly heart-raising, especially when I think of all of the hard work that has gone into making each place of worship so welcoming and celebratory. To all involved and especially those who I didn't manage to see while they were at work, my sincerest thanks. Not only have the churches looked good they have also sounded good and been supplied with all of the vital things that make Christmas services possible. So thanks too to all of our organists and singers, to Aldeburgh's Administrator, Claire Turner, who spent a great deal of time tending the photocopier, and all who helped to prepare and serve refreshments for our special services. It wouldn't have been the same without all that you did.
In olden days the Christmas season continued throughout Epiphany and only ended at Candlemas (the Feast of the Presentation of Christ in the Temple – February 2nd) and it always seems a little bit unfair to take the Christmas Crib away just as the Magi arrive! Several of our churches will bear evidence of the Epiphany story throughout January and the 'knitivity' figures (the lifesize knitted nativity figures that have become media stars!) displayed at the back of Aldeburgh church will certainly be around for a while yet. Do try and pop in and see them if you haven't already done so, they really are very special.
On one of the mornings between Christmas and the New Year, Radio 4's 'Today' programme was guest-edited by Prince Harry. One of the highlights of the programme was a long interview that he recorded with Barack Obama, former President of the USA. It made stimulating and moving listening and a particularly memorable moment came when Prince Harry asked Mr Obama to give us all a reason to be optimistic about 2018, given all that seems to be wrong in our current world. As part of his answer Mr Obama said this. 'If you had to choose a moment in human history in which you would want to be born …. you would choose today because the fact is that the world is healthier, wealthier, better educated, more tolerant, more sophisticated, and less violent than just about any time in human history.' And he went on to point out that in his country it was only a few generations ago that someone who looked like him (ie an African-American) was in bondage or servitude. And it was only a few generations ago that, routinely, women couldn't aspire to doing any more than caring for their children – which Mr Obama described as 'the most noble thing that you can do' but he wanted his daughters to be able to do more than just that. He observed that so much good has happened in his own lifetime that we have to be optimistic 'as long as we don't think that any of us can sit back passively and assume it continues. History doesn't just run forward, it runs backward and sideways and it requires us to continually push.'
The former President and the Prince obviously enjoyed each other's company and it was a most thought-provoking interview (and, as I write, it's still around on the Radio 4 website). It struck me, though, that this is very much our story as Christians too. That baby, born in poverty in Bethlehem, changed the world for ever and showed us all what love is. We cannot be pessimistic either. However, though we have the knowledge, we cannot sit back passively and assume that God will make everything right. With the help of God, that is up to us and perhaps that knowledge ought to affect any new year resolutions we set ourselves. Have a resolution for yourself, of course, but have one for the world too.
With my love and prayers, as ever
Mark
December 2017 – Monthly letter from Revd Mark Lowther
Dear Friends
It seems almost impossible to believe but we have arrived at the final month of 2017. Time does seem to fly! Preparations for Christmas are speeding along and from our Benefice Christingle service in Aldeburgh at 6pm on Tuesday December 5th to the services in all of our churches on Christmas morning, each week will bring a special date or two for the diary. The Benefice Christmas Services card has all of the details, including those of the rather hectic build-up to the big day. This year Christmas Eve falls on the 4th Sunday of Advent so we will be able to both anticipate Christmas and begin to mark it, all on the same day. The 'First Holy Communion of Christmas' (otherwise known as the 'Midnight' service) which we will be celebrating in both Aldeburgh and Aldringham begins on the Sunday night and though those services sit in the middle of a very busy couple of days they will, I am sure, be as special and well-attended as ever.
Let us not, however, forget Advent. Poor old Advent. With trees and carols and Christmas adverts that seem to arrive earlier and earlier each year Advent can all too easily be squeezed out and ignored. It is, however, one of the most important seasons in the church's year and is, as those who have been working through Lucy Winkett's Advent course will have discovered, a good time to reflect on what it actually is that is coming at Christmas. I have just come across a wonderful address by the priest-poet Malcolm Guite (someone who I know Nicky Winter is particularly inspired by) and he talks of the problem of our modern Advent being like the difficulty of seeing the stars when you live in a big city that is so full of its own artificial brilliance. You can't see for light. And what Malcolm Guite calls the 'bling' of Christmas can all too easily blind us to the coming of the one true light, the one who should be able to shine in the darkness with overwhelming power. If, though, the darkness is already full of artificial light then it will be more difficult for the true light to shine with all of its proper radiance. We are in danger of diminishing the impact of what it is that we are actually celebrating – the arrival of God here on earth, God with us, God living among us, God loving us and caring for us.
Everything about Christmas derives from that amazing truth and anything that diminishes the power of that truth is indeed 'bling' – what John Betjeman in his famous Christmas poem calls 'tissued fripperies – the sweet and silly Christmas things.'
It is, of course, impossible to ignore the Christmas that is already going on around us and to do so completely turns us into someone seen as the sort of person that Charles Dickens portrayed as Ebenezer Scrooge. We are not, like him, saying 'Humbug!', we're just saying 'Wait!'. Advent is, literally, a Godsend. A heaven-sent opportunity to take a moment to remind ourselves just what is about to happen and what it is that we celebrate each Christmas. As we read the familiar story once again of the young couple arriving in the crowded town and asking if there is room for them at the inn, it reminds us that we too need to make room for what lies at the heart of the Christmas story. Not the 'bling', not the 'sweet and silly things' (lovely though some of them may be) but the Christ child, Emmanuel, God with us.
I hope that you, and those you love, might manage to have a properly anticipatory Advent and then a truly celebratory Christmas.
With my love and prayers, as ever
Mark
November 2017 – Monthly letter from Revd Mark Lowther
Dear Friends
I hesitate to say this, given that there are still a couple of things to sort out, but I am given to understand that on November 1st our parishes really will become equal parts of the new four-parish Alde Sandlings Benefice – it really has happened. Sound the trumpets! Having announced that, the next announcement is that there will not be much immediate change. We will, however, begin to have some discussions about the opportunities that being a united benefice afford us. This is not something to rush but an opportunity to pray and think about what we already do and how we might do some of it better. I don't have a pre-formed agenda at all but this seems like a good time to begin to ask ourselves a few questions. Are there ways in which we can be more effective as church in our beautiful patch of Suffolk? Are there opportunities to reach out and take the good news of the gospel to people and places that we don't currently reach? Are there ways in which we can organise our affairs more efficiently? To borrow some words from the Book of Common Prayer we 'ought at all times' to be asking these questions but as we come together to celebrate our new benefice this seems like a particularly good moment so to do. There will, hopefully in the not too far distant future, be a special service to mark our coming together and I'll bring news as soon as I have it.
One idea that we have already had is to find an image that we can use on our benefice publicity, orders of service, notice-boards etc that says something about who and where we are. We are enormously grateful to Chloe Hutchinson, The Revd Jo Mabey's sister, for putting her talents as a graphic designer at our service and coming up with something that seems highly appropriate: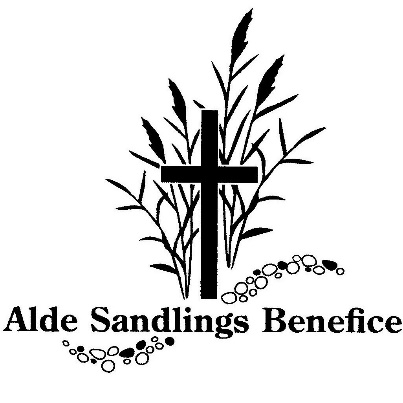 The cross is at the centre of our lives, represented by the reeds and pebbles of our landscape. This image will begin to appear in the months to come.
Many of you will know that the Diocese of St Edmundsbury and Ipswich has a very special relationship with the Diocese of Kagera in North-Western Tanzania. Our parishes have supported Kagera in many ways over the 20 or so years that the link has been in existence. The Friends of Aldeburgh Church will be able to learn first-hand about recent developments in Kagera from Anji and Chris Dawkins, the diocesan Kagera Link Co-ordinators. They are the invited speakers at the Friends' Annual Lunch which will take place at the Thorpeness Golf Hotel on Friday November 10th at 1pm. (Details and booking forms are available in the Aldeburgh church porch). In connection with that event the collections at Aldeburgh church on Sunday November 19th will be for Kagera, replacing our recent collections at harvest-time. Kagera needs our help. Life there is very hard and crop yields are unreliable due to the effects of climate-change. Our support is very much valued and makes a real difference to people's lives.
With love and prayers from your 'almost Rector'!
Mark
October 2017 – Monthly letter from Revd Mark Lowther
Dear Friends
By the time you read this we will (all being well) be in process of celebrating Harvest Festival in each of our churches on the same day (October 1st) and walking between them as a symbol of our drawing together as the Alde Sandlings Benefice. As I write there is still some paperwork to be completed to make the new Benefice a legal entity but, rest assured, we are nearly there. More news, hopefully, next month.
The autumn is upon us and gives us time to reflect on a busy summer. Our churches have hosted a good number of weddings over the last few months and we continue to hold Lucy and Ben, Mary and Paul, Jennifer and James, Heidi and Shaun, Eleanor and Harry, Charlotte and Mark, Anneka and Sebastian, Lisa and Michelangelo, Vivienne and Dennis, Anneliese and Matthew, Katherine and Simon, Elizabeth and Caesar, Lucy and Simon, Natalie and Michael, Trish and Trevor and Anna and Charles (to be married in Aldringham on October 7th) in our prayers. It is great news that, in this day and age, our churches are still seen to be the right place to be married by so many couples. There is, as you know, no shortage of competition – a drive along the A12 doesn't seem complete without at least one banner advertising a 'Wedding Fayre' somewhere or other – but the peace, the history and the beauty of our buildings still have much to offer, as does the reminder in the service that the God who is love is with us too. I always say to couples that being able to officiate at a wedding is one of the greatest privileges and the most enjoyable of tasks that comes one's way as an ordained Minister in the Church of England. Being present with, and being able to confirm God's presence with a couple on such a happy occasion never ceases to bring me joy of a most special kind. And I'm pleased to note that we already have plans for weddings in our churches as far ahead as November next year!
Now for a request. In Aldringham we are looking for someone to take on the job of Parochial Church Council Secretary. The main jobs are connected with our meetings (6 or so each year) – the preparing of agendas, taking and circulating of minutes and so on. Somewhere among the readership of this sheet there must be someone who would be prepared to give this a go. They don't have to live in Aldringham and they don't have to worship at any of our churches. If you would like to know more than please speak to me, one of my clergy colleagues or one of the members of Aldringham PCC. You would be helping us a great deal!
Finally, I would like to take this opportunity to thank a very special servant of the church. Jean Farmer has played the organ at St Lawrence Church, Knodishall, for more than 20 years but has decided, for health reasons, to call it a day. It would be most indelicate of me to mention her age but she is almost certainly one of the local organists with the most 'experience of life' and we are going to miss her playing a great deal. I know from much more limited experience just what a commitment being a church organist is and Jean's attendance record over all of those years has been close to perfect. Sunday after Sunday, wedding after wedding, funeral after funeral, Jean has just 'been there', chosen her music perfectly and tastefully and performed it with dedication and skill. The good news is that she and John will continue to worship with us and we will carry on benefitting from her wisdom. Jean – thank you so much for all that you have given us and, as we say of the Queen in our regular prayers, may God grant you 'in health and wealth long to live'.
With my love and prayers, as ever
Mark
September 2017 – Monthly letter from Revd Mark Lowther
Dear Friends
What a day it was! As I write my computer is still 'pinging' as people share photographs of the 2017 Aldeburgh Carnival, with the church's float playing its special part in the parade. Those of us on the float had a great time. Those walking alongside it did a wonderful job collecting money for the carnival and handing out information about the church. And, judging by the smiling faces I saw in the crowd, everyone enjoyed what we were doing and how we were doing it. The whole day was a triumph and will leave many happy memories behind.
For some people it will also leave memories of enormous hard work in planning and preparation and they deserve a huge vote of thanks from us all. Chief among them is undoubtedly The Revd Jo Mabey, who took my initial vague idea and made it happen – and how! Jo's planning was extraordinary and I know that she lost plenty of sleep at various times. Her sleep patterns were, however, restored to something like normality when she realised that she had the support of, in particular, Robin Browning (constructor extraordinaire) and Tich and John Driscoll, who lent their many and varied skills – and lots of their time – to the project. Bob Tile found us a tractor, and a trailer from Manor Farm in Knodishall (thumbs up to Peter and Samantha) – and he also found us John, the amazing driver who negotiated the streets and the crowds so skilfully. Sharon Haste gave us use of a barn at Hall Farm to house the float during its construction. We were generously lent and given materials by Fielden's to make it all possible and lots of people gave up time on the day to finish the float's decoration, be on it and walk with it. I'd like to thank everyone from the bottom of my heart because what you all did meant that the church was out in the community, visible and visibly joyful, on a day of celebration for the whole town. Fantastic! Now – what about next year?
Speaking of being 'out there' I have news of Harvest Festival. With luck and a following wind we shall very soon finally be a united benefice and we are going to celebrate by, once again, walking between our churches and worshipping as we go. I thought that Harvest would be a perfect time to do this and so we are proposing to make Sunday October 1st Harvest Festival in all of our churches. We will begin in Friston with a service at 9.45, walk to Knodishall and worship there at 11.15, walk on to Aldringham for lunch and then worship at 2.15 and finally walk to Aldeburgh, have tea, and end the day with a special Harvest Holy Communion service from the Celtic tradition at 4.30. Everyone is welcome to join us – to walk or just to worship in your local church or any combination that works for you. If you leave a car in Friston we will make sure that you can get back to it from Aldeburgh. And, if we get it right, each service will make sense in itself but all four should add up to 'more than the sum of their parts'. There are no plans to repeat this in future years and next year's Harvest Festival will be held, as usual, in each church. This year, however, gives us a good opportunity to celebrate something special at a time of year when we remember 'all good gifts' and the many places from which they come.
A final quick word about me. Since my arrival a couple of years ago I have tried to maintain a pattern of services that means that I make a couple of appearances each month at the main service in Aldeburgh and one at each of the villages. The mathematically literate among you will realise that this adds up to five services when there are usually only four in a month – so I miss out on one parish or Aldeburgh sees me only once. This year, and by the end of this month, I calculate that I will have taken fifteen 'main' Sunday morning services in Aldeburgh (10.30), eight in Aldringham (11.00) five in Knodishall and four in Friston (and two in Thorpeness) – so in eight months the balance certainly isn't quite right. I will try my best to balance things up better in the future but for all sorts of practical reasons it's not always easy. Please do bear with me. I am, however, in the fortunate position of knowing that when I am absent from a parish it is in the safest of hands. I feel truly blessed to be able to share ministry in our four parishes with such wonderful colleagues, lay and ordained. Thank you all – we couldn't do it without you!
With my love and prayers, as ever
Mark
August 2017 – Monthly letter from Revd Mark Lowther
Dear Friends
I begin where I left off last month. August is when our part of Suffolk welcomes lots of holidaymakers, many of whom are regulars but plenty more who are new to this part of the world. Our town and villages take on quite a different feel with lots of children about, with their families enjoying the beach, the boating pond and the fish and chips! Our congregations too welcome visitors. Some are old friends who we look forward to seeing once again. Some will be new and if you are such a person, picking up this sheet and wondering what goes on in our churches, the first thing I must say is …. welcome!
We hope you enjoy your visit to whichever of the churches you are currently in and please do visit some or all of the other churches in our group. Each is full of interest and each has some unique historical features. Each, though, has an important aspect in common and we forget it at our peril.
For hundreds (hundreds!) of years people have worshipped in our churches. It is something we often do not stop to think about but, just every now and again, a 'pause for thought' – by visitors and regulars – is appropriate. Just think for a moment about the changes that our churches have seen, in their surroundings and the lives of their worshippers. When Aldeburgh church took on the shape we now know, in the 16th century, the town was a busy port and it was not unknown for ship auctions to be held in the nave of the church. Friston's church dates back to the 11th century with a nave that is probably Norman (at least 800 years old). Knodishall's north door (the disused one by the font) is about the same age and though most of what we see in Aldringham church is Victorian people have probably come to a building on its site to worship for longer than at any of our other churches. Each church has born witness to hundreds of years of faithful worship. Each has lived through the traumas of the Reformation, the zealous after-effects of which have left permanent physical scars – for a good example take a look at Aldeburgh's font. Each has seen its congregations rise and fall. (In parenthesis, it is fascinating to read in the history of Aldringham church that in the mid-19th century the only morning services held in the church were the quarterly (!) services of Holy Communion with an average attendance of 14.) Worship, of many kinds, has been the mainstay of Christian life in our church communities throughout all of these years. We pray that this may be the case for centuries to come and it is our duty as contemporary Christians to look both back and forward.
We maintain our link with historic patterns of worship with our use of the 1662 Book of Common Prayer for some of our services, though our forebears would no doubt be intrigued by our use of it – by what we include and what we omit. It is also worth pointing out that there is plenty of material in our newer services that has ancient origins. Did you know that the poetic phrase 'the silent music of your praise' in Common Worship's Eucharistic Prayer G comes from the 16th-century Spanish mystic known as St John of the Cross? It is as old as the aisles in Aldeburgh church! The best of the new is built on the foundation of the best of the old.
When we visit and / or worship in our churches we join ourselves to a centuries-old tradition of pilgrimage and prayer. We hope that when we who regularly worship here receive visitors we also fit in to the centuries-old tradition of Christian welcome. 'All who arrive as guests are to be welcomed like Christ', says St Benedict in his 6th-century Rule, 'for he is going to say 'I was a stranger and you welcomed me". Welcome ought to be part of our Christian DNA.
A quick reminder, to end with, of another centuries-old tradition that we still observe – the celebration of our patron saints. The feasts of both St Lawrence and the Blessed Virgin Mary fall in August (the 10th and the 15th respectively) and at 7pm on each evening we will be holding a special service in the relevant church (Knodishall and Friston). Please do join us if you can. You'll be taking your place in an ancient tradition that is as relevant now as it ever was.
With my welcome, love and prayers, as ever
Mark
JULY 2017 – Monthly letter from Revd Mark Lowther
Dear Friends
The summer in our parishes brings some regular delights. Things like 'Classics on the Green' in Friston (July 6th) and the Aldeburgh Carnival in August at which, this year, there will be a church float – more news to follow. This year we will also be holding quite a number of weddings. Knodishall seems to be a very popular venue this year with four weddings in the diary and a booking for next year already – wonderful! But all of our churches will play host to special days for happy couples and it is good to know that when there is so much competition 'out there' people still want to come to church for their wedding day. As Banns are read we will be holding those about to be married in our prayers.
Visitors to Aldeburgh church will notice a change when they next visit. As many of you will know, this year marks the centenary of the death of Elizabeth Garrett Anderson, the first woman to qualify as a physician and surgeon in this country and the first woman mayor and magistrate. Daughter of Newson Garrett, who built The Maltings at Snape Bridge, she grew up in Aldeburgh and returned constantly throughout her life, retiring to the family home at Alde House in 1902. She was elected mayor of Aldeburgh in 1908. From now until the special service on October 8th, when we hope to dedicate a plaque to her memory, a beautiful large photograph of Elizabeth, together with some information about her life, will sit by the vestry door in Aldeburgh church, temporarily replacing the information panels about Benjamin Britten. They will return later in the year, updated and refreshed, ready for Britten's birthday on St Cecilia's day in November. Elizabeth Garrett Anderson was a very remarkable Aldeburgh lady and it is good that visitors to the church will be able to learn more about her.
This is a special month for two of our other churches too. Work is about to begin at St Lawrence, Knodishall to renew parts of the roof and the inevitable scaffolding will soon appear. I'm afraid the inside of the church will be rather dark for a while as the windows are protected during the work but it will not be for too long. After the roof work is completed we will be able to do some necessary decorating inside the church. Throughout the work disruption will be kept to an absolute minimum and services will continue as normal.
At St Andrew's, Aldringham the focus of the changes will be outside in the churchyard. On Saturday July 15th at 3pm Bishop Mike visits us to dedicate the extension to the churchyard, made possible by a most generous donation of land. There will be a short service in church, after which we will all move out into the churchyard for the actual dedication ceremony. Refreshments and entertainment will then follow in and around the church and, all in all, it promises to be a most memorable day in the life of St Andrew's church. Everyone is most welcome to join us.
Finally, as the school holidays begin, we will be welcoming lots of visitors to our special corner of Suffolk. If you are visiting one of our churches and have just picked this sheet up – welcome! We hope you enjoy your time here – please do come and join us for one of our services. We love having visitors with us and our worship is enhanced by their presence.
With my love and prayers, as ever
Mark
June 2017 – Monthly letter from Revd Mark Lowther
This month promises to be memorable for quite a few reasons. Firstly there's the small matter of a General Election. Five candidates, including a retired priest, will be asking for your vote on the June 8th and, of course, it would be totally inappropriate for me to either tell you who I'm going to vote for or to recommend who you should vote for. All I would ask is that we remember that we are not voting for President May or President Corbyn (however the media might be portraying this election we don't have a president in the UK) but we are voting for a Member of Parliament to represent the Suffolk Coastal constituency. Which of the five candidates do we think will best speak for the people of this area in parliament – all of the people of this area? A few weeks ago our Archbishops said this in an open letter:
In the midst of a frantic and sometimes fraught election campaign, our first obligation as Christians is to pray for those standing for office, and to continue to pray for those who are elected. We recognise the enormous responsibilities and the vast complexity of the issues that our political leaders face. We are constantly reminded of the personal costs and burdens carried by those in political life and by their families
So a prayer not just for those who would be our MP but also for ourselves, that we might make the right decision, would not be inappropriate!
Secondly it's festival time. The 70th Aldeburgh Festival takes place between June 9th and 25th and, as usual, there will be several events taking place in Aldeburgh Church including the annual Festival Service on Sunday June 11th at 10.30am. Our guest preacher this year is our very own Archdeacon, The Ven. Ian Morgan. Ian is, as well as being a senior member of our Diocesan clergy, a musician (an instrumentalist and conductor) and, as many of you will know, a thoroughly excellent preacher. It will be good to welcome him back to Aldeburgh church so soon after his Visitation last month to license our Deanery's churchwardens. Aldeburgh Voices will also be joining us and as part of the service they will be singing a recent setting of the Mass by Jonathan Dove, whose choral music has been written for, and performed in, some very special places and is always well worth hearing. There will also be anthems by Sir William Walton and Cecilia McDowell sung during communion. I would advise being there in good time for a good seat!
Thirdly, and, for us as an 'almost benefice' most importantly, a new member of the clergy team joins us at the end of the month – and it is someone that some of you already know very well. On Saturday June 24th Jo Mabey becomes The Revd Jo Mabey when she is ordained Deacon in our cathedral. It is, of course, a very exciting time for her but it is a very exciting time for us too. Jo will bring her own special gifts to the ministry team and we will all benefit from them enormously – of that I have no doubts at all. Immediately after her ordination Jo is going on a very well-deserved holiday but then, in the weeks that follow, each of the churches will have the chance to meet her and to welcome her. The time of Jo's ordination marks the 9th anniversary of my own ordination and I can remember just how I felt at that time – privileged, humbled, excited and just a bit scared. I'm sure Jo will be feeling similar things and I would ask that we all hold her in our prayers at this very special time and also think carefully about how we can best support her in her new role. She offers us a great deal. We must 'be there' for her too. And a special prayer too for her family – husband Rob and children George, James and Eloise – as they learn what it is like to have a wife / mum who spends some of her time wearing a very strange collar! In her new role Jo will be helping to lead the 10.30 service in Aldeburgh church on Sunday June 25th – yet another special day for us all.
With my love and prayers, as ever
Mark
May 2017 – Monthly letter from Revd Mark Lowther
Alleluia! Christ is Risen!
The great cry has gone up once again and it is a reminder of why we are here as church. As I said in my Easter Morning sermon, for Christians Easter is the lens through which we see everything else. Everything. And it teaches us that however gloomy things may seem there is always hope. If ever we are tempted to think 'Why bother? What's the point?' we just need to remember Mary Magdalene's cry of joy that first Easter morning, when the risen Christ (who she had mistaken for the gardener) called her by name and she recognised him as her Lord and Saviour. It is the defining moment and that cry of joy continues to resonate throughout the world.
We face so much uncertainty at the moment with impending elections and Brexit negotiations which are bound to be difficult and full of as yet unforeseen obstacles. We learn daily of goings-on in North Korea, China and the United States of America, in the Middle-East, in sub-Saharan Africa and elsewhere and we wonder just what is going on and how it might end. Yet still, if we know how to listen, we hear that cry of joy from 2 000 years ago. And on Easter morning we shout out for ourselves 'Alleluia! Christ is risen' – and everything else seems just that little bit less worrying.
Our Easter celebrations in the four parishes included some very memorable things – and they started early. Sheila, Nicky and I reported to the Country Club at about 6.30am, changed into our robes and crossed the road to the beach. When we arrived there we found more than 100 people gathered around the fire that David Copp had skilfully prepared and lit. The first 'Alleluias' rang out and we then all moved into the club itself, lit the Paschal Candle and celebrated the First Communion of Easter Morning, enjoying a delicious breakfast afterwards. From that Paschal Candle the resurrection light was then (carefully!) taken to each of our churches and the celebrations continued. It was altogether a memorable morning and a huge thanks is in order to all of those who worked behind the scenes to make everything happen so smoothly.
And a huge thanks should also go to all of those who had decorated our churches for the big day. They all looked magnificent and the floral displays have been widely admired.
Friston church had, of course, been looking particularly splendid over the whole weekend with an Easter Exhibition of imaginative and colourful displays themed around some of the significant anniversaries that fall this year – from the moving story of the centenary of the Battle of Passchendaele to the 100th birthday of Ella Fitzgerald. A huge amount of imagination (and, I gather, fun!) had gone into the preparation of the displays and they were widely admired by 'locals' and visitors alike.
And the Easter season continues. Most of May falls into Eastertide and then, on Thursday 25th, we mark another 'red letter day' in the church calendar. Ascension Day will, this year, be marked by two special services in Aldeburgh. At 7.00am some brave souls will climb to the top of the church tower and join those on the ground in singing some of the well-known hymns for the day. Last year co-ordination was nearly perfect – we hope to do even better this year! Then at 7.30 pm there will be a Deanery Holy Communion Service for Ascension Day at which our preacher will be the Bishop of Dunwich, The Rt Revd Mike Harrison. Both services will, I'm sure, be memorable ones and deserve a place in your diary. And with the Archdeacon's Visitation on Thursday 18th and the annual Civic Service on Sunday 21st it's going to be a busy month for Aldeburgh Church.
As I write the season of Annual Parochial Church Meetings is almost over – three down, one to go. There have been some important changes among our church officers this year and I will go into more detail next month. For this month I would simply like to congratulate all of our Churchwardens, PCC Secretaries and Treasurers for everything that they have done during the last year. I know that these can sometimes seem thankless tasks but they have been carried out with remarkable dedication and skill. Thank you all.
Alleluia! Christ is Risen!
He is risen indeed. Alleluia!
Mark
APRIL 2017 – Monthly letter from Revd Mark Lowther
Almost as soon as we had printed last month's letter some updates arrived, so I begin with those.
The timing of Jo Mabey's Ordination at St Edmundsbury Cathedral is now fixed as 11.00am. The coach will leave Aldeburgh at 8.30am to allow plenty of time for a comfortable arrival (and possibly a coffee!) and the congregation is asked to be seated by 10.30am. There is a sign-up sheet for space on the coach in the porch of Aldeburgh church. If anyone from the Whinlands parishes would like a place, please do let me know and I'll add your names. And after the service Jo very generously invites us all to join her and her family for tea and cake (and a glass of fizz) in Aldeburgh Church Hall at 3.30pm. There will be sign-up sheets for that occasion appearing after Easter. Please do keep Jo and the family in your prayers at this exciting time.
We have some benefice news too. I spoke with 'head office' recently and was told a little more about how things proceed from now on. Sometime in the next few weeks we will receive notices that each of our four churches is required to display publicly – known in the trade as 'Church Door Notices'. These show the diocese's intention to merge the two benefices (Aldeburgh with Hazlewood and the Whinlands) into the new Alde Sandlings benefice. Those notices will include a date by which anyone who wishes to make relevant representation to the Church Commissioners will have to have done so. Once that stage has been passed (and it should be a formality) we're on the home straight and, if all goes well, we should be 'The Alde Sandlings Benefice' sometime over the summer. Things do take a long time in the C of E (to say the least!) but such are the joys of being the established church of the land.
Talking with Nicky and Sheila the other day we agreed that it would be an excellent idea, once we really are a new benefice, to repeat the very successful walk that took place in the spring of 2016 around all four of our parishes and churches. We could worship in each church and, as part of that worship, recognise each parish's role in the benefice and also my role as Rector in each parish. Details are, of course, very much tba but as our last walk was at Rogationtide perhaps a Harvesttime walk would be appropriate. More news as and when.
And so to Holy Week and Easter. This year we have a programme of special services that begins on Palm Sunday. That evening there will be, as in recent years, a service of music and readings in Aldringham church. Those who have experienced this before will know that it is a beautiful way to begin the Holy Week journey. On Monday evening we gather at the church of Our Lady and St Peter in Aldeburgh (the Roman Catholic church) for a performance of Haydn's 'Seven Last Words Of Our Saviour On The Cross' – a very special work for string quartet – interspersed with meditative readings. On Tuesday evening there will be a service of Compline with Meditations in St Lawrence, Knodishall and on Wednesday the same form of service takes place in St Mary, Friston. Then on Maundy Thursday the traditional service of Holy Communion followed by the stripping of the altar will happen in St Peter & St Paul, Aldeburgh. Good Friday sees acts of worship in all four parishes and Easter Day will begin with a service at 6.45am on Thorpeness beach and in the Country Club (followed by breakfast) and then services at the usual times in all of our churches. A reminder too that Friston Church will be holding a special Easter floral exhibition over the whole weekend (14th – 17th). Please do try and pop in if you can – you will, I'm sure, not be disappointed! Details of all of the services, with times, will be on an information-sheet that will appear very soon.
Wishing you all the most blessed of Easters
Mark
MARCH 2017 – Monthly letter from Revd Mark Lowther

As I write this I'm anticipating pancakes later today – it's Shrove Tuesday and rather closer to the first day of Lent than when I had hoped to be writing this. With one thing and another time seems to be flying by at the moment and I must apologise for some things that either haven't been done or are being done rather late in the day. Please bear with me – life should gradually be returning to something more like normal very soon.
During Lent both our Whinlands Bible Study group and our Aldeburgh Discussion Group are going to be reading and discussing a short but rich book. It's called 'Being Christian' and it's by the former Archbishop of Canterbury Rowan Williams. The writer P. D. James described it as 'elegant and lucid' – it's not Dr Williams in 'academic mode' but is, as another commentator describes it, 'clear and accessible'. The chapters discuss four central aspects of what it means to be a Christian – Baptism, Bible, Eucharist and Prayer and each chapter also has questions to promote discussion. The Whinlands group will be meeting at Mary Joel's house (2 Northfield Court, Aldeburgh) on Wednesday March 8th at 7pm and subsequent Wednesday evenings. The Aldeburgh group will meet on Tuesday afternoons at 2pm in Aldeburgh church vestry, beginning on March 14th. Anyone is very welcome to attend either group though if you're new to the Whinlands group it might be good to let Mary know that you intend being there on the 8th (561534).
It's never a bad idea, once in a while, to go 'back to basics' and spend a little bit of time thinking about what it is that we are as Christians and what we do as church. Each should, of course, feed the other and at one point in his first chapter Dr Williams writes 'The church needs always to hear that critical voice saying 'Back to the beginning, back to where it all comes from. Let's try and listen to what God first said to us'. So .. we lead one another back to the essentials; back to baptism, Bible, Holy Communion and prayer.' Food for thought and discussion, I hope.
This year in Lent we will be supporting the Diocesan appeal for funds for our link diocese of Kagera in Tanzania. Life has been very tough there lately. Failing rains, the aftermath of an earthquake and the changing climate have all meant that people's incomes (already among the lowest in the world) have been drastically reduced. We can help and we should. Please do support Kagera whenever you have the chance.
I received a very welcome letter the other day from Bishop Martin, confirming that after her ordination in June Jo Mabey will be joining us as Assistant Curate in both Aldeburgh and the Whinlands benefices (subsequently, and soon I hope, the Alde Sandlings Benefice). Many of you in Aldeburgh will know Jo well already, of course, but as Jo is licensed to the whole of our patch she will also be popping up in the Whinlands parishes. In the 18 months or so that I have known her Jo has already proved to be a valuable and supportive colleague and, in turn, I hope we will all be able to support her at this most exciting time in her ministry. She will be ordained Deacon in our Cathedral on Saturday June 24th and if you would like to be there please do book a seat on the coach that has been organised to leave Aldeburgh in plenty of time for the service at 10.00am. Let me or one of the Aldeburgh wardens know if you would like a place. It will, I promise, be a service to remember – and not just for Jo!
With my love and prayers, as ever
Mark
FEBRUARY 2017 – Monthly letter from Revd Mark Lowther

I began my letter last month with some thank-yous for all that happened over Christmas. This month I must do the same but for a very different reason. Most of you will know that Rosemary, my wife, broke her hip while we were away in Amsterdam early in January. Since then we have a huge amount to say thank-you for. For the love and prayers that we felt winging across the North Sea while Ro was in hospital. For the colleagues who made last-minute changes to their diaries to make sure that services were covered in my absence. And for all of the offers of help, gifts, flowers and even meals that have come our way in the days since our return. Thank you all so much – it really does mean a huge amount to us both. Ro is mending, slowly, but, as I'm sure you know, double fractures of the femur take a while to recover from and she is likely to be off work for three months – which amounts to an enforced early retirement (Ro was planning to retire at Easter). But all will be well and spring isn't so far away ……
Lent is not so far away either – Ash Wednesday falls on March 1st. During the Lent season we plan to hold discussion groups / courses in more than one venue. Precise details will be announced very soon but the meetings are likely to be based on our existing discussion and bible-study groups that meet in both Aldeburgh and the Whinlands villages.
As the shops put away their Christmas cards for another year the space they had occupied begins to be filled with Valentine's Day cards. The church remembers St Valentine, though remarkably little is known about him. We do know that he was a Roman who lived in the 3rd century and that he was martyred on February 14th . That day was first established as an important day in the church calendar by Pope Gelasius I in the year 496 and he included Valentine among all of those "… whose names are justly reverenced among men, but whose acts are known only to God." In other words even he didn't really know much about him! One of the legends that grew up about Valentine was that he secretly married couples so that husbands would not have to go to war. Perhaps this is the start of the association of Valentine and Valentine's Day with matters of the heart. It is certainly true that by the 14th century Valentine's feast-day had become associated with romantic love and it seems that Geoffrey Chaucer, no less, may have had a hand in 'helping' a legend or two to take root.
We have our own celebration of St Valentine on Sunday February 12th when 'The Hopeless Romantics' will perform words and music on the theme of love in Aldeburgh Church at 3pm. The music is from the 18th and 20th centuries – by the little-known but fascinating Scottish 18th-century composer James Oswald and by the great George Gershwin. The words span a wide variety of sources from the Bible to children's poetry. There really should be, as the saying goes, something for everyone and the concert will be presented by Clare Fleck, Archivist at Knebworth House where James Oswald lived for a time. It all sounds most intriguing!
With my love and prayers, as ever
Mark